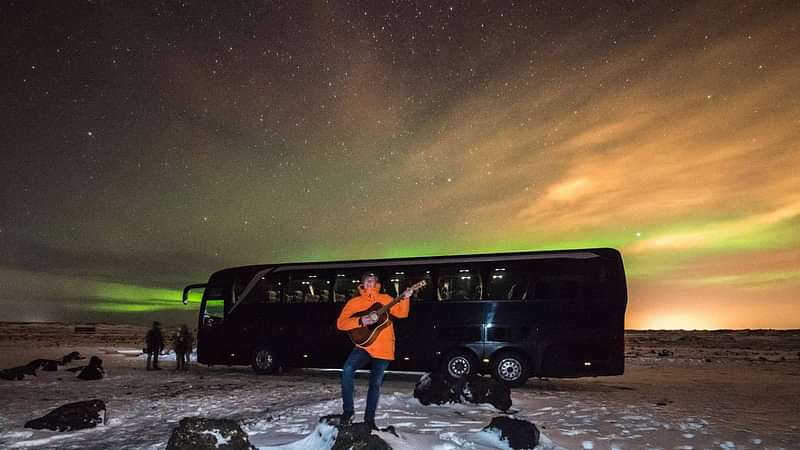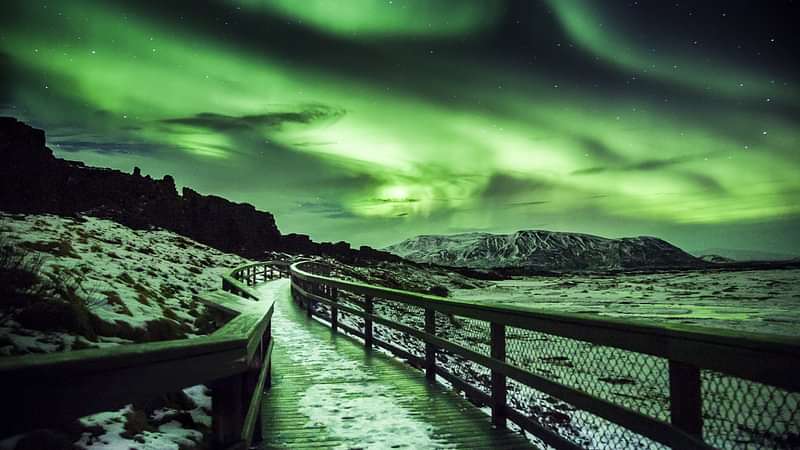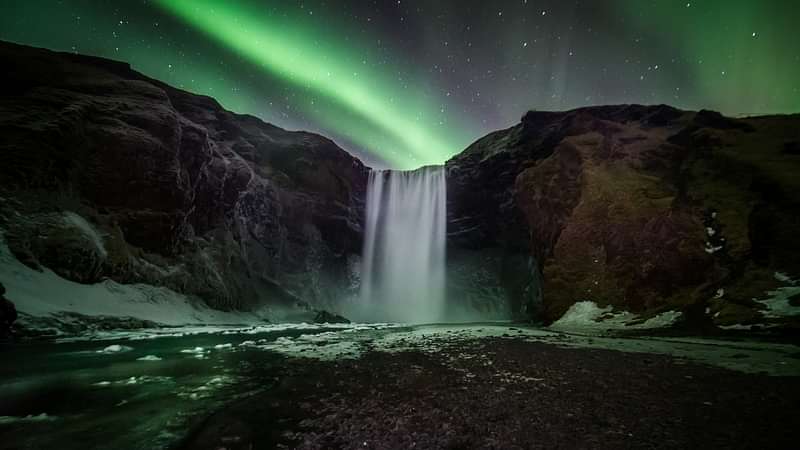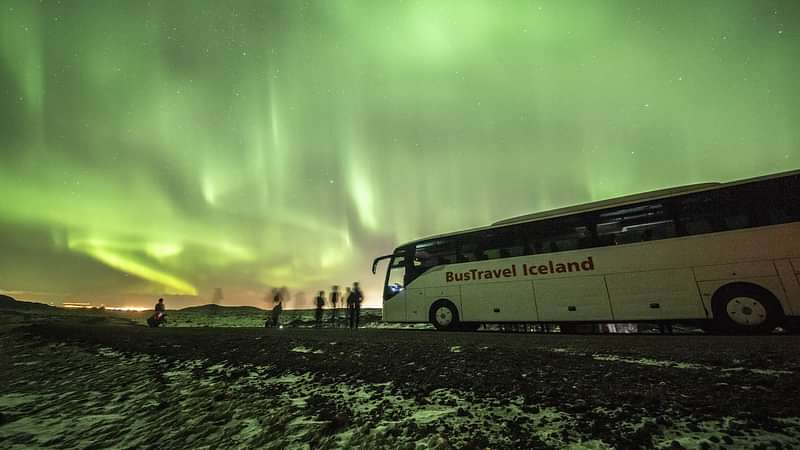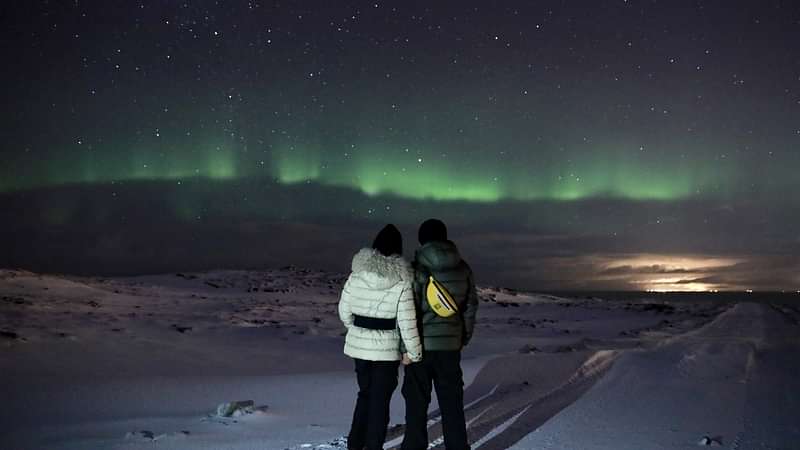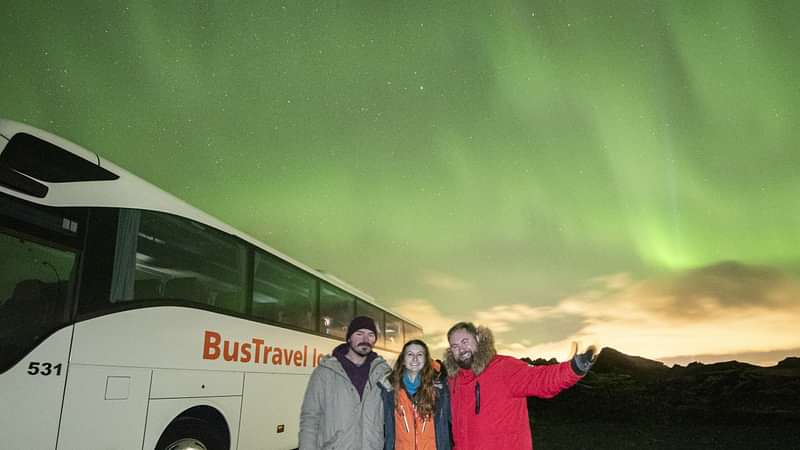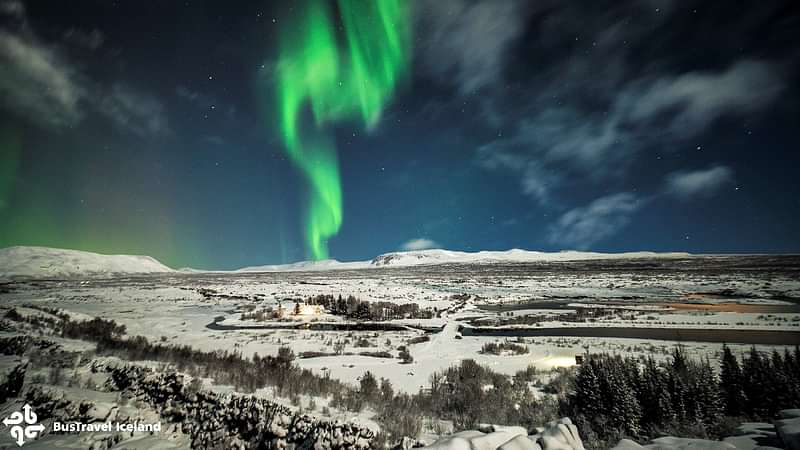 Description
For many visitors to Iceland the main motivation for their visit is to catch a display of Northern Lights dancing above the unique vista of Icelandic nature. Join our Northern Lights bus tour from Reykjavík and grasp this once in a lifetime opportunity to enjoy this spectacular atmospheric phenomenon.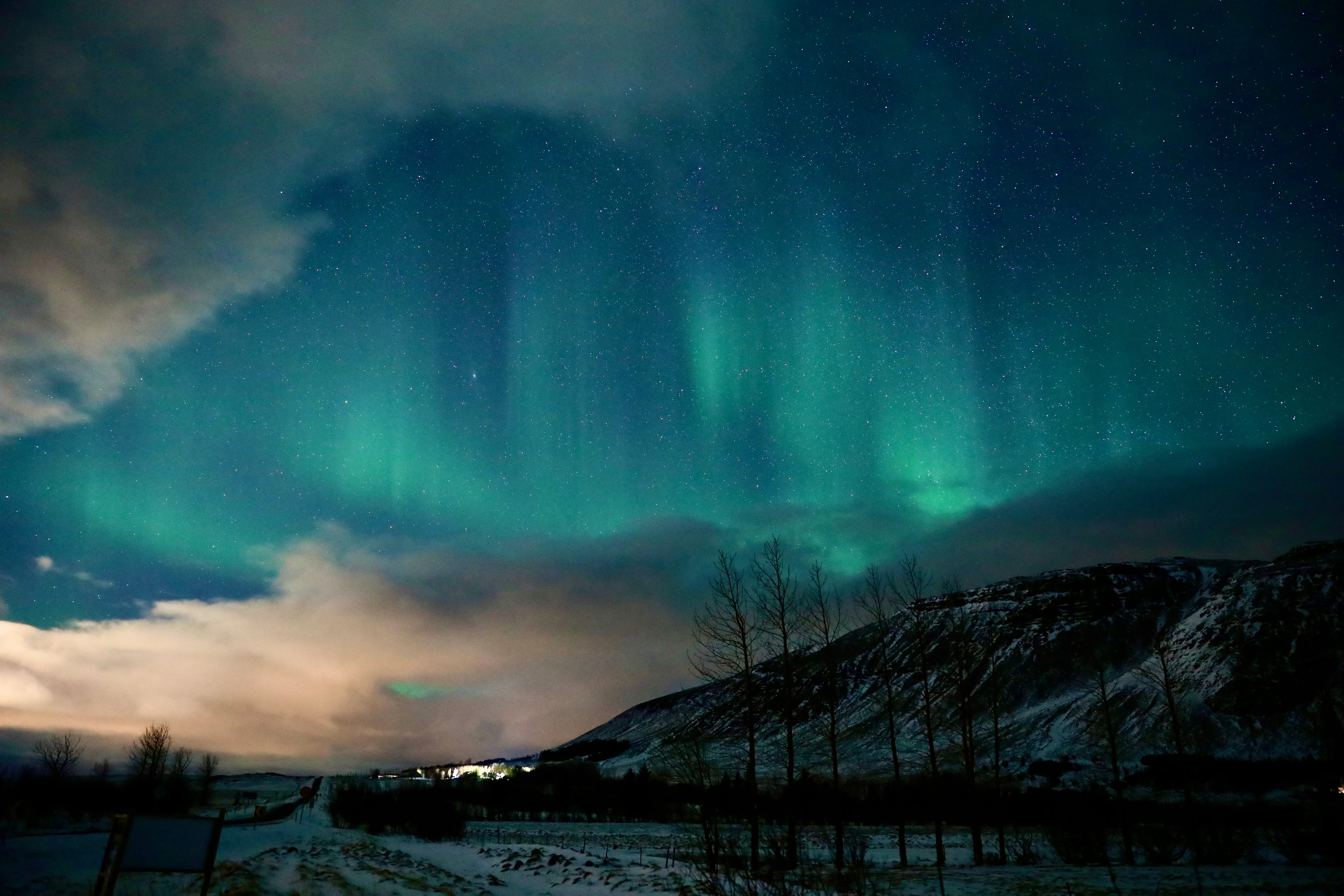 Our operational team and guides have decades of combined experience in chasing this elusive spectacle and their experience will give you the best chance of catching the aurora display before you depart Iceland. Our guides will share fascinating stories and local folklore about the phenomenon and the night is completed by our special hot chocolate made from a secret recipe.
For more information check out our Complete Guide to the Northern Lights
Highlights
Northern Lights hunting experience
Professional northern light guide
Aurora Museum Reykjavik entrance ticket (valid on the tour date booked)
Hot Chocolate
Itinerary
Your night of northern lights hunting begins with our fast and efficient pick up service. We pickup from designated hotels and tour bus stops throughout central Reykjavík. Just let us know when booking your preferred pickup location. When all passengers have been collected we leave the city light pollution behind and head out into the darkness of the Icelandic countryside.
Unlike other tours, we have no set itinerary or route that we follow. We generally travel no more than 90 minutes drive from Reykjavík and our guides seek out cloudless skies. Earlier in the day, they will have studied the aurora and cloud forecasts for the evening and based on this information they will have a good idea of the best areas to view the lights.
Whilst en route, your knowledgeable guide will share stories and information about the northern lights and Iceland. When we come to the location we have determined is a likely spot, you will get an opportunity to stretch your legs while you wait for the lights to appear. Your guide can also offer advice on the best camera settings to use when trying to capture the aurora.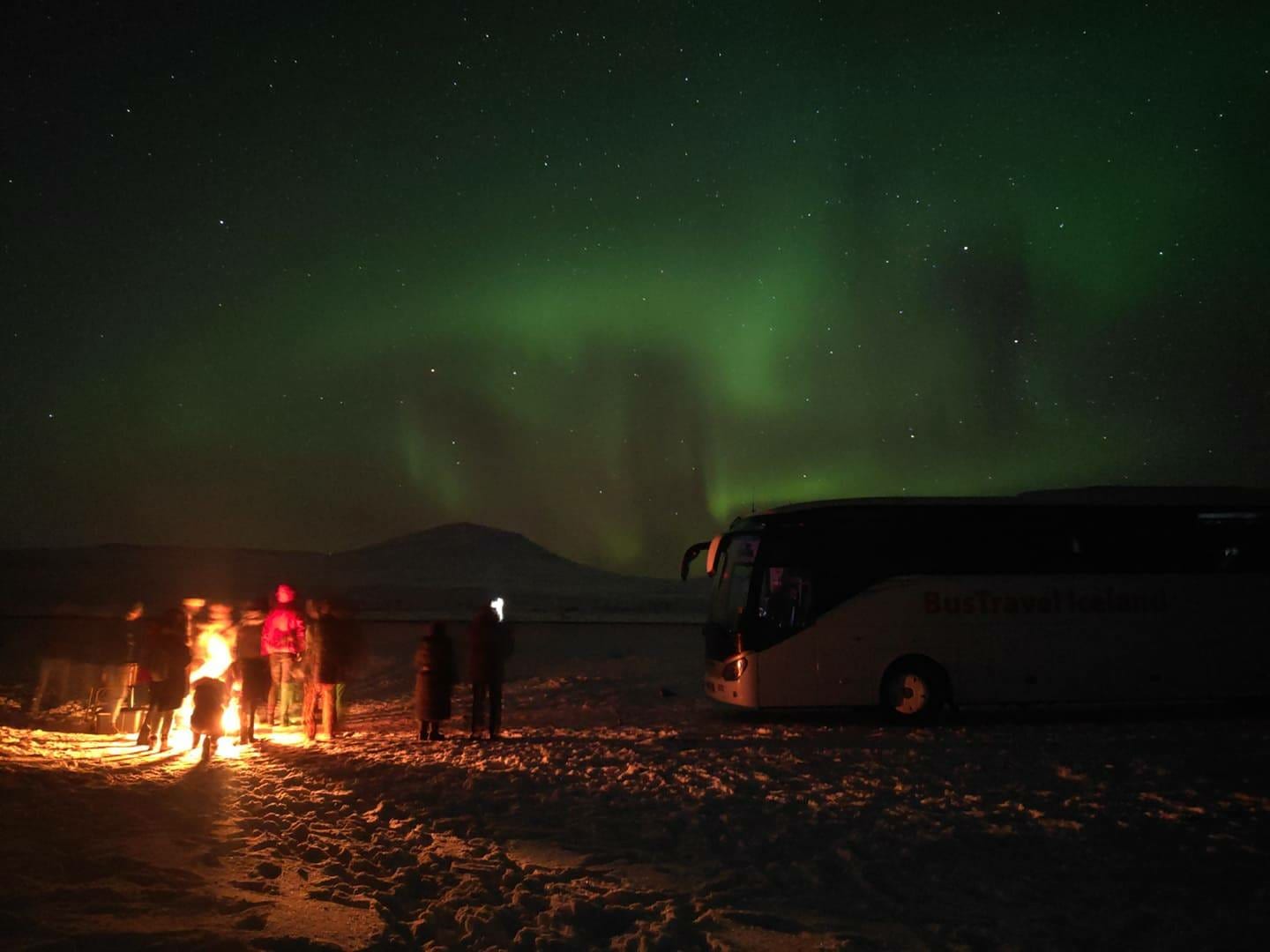 Patience is a virtue when it comes to the northern lights and you might have to wait in the cold for a while. This will be made with the free hot chocolate and light refreshments that your guide will distribute.
We hope that the lights will appear at the first location, but we may venture elsewhere if nature is not cooperating. Our team at BusTravel Iceland pledge to do everything we can to make your aurora dreams come true.
At the end of the night, we will drop you back in Reykjavík to the same location from which you were collected.

Aurora Reykjavík
As well as chasing the lights through the countryside away from the city lights, when you purchase this tour with us you will also receive a free ticket to the Aurora Reykjavík Museum in downtown Reykjavík. You can visit the museum at any time during the day and we can pick you up for the tour at the museum if you wish.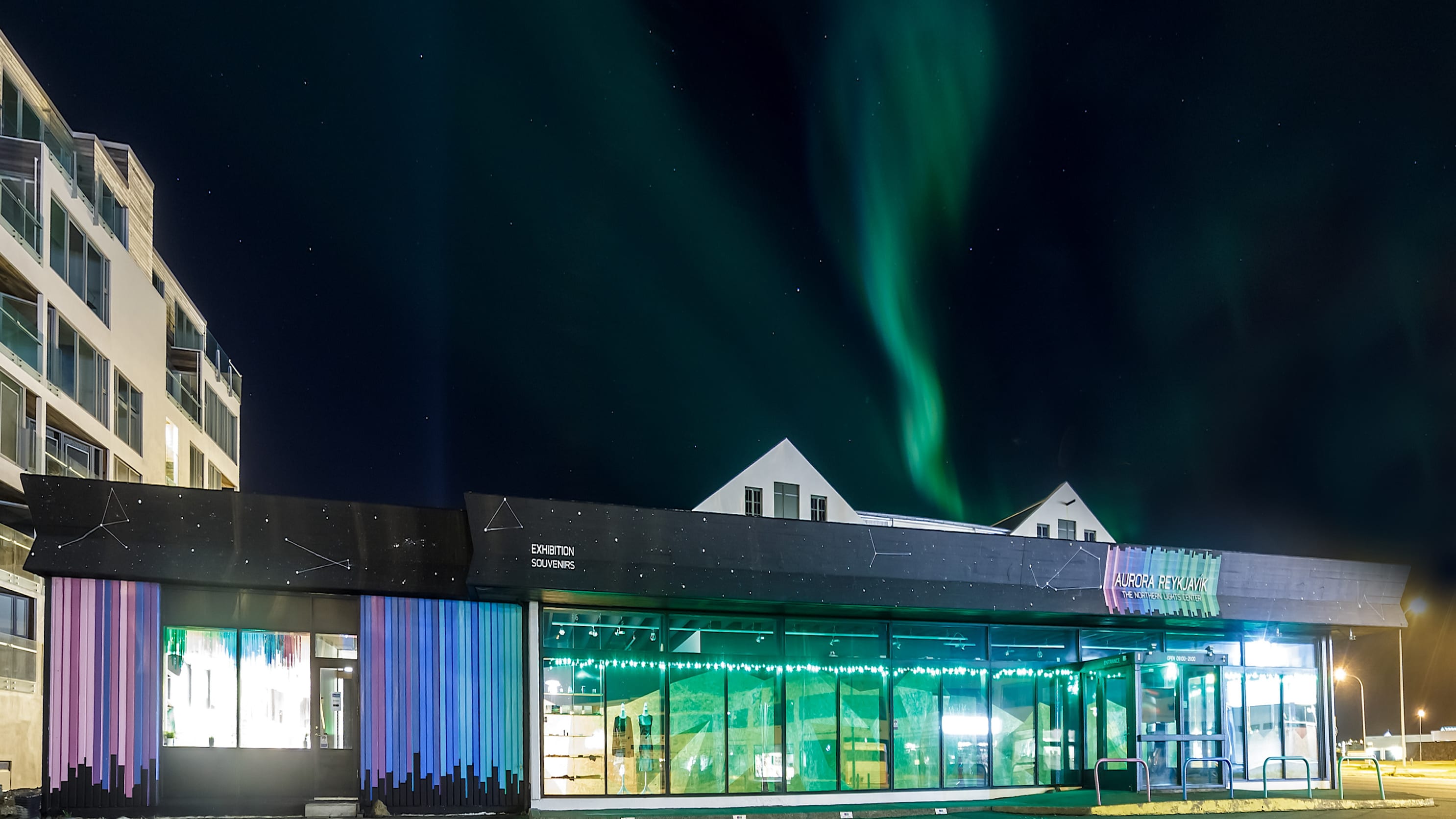 The Aurora Museum is a great introduction to the science and wonder of the northern lights. This multimedia exhibition offers interactive displays and an educational centre outlining how people and cultures around the world interact and think about the Northern lights. The Museum also has information on the best camera set-ups to make a lasting memory of your time in Iceland.
What if we don´t see the northern lights?
Even with cloud and aurora forecasts and knowledgeable guides, the northern lights are sometimes too elusive for our liking. They are a natural phenomenon and therefore not always reliable even when we do our utmost.
If you are unlucky and don´t see the lights during your tour, we´ve got you covered. You can take our tour again another night for free! Your guide will let you know how to rebook. The offer for rebooking is valid for three years from the date of your tour departure. Unfortunately we cannot provide refunds for unsuccessful tours.
What's included
Northern lights hunt
Professional English-speaking tour guide
Hot chocolate
Aurora Museum Reykjavik entrance ticket (only valid for use on the tour date booked and if the tour is operating)
Wi-fi on board
What´s excluded?
Important Information
The tour duration is 3-4 hours but tour length can vary depending on the weather.
Wear warm clothes and shoes
Refunds are not issued for unsuccessful tours. We do allow guests to join the tour again on another night. This offer is valid for upto 3 years
Cancellation Policy
Cancellation fee of 100% if cancelled 1 day or less before departure
Guided Language
Reviews!
Reviews!
Thank you for submitting your review
DEARLY, yesterday we did a tour in 3 with Roman and after touring around Reykjavik and in bright areas exposed to pollution between the capital and the airport with 3 stops we didn't see anything. We would like to repeat the tour tonight because then we only have the 6th evening to try again. We would like to know if there are any possibilities and who will be the guide. We would like to try other driver if possible. Thanks
We couldn't see the lights first night so bus travel rescheduled it for another night without any trouble, & like this we saw northern lights on 3rd night. Definitely I will recommend bus travel, very helpful very convenient very nice
Absolutely amazing experience! Our tour guide Denis was very knowledgeable about the northern lights and knew exactly where to take us. We had the most incredible view it lit up the sky dancing around
Great tour led by charismatic guide called Thor. He provided hot chocolate for us which was lovely and necessary in the freezing temperatures. He was also very knowledgeable and experienced so he chose a very good spot to catch the lights. We also saw the lights in the end which was extraordinary! Would recommend bringing wind resistant clothing (especially a face covering/scarf) as you could be standing there for a long time!
When all other tour operators cancelled their tours because of the weather conditions and poor visibility, Iceland Bus Travel were the only company still operating and we managed to see the Northern Lights twice in one night in two separate locations! Alvaro is a superstar and was a great help when booking the tour. Fantastic customer service. The guide knew where to go to spot the lights. The only gripe I have is that we had to wait for an hour at the bus stop in gale force winds and snow. This was due to a technical problem which delayed the pick ups. A message to let us know there is delay would've been appreciated. But we saw the Northern Lights so I'm a satisfied customer and I would book with Iceland Bus Travel again. Very reasonably priced. Would recommend to others.
We went on the tour with Daniel, the Aurora Whisperer. He was a brilliant, knowledgable guide on the northern lights. We saw the lights straight away. We couldn't recommend enough, he was fab.
We were a little sceptical after all other northern lights tours were cancelled for the night. They were an hour late picking us up due to bus problems but kept us up to date with texts on pick up. The tour guide Pocho had stepped in last minute to take us out and he was incredible! After everyone feeling a bit deflated to start with after being late he picked everyone's spirits up and made the tour incredible. We went out to a spot where there were no others and he explained how to view the lights and how to know when they were going to appear. We saw them within about 15 minutes of being at the spot and they kept appearing and disappearing. He kept us comfortable in the cold winds with hot chocolate and snacks and made everyone feel welcome. Would highly recommend this tour and we are very glad we booked with them after another company had cancelled twice.
A cold, very cold night, but one of the best experience of my life. Daniel our tour host made the tour enjoyable, we managed to see the lights and we had hot chocolate too. I couldn't ask for more!
Even though the lights were not that visible the service was great, Mia did an amazing job and she helped a lot during the whole trip
We arrived in Reykjavik late afternoon but decided to take a chance and book with BusTravel on their large group coach Northern Lights tour that same evening, as the aurora forecast looked promising. Our pick up was very smooth and the smaller bus took us to meet the larger coaches that we would travel on. There was a system mix up with another driver's pick up, meaning that we were delayed from leaving central Reykjavik for an hour. However this did work to our advantage in the end... The tour guide on our coach, a lovely chap called Thor, was very apologetic about the delay and provided lots of useful info while we drove out of the city to get away from the light pollution. After about a 45 minute drive north, we stopped at a place with just one other coach. It only took around 20 minutes and then the Northern Lights went crazy - we had a spectacular display right above us! This was around 11:30pm when the Lights appeared and remained dancing for at least half an hour. It was remarked that this was the best display of the season, and we know we were extremely lucky to see them this well. As long as you have patience and understanding that the Lights are not guaranteed to appear on the night that you book for, BusTravel is a great option for searching for the Northern Lights!
They brought us to Thingvellir national park to see the lights. The guide knows very well where to look and how to capture the aurora thru the camera in case they were faint. I was happy they took us to a great spot to wait for the aurora and that we allocated a lot of time. I chose a date when the KP forecast was high, the skies were clear and new moon as we wanted no illumination and just dark skies. And it did not diaappoint and seen green, white and red colours with the naked high, it was at least a KP of 4.
Our bus driver (Georgios) and our guide (Josep) were great. The buses were on time, clean, and safe. Josep prepared us for the possibilities of success. He explained that our forecast chances to see the Aurora were "good" based on a Kp-index value of 2. Josep assured us of 2 things: 1) that was going to be cold and 2) that we were going to have hot chocolate. Depending on winds, clouds, and a full moon we were going to see something. They delivered the first two and over delivered on the lights and good times. Great show!
It was one of the memorable northern light chasing. Thanks to the expert guide Daniel, Highly recommended.
We simply had one of our best adventure on 4th March '22. This tour is the one to choose if you are hunting the NL. It was easy to book and also to reschedule, since the first night we didn't catch the lights. They are available on the phone and via email - there was no occasion we couldn't reach them - and they have pick up provided in Reykjavik, they send all info in emails frequently. Our tour guide was Geri (the best of all) and I do want to mention our driver Maciek also, since despite the snow and closed roads he did take us to the best spot and we felt safe the whole time with him, he is quite a character btw. Geri simply made this night unforgettable, picking the spot, talking about Aurora, helping with phone and camera settings to have the best pictures possible and giving us the night we never forget. Thank you Bustravel, highly recommend*****! (Oh, they had hot chocolate also, but we even forgot that during the amazing show.)
What a great tour! Everything was so good especially Daniel our guide, he was so knowledgeable about everything from the lights themselves to the camera settings on our phones and it's down to him we managed to see the lights! After a very cold wait in the middle of the national park he said we'd wait another 20 minutes with our hot chocolates (best we've had!) just in case despite the fact many other tours had already gone home and just wow. Not only did we manage to see the beautiful northern lights my partner and I got engaged under them and Daniel captured the most magical engagement photos. Would 1000% recommend!
非常棒的旅行体验,客服负责敬业,回复信息很及时,推荐推荐
We couldn't see anything. Daniel our guide was the best. We 're coming back next year to try again
Me and my family took the northern lights bus tour and we enjoyed very much. The trour was rescheduled two times because of the storm and the bad conditions, and every time there was a change they write and ask you in case you prefer to cancel. The BusTravel agency is a great company, the pickup is always on time. Regarding the northern lights bus, they have another car that goes ahead and is looking for clear sky and lights, so the bus knows were to go. When we were out of the bus looking for the lights, they gave us hot chocolate. In case you don't see northern lights, they allow you to repeat the tour for free. I really recommend you this company because of its transparency, kindness, good guides, and in case you need any help or change, they answer your email very quickly so you can solve any problem you have. We 100% recommend using this company not only for this tour, but for all the tours in Iceland.
The tour was good - enjoyed the drive and the guide was fun. Sadly, the lights were low key that evening.
Patience is a virtue when wanting to see the Northern Lights. However having spoken to other people who were in search for the lights the same day and were unable to see them, our tour guide took us out to the coast and after about 3 hours we managed to get some truly amazing pictures. Worth the wait, but you really do need to be patient. I have to rate this 5 stars as others who had booked with other companies were unable to see them that day.
We had a great evening chasing the Northern Lights guided by Daniel AKA "The Aurora Whisperer", Although we did not manage to get sight of the lights, we hope to take advantage of the free re-book next time we come to Iceland. Daniel was full of useful information an explanation which meant that the trip was still enjoyable. He was also in contact with other tours to try and find clear skies. He also helped us set up our cameras to best capture the lights if they appeared. The bus was comfortable and warm. We had some hot chocolate and some Lava Rock Chocolate which all added to the experience. Highly Recommended. many Thanks.
A good organisation, very professionals guides.
First time the tour was booked for Monday evening but we only had several snow storms and strong winds. Maybe the place was not the best - there was a strong light in little distance, I know that was not enough for not seeing aurora but that light was annoying. Next day we waited till midday for the rebook of the tour and in the end we had to write to the customer support. One from our six in the group had to write repeatedly during all afternoon/evening and finally got the rebooking. Second evening was totally different - a fantastic experience. The guide, Daniel, was brilliant with tons of information, including stars and constellations. His radio voice was fantastic! ;)) He helped us in having very decent/profi pictures by using his iPhone and shared them afterwards. Many many thanks, Daniel!
Awesome !! We could see the northern lights and the show was soooo wonderful ! Thanks a lot !
Great tour. Our guide Emma was very knowledgeable of the Northern Lights and knew a lot of the science behind them. We where lucky enough to see them on our first stop and we where shown how to set up our phones and those who had cameras where given advice on what settings to use. I'm an amateur astronomer and I learned something new that night. Totally recommend this tour just bring plenty of warm clothing and if your using a mobile phone try and bring a tripod or stand for your phone as you need long exposure shots.