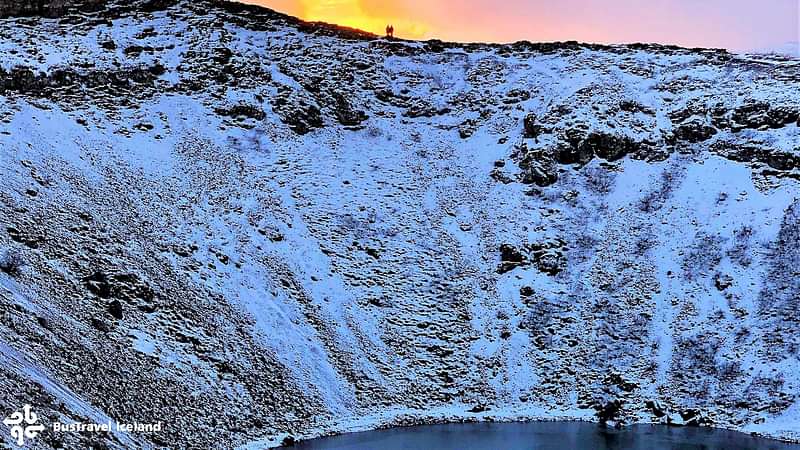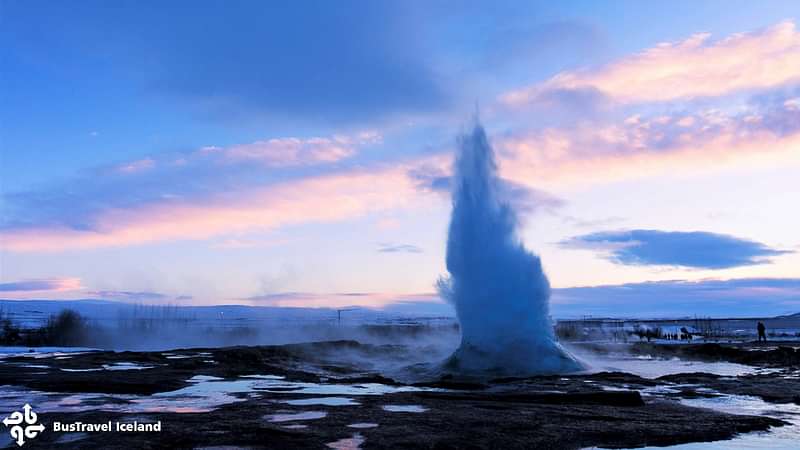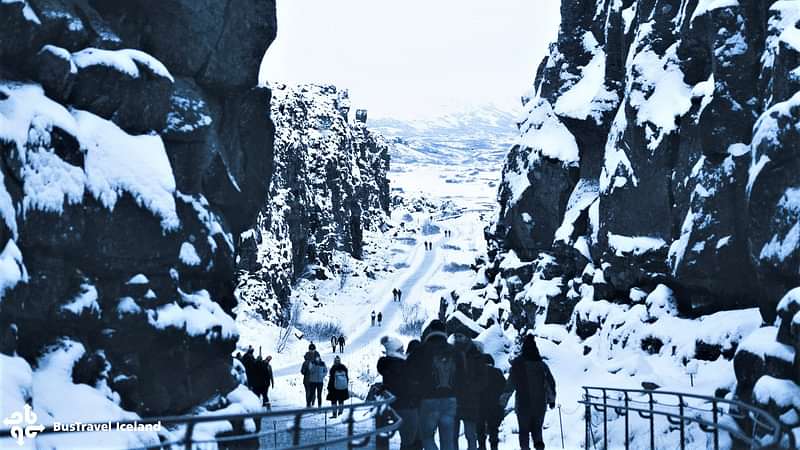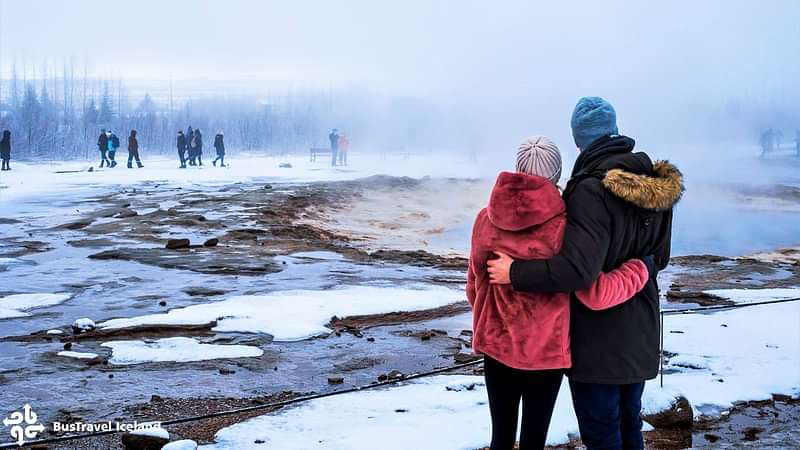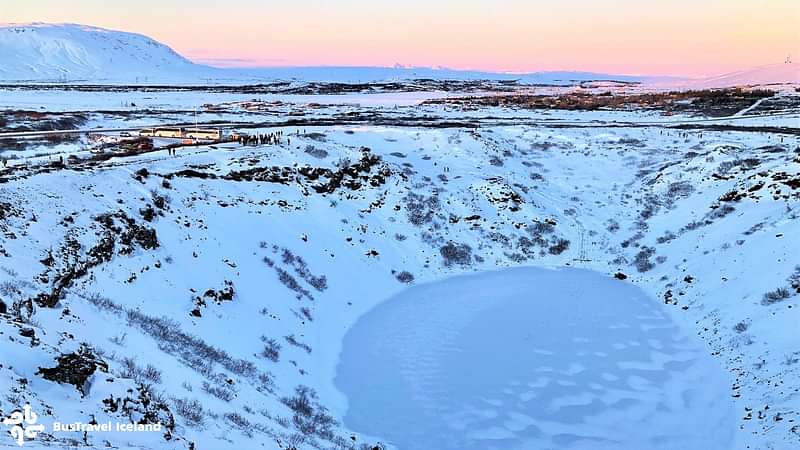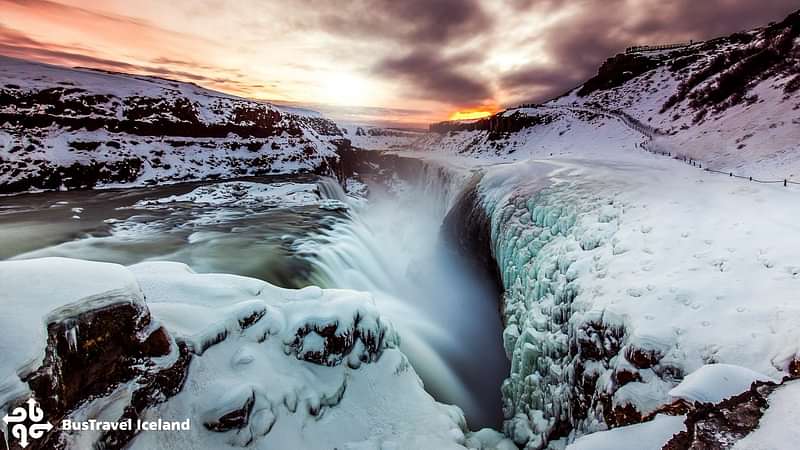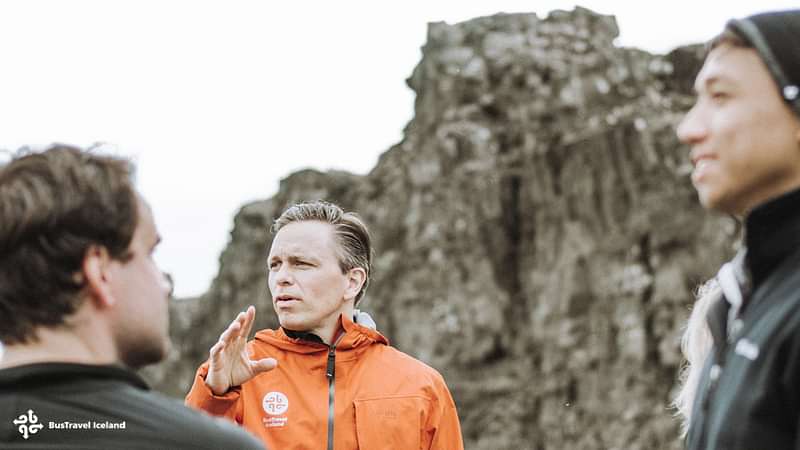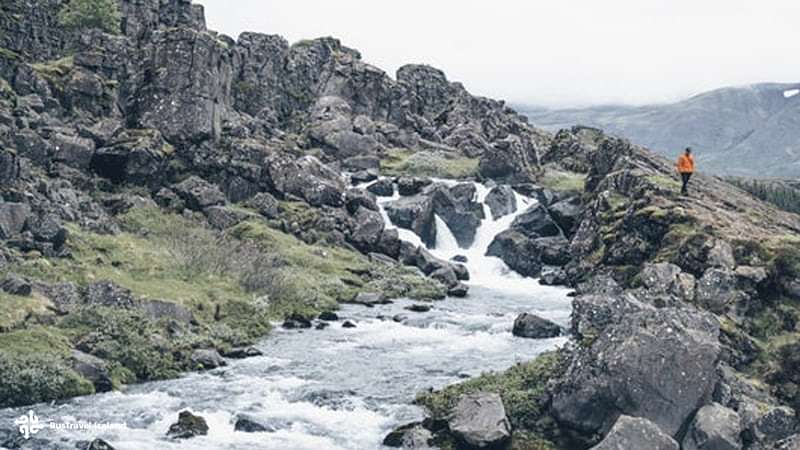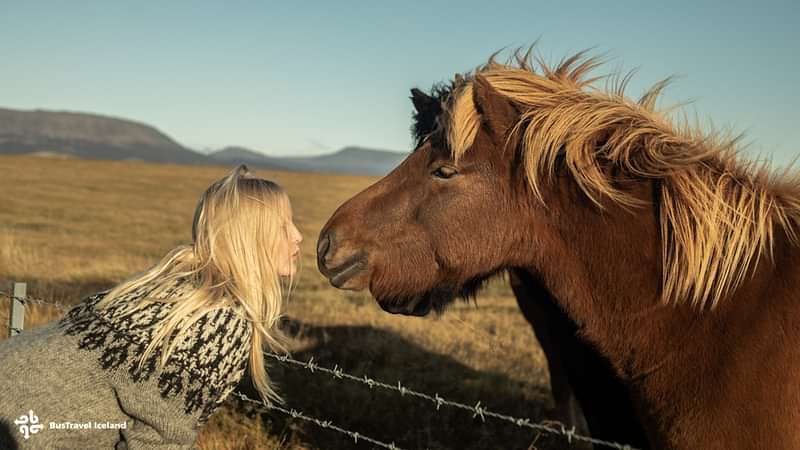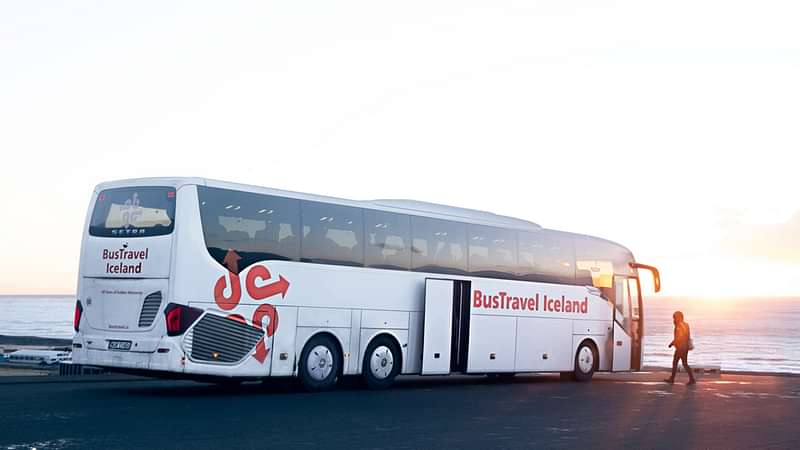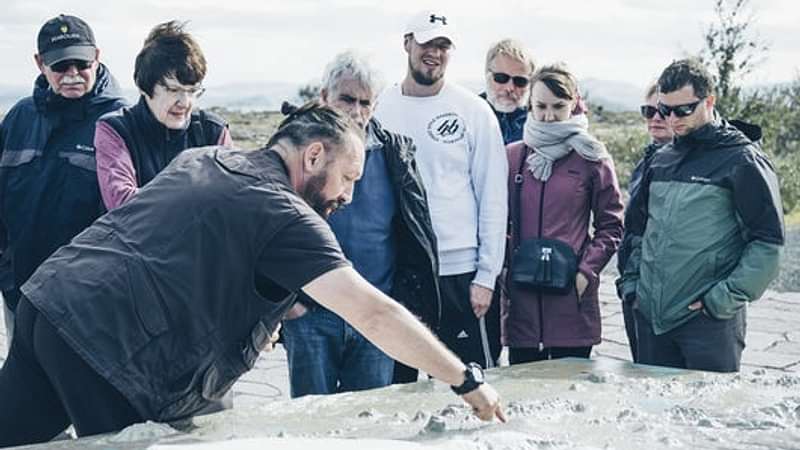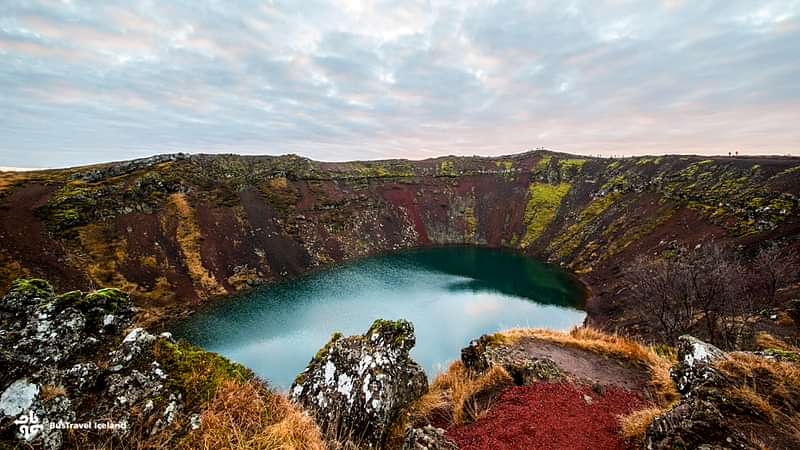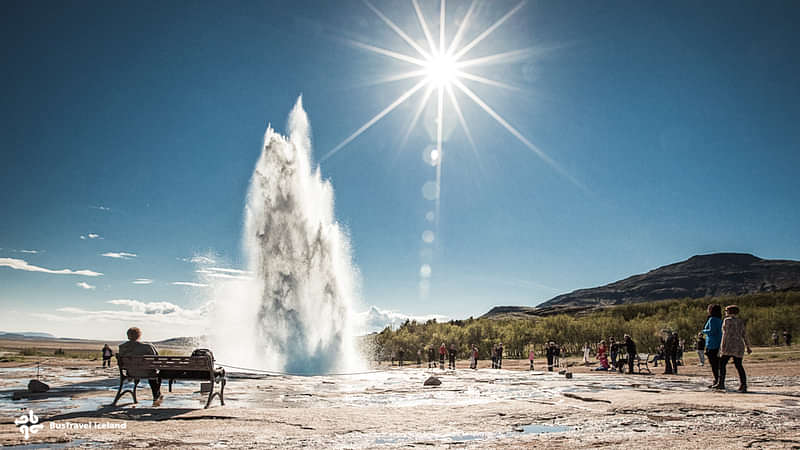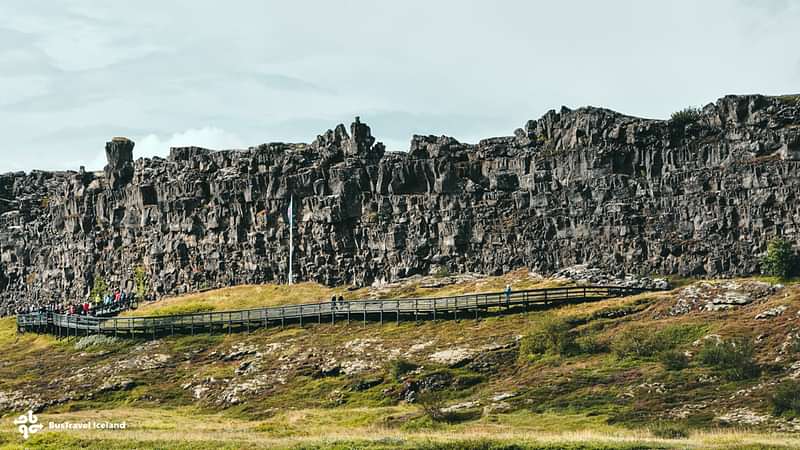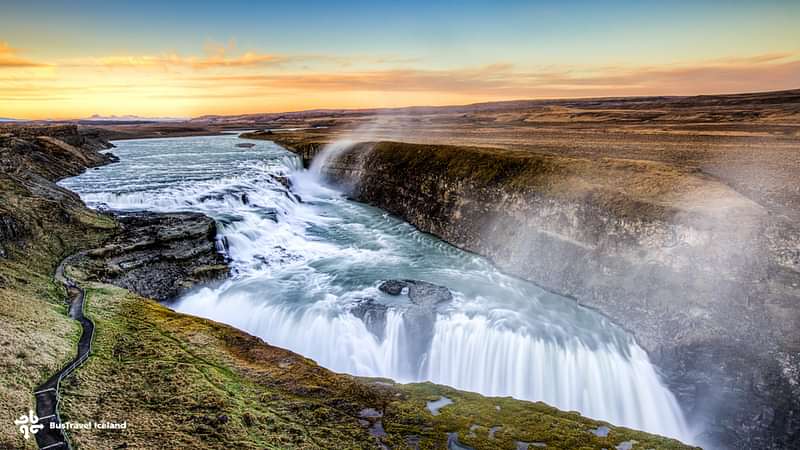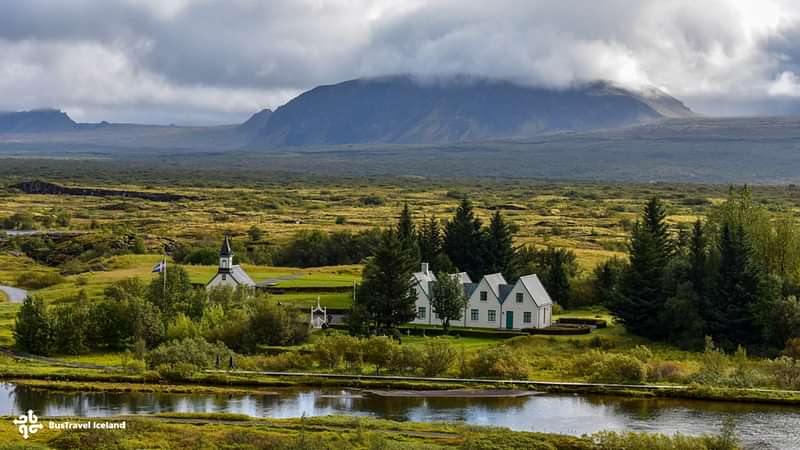 Description
The Golden Circle day tour is one of the most popular trips in Iceland, as it covers the most iconic and diverse attractions that the land of fire and ice has to offer.
The Golden Circle in Iceland refers to the three primary sights along a 300 kilometer (186.4 miles) route, with many other delightful, smaller-scale attractions scattered in between.
On our day tour, we will visit all of the main sights, and if time allows, we will make a few extra stops along the way, so you can see even more of Iceland. The historic Thingvellir National Park, the geothermal wonders of Geysir, the golden Gullfoss waterfall, and an additional stop at the Kerið Volcanic Crater Lake. It's an exciting day packed with adventure!
Highlights:
Thingvellir National Park
Geysir geothermal area
Gullfoss Waterfall
Kerið Volcanic Crater Lake (entrance fee included in the tour)
Itinerary
The grand Golden Circle full-day tour begins with our efficient pick-up service. You only need to be on time at one of the designated pick-up stops in central Reykjavik, so we can come and collect you. Once we have everyone on board we will head out to our first point of interest.
Kerið Volcanic Crater Lake
We will first make a stop at the Kerid Crater in the Golden Circle, a volcanic crater lake that formed around 3000 years ago. It's famous for the stark contrast in colors - maroon mineral sediment, dark lava rocks, and blueish lake water - forming a naturally eye-pleasing sight. You can also take a walk along the crater rim or follow the paved path down to the bottom of the crater to get a better view.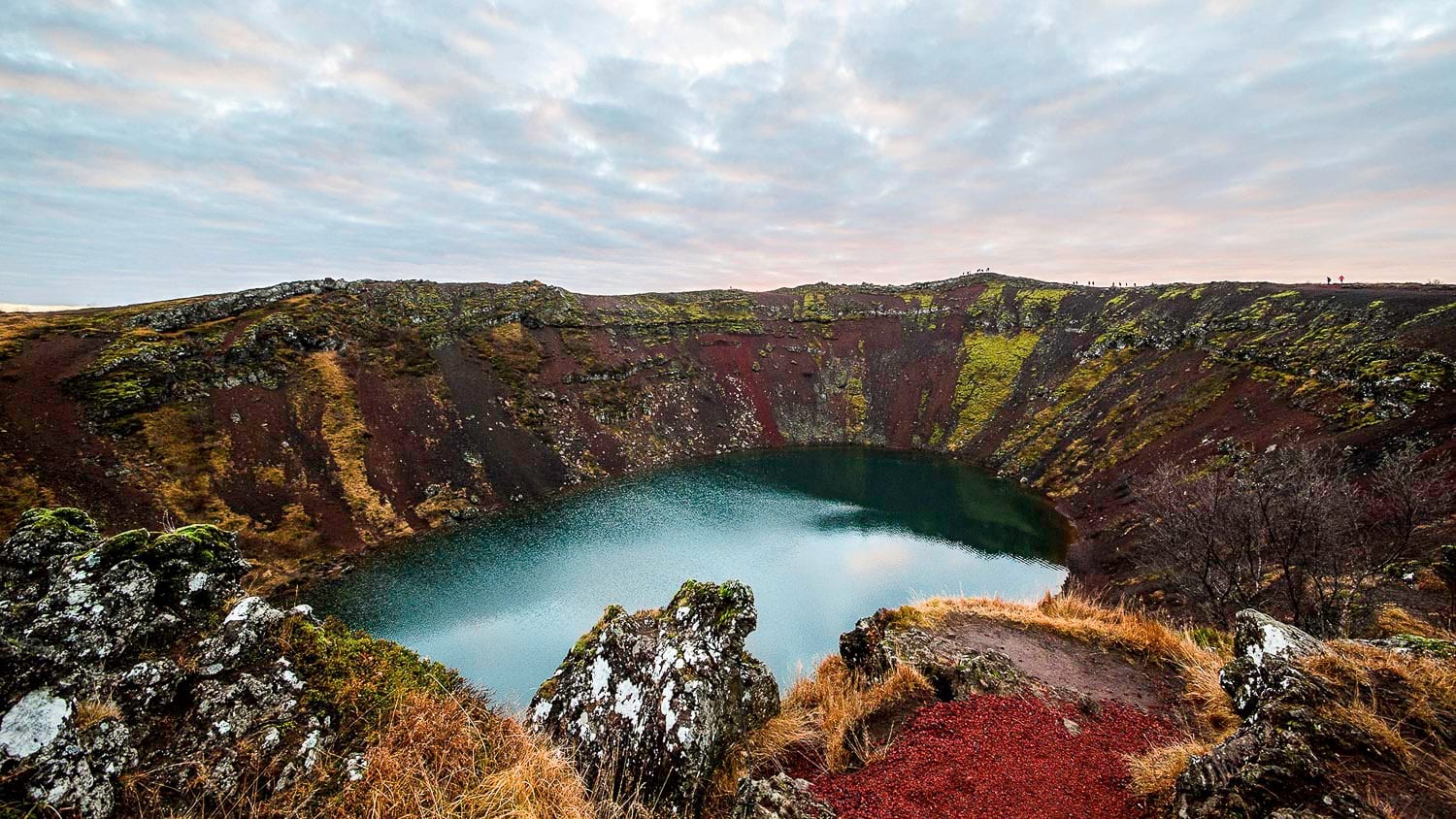 The origin of Kerið began almost 3000 years ago during an eruption that was said to be grand, but when the magma emptied the chamber collapsed in on itself, leaving the crater as the shape we see today.
Gullfoss Waterfall
Gullfoss Waterfall, aka the Golden Falls, is a must-visit attraction of the Golden Circle tours in Iceland. It is an astonishing waterfall originating from Iceland's second-largest glacier Langjökull. Its roaring cascade first runs down a gradual slope for 11 meters (36.01 ft) then tumbles down deep into the canyon with a 21 meter (68.9 ft) magnificent, wide drop, creating impressive, beautiful mist to splash up in the air, reflecting a giant rainbow in the sunlight.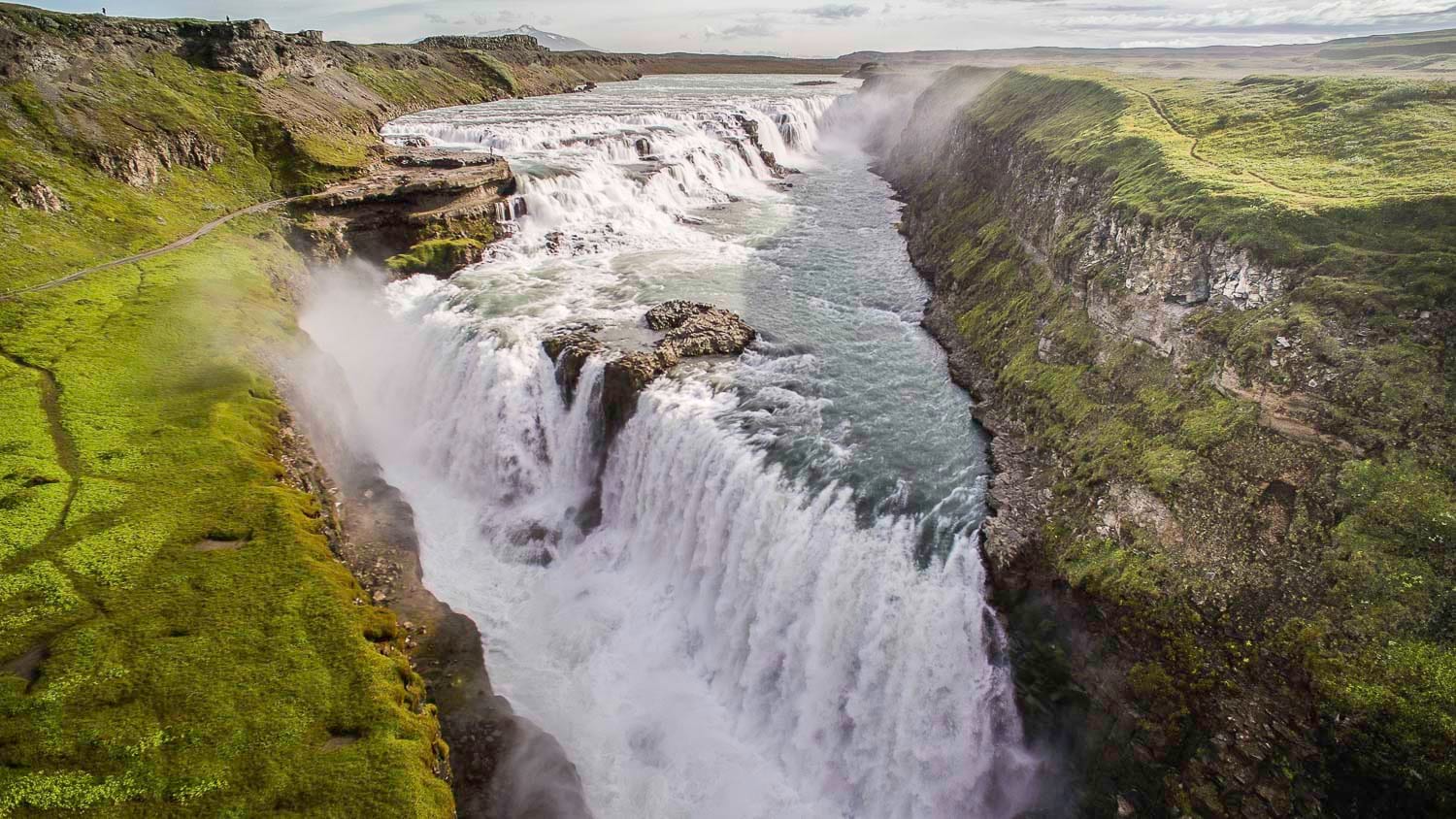 Well-paved pathways are available with different viewpoints to admire the Gullfoss waterfall. The first viewpoint is the upper deck next to the visitor center, from which you have a panoramic view of the waterfall in its entirety.
Following the path, you can walk down to the lower deck, to view another side of the thunderous drop that vanishes into the depth of the earth. Then you can see the first plunge of the waterfall in a closer distance on the lower deck. Please be aware that the path can be closed if it's icy and conditions are not ideal.
Geysir Geothermal Area
Next up, we head out to the dynamic geothermal area Geysir, which is named after the original geyser, the Great Geysir, which is no longer active. The area is filled with steam vents, bubbling pits, and sizzling ponds, with multicolored patches dotted here and there. The main show of the site is the active Strokkur Geyser that gushes 20 meters up in the air every 5 to 10 minutes. The spectacular, lively sight is the highlight of the Geysir geothermal field.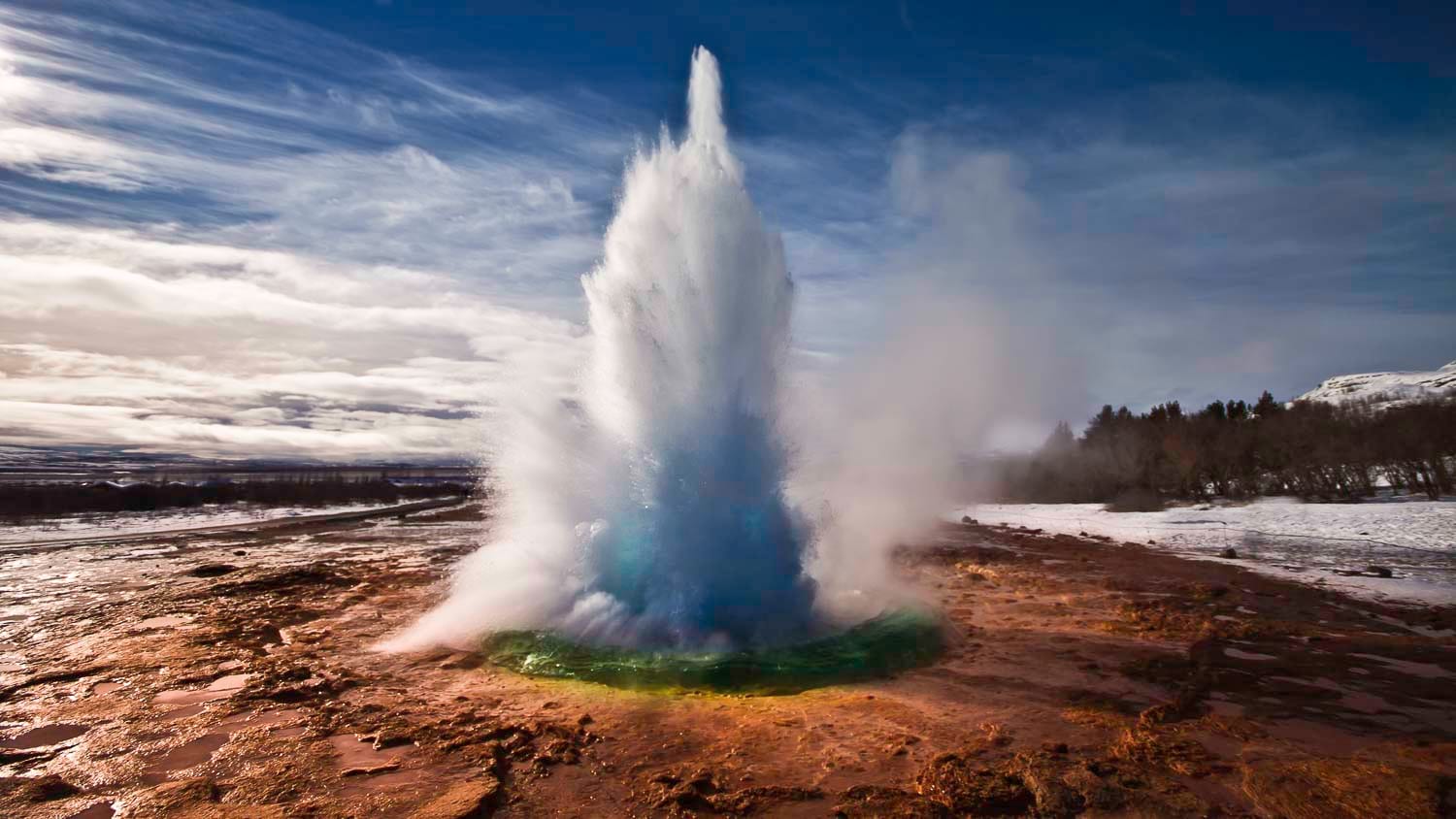 Another feature of the area is the bubbling hot springs and the steamy muddy fields, creating a sulfuric smell. The geysers create a great opportunity to immerse yourself in Iceland's wonder.
There's a visitor center close by, selling souvenirs, and local products, and offering many lunch options.
Thingvellir National Park
As one of the most famous sites and must-visits in Iceland, Thingvellir National Park has great significance in both the history and geology of Iceland. In 930 AD, the world's first parliament was established here in Thingvellir by Vikings, making it the oldest parliament. Most surprisingly the parliament is still active and fully functioning!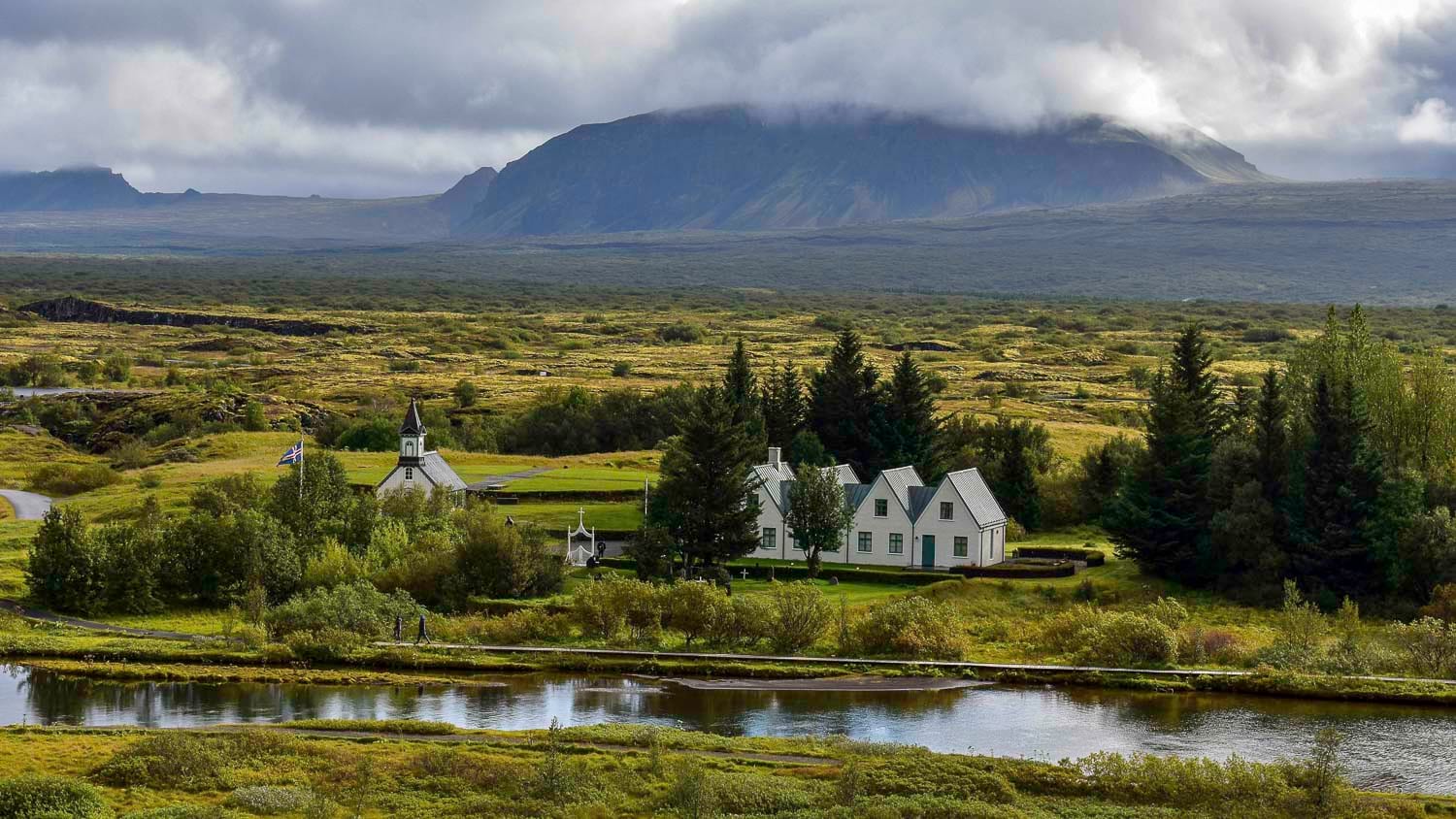 Thingvellir sits right on the only visible section of the Mid-Atlantic Ridge, which is mostly submerged in the ocean. As you walk along the pathway, you are walking in between the rift valley between two diverging tectonic plates that are home to North America and Eurasia, respectively.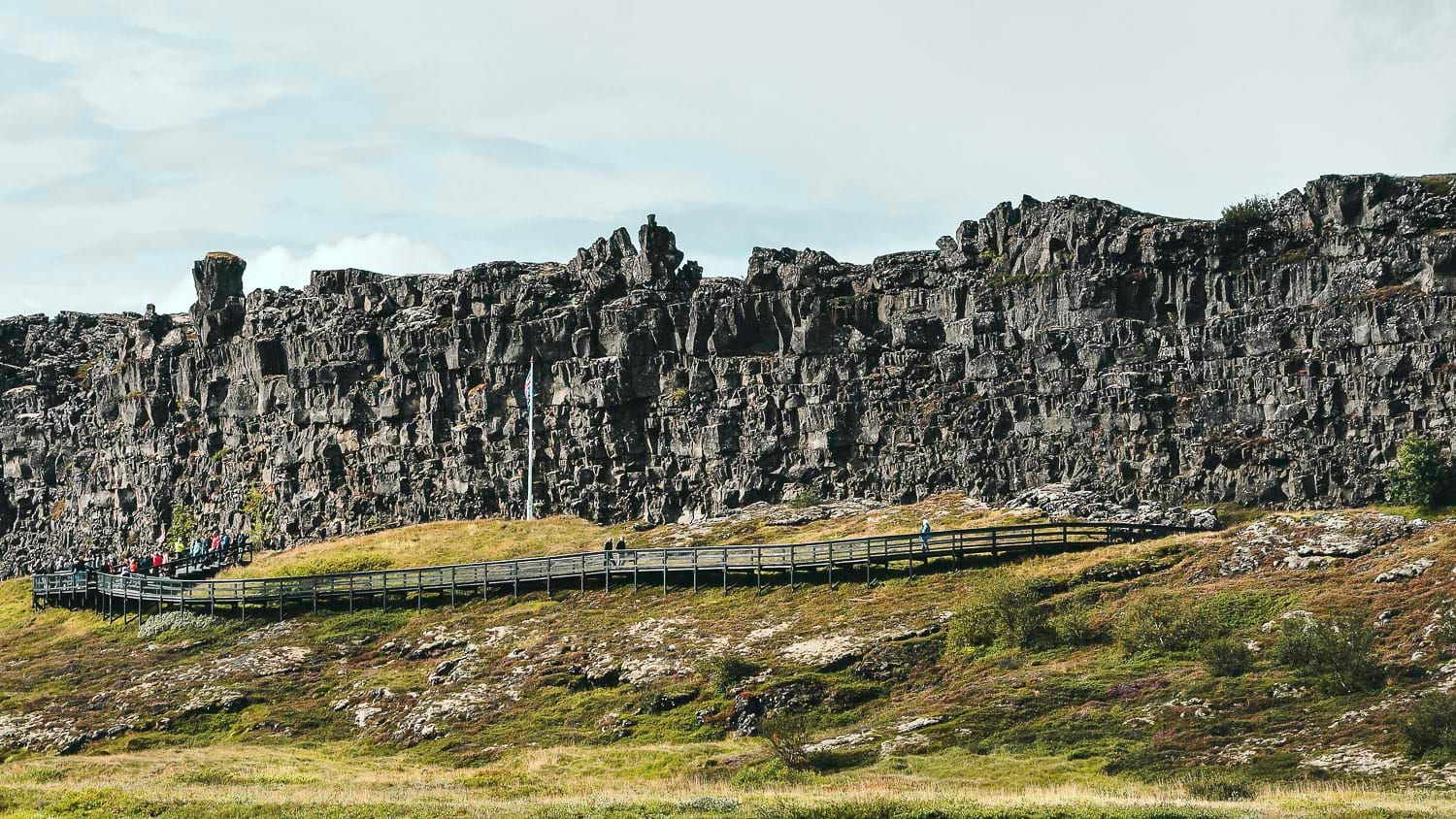 Thingvellir National Park is home to a diverse range of scenery which includes the Öxaráfoss waterfall, Almannagjá gorge, Hakið panoramic viewpoint, Silfra Fissure and the Þingvallakirkja Church. The water is crystal clear at Thingvellir as the meltwater from Langjökull glacier seeps through the underground lava field, considered to be the best natural filter in the world.
A national treasure, Þingvellir is a great place to learn about Iceland's history and heritage, especially if you are interested in Vikings, and how the laws of the land came about. In 2004, Þingvellir National Park was listed as one of the UNESCO World Heritage Sites.
After our eventful day exploring the sights of Iceland, we will begin our drive back to Reykjavik. Along the way, you will see some picturesque scenery over the course of the 45-minute drive back to your pick up point.
What's included
Professional guide
Entrance fees to Kerið Volcanic Crater
Free WiFi
What's excluded
Pickup and drop off
Food and drinks
What do I need to bring
Warm, water- and windproof clothing are always useful in Iceland.
All tickets are e-tickets so there is no need to print them out.
Important information
Duration of tour is 8,5 hrs, Please be aware that the tour could run longer if affected by bad weather or other delays.
The tour allows for lunch time at the Geysir area
Cancellation policy
Cancellation fee of 100% if cancelled 1 day or less before departure
Reviews!
Thank you for submitting your review
We had a beautiful day with Chiara on the Golden Circle tour! The sights were truly amazing to see, especially the geysers and the tectonic plates. We are in awe of Iceland's magical and unique beauty. Chiara was very knowledgable and had a true, infectious energy at every stop as if she was seeing them for the first time as well. Thanks for a great day out!
This is a tour you shouldn't miss out. All the places that we visited have their own magic. I really enjoyed sitting down and see the Geyser going off. For sure, the Gulfoss is incredible! I am so glad we had Monika and Tomek as our guides. Monika was really enthusiastic, full of energy, friendly and helpfull taking pictures and giving information about the sites. I did 3 tours in Iceland and she was the best guide of them. As all tours, your are in a schedule and it can be a little bit of rush sometimes, but it is worthy because you can manage to see incredible places, with lot of info in one day! And in the tour with Mokina we also did 3 extra stops that day!!
Although the weather was miserable with the strong wind and the persistent rain throughout the day, we were fortunate to have such an awesome guide, Jona! She was very informative throughout the entire bus trip to the Grand Circle Tour. She discussed the geological background, the history, the myths and stories of the areas as we're passing by. She was very cheerful and professional and often talked about her experiences and other topics about the people she's met and it's wonderful to get a guide who clearly loves her job. Albert, our driver was very good and drove us safely from our destination back to our drop off point. We clearly got a great group of people including the rest of the tour group because everyone was civil and we all adhered to the timeline to get back to the bus on time and it went as smoothly as it could be. We even got a brief period of sun during the day. We will definitely come back and book with BusTravel Iceland the next time we visit Reykjavik because it's clearly a golden team.
A superb introduction to the unique sights of Iceland. The pick up from our hotel and transfer to tour bus was well managed and efficient. The tour was enthusiastically led by Perla who regaled us with facts and stories about the island culture while Magic drove the bus. A visit to the magical-looking lake and colourful slopes of the Kerid Crater, a visit to the Gullfoss Waterfall and the Geysir followed. We even had time to stop off at a family owned and run farm for local ice cream. We would thoroughly recommend the tour.
Tour was especially interesting because of the extensive knowledge of our guide Jone. She had detailed information aboout so much history , geology, plants, animals and more. Her commentary while traveling and at the stops was among the best we have had. Iceland is an amazing country with rugged people. Bus was large but comfortable.
Thor and Jona were our tour guides and they were great. Jona was very knowledgeable on the history of Iceland and I would highly recommend the tour.
Took the Grand Golden Circle tour with Palli and Tomic, they are really friendly. Palli (the guide) told very interesting stories about Icelandic history and culture, and some funny stories. The nature was so beautiful and amazing.
The Golden Circle Tour is a must-see in Iceland, and we're happy to have chosen BusTravel Iceland for it. Our guide Monika was super well informed and helpful and had a great sense of humor. The driver was great as well. we've seen amazing spots and had fun all the way. The trip was an great experience, will surely recommend!
We took the Golden Tour. It was a fantastic experience. We saw amazing sites and learned many things about Iceland and the Icelanders. Our host Iga was amazing. She was very nice and had a great sense of humour, which made our trip fun and interesting. Our driver Lucas was excellent. I fully recommend it.
It took me 4 attempts to be able to see the Northern lights! But I am very glad I didn't give up. It was absolutely amazing! Daniel, which was our tour guide was super nice and very very knowledgeable about the auroras, he explained the process and even showed us some constellations in the dark sky while we waited. He knows a lot about this stuff!!! Very nice experience
On the day of our tour we unfortunately had bad weather (was raining the entire day) but our guide Monika really came through and saved the mood in my opinion. She was really informative and helpful (always ready to help take pictures). My personal highlight of the tour was the Gulfoss Waterfall simply magnificent!! Another very unique experience was seeing the Geysir going off (little note: it might smell a bit bad once you are close to geysirs but you get over it) Definitely a tour you shouldn't miss out on!!
We went on the grand circle tour with a visit to the blue lagoon. Tom was our guide for the day and his dry sense of humour is hilarious. Great day all round and if your not on Toms bus your missing out!
We had a great trip with Monika who was very knowledgeable about the tour with a good mix of humour. It's hard to pick out one specific part of the tour because we loved it all. The crater was amazing, as were the geysers and waterfall. Not usually someone who goes on tours but this was really enjoyable and hassle free.
Our guide Iga gave us plenty interesting information during the day. Not just about the places that we visited but also her experiences in the country. It was a very fun tour.
What an amazing trip!! Well worth a visit and good value for money! Monika our guide was simply brilliant and so informative!! Michael our coach driver got us everywhere very safely despite pretty bad snow conditions. Would definitely do this again just for the breathtaking views ❤
This was an excellent tour, especially as we had limited time in the country and were conscious of limited hours of daylight (end Nov). The guide was entertaining and knowledgeable, and made sure we crammed all the sights during daylight hours. The coach was very clean, modern and comfortable (and warm!). Needless to say, the sights are definitely worth seeing even though our weather wasn't great. We would love to do this tour again in the summer months to see how different it all is when not covered in so much snow! We felt this tour was really good value and well organised.
We had a great day with beautyfull weather and a amazing guide Omar, Who told us a lot of information in a lovely funny way! I realy loved it and of course the beauty of icelands nature is awesome!
Monika and Tomek are the best! Our Golden circle was not just a couple of extremely beautiful places but the unique Icelandic adventure with heartwarming music, personal stories and jokes. Wishes to acknowledge: - warm and attentive attitude of our guide Monika and great mood that she brought with herself; - fast and careful Tomek's driving. Big thanks to guide and driver, it was amazing tour, cannot wait to repeat!
Absolutely awesome day out......the views,sights and places you visit are stunning. Omar our guide was brilliant from start to finish,funny informative and made the day even more enjoyable. One of the best trips ever and a must do when in Iceland.
Loved the tour our guide was brilliant again very knowledgeable and answered any questions promptly. I would love to do this tour again and probably try a summer tour as well
Great tour. The sights are so impressive and splendid, even in the rain. Guide Tommy was very funny and knowledgeable. Takk fyrir! Comfortable coach. Driver not really talkative but drove us safely. Hope to visit Ísland soon again!
I loved this tour so much! It was the best tour I did on Iceland. The Guide (Palli) was so good at telling interesting things about Icelandic culture, history, geology and attractions. I only wish that we would have had longer time at the Thingvellir National Park to actually get to explore the area. :)
An excellent experience for us. We enjoyed the many sights and side journey to the church. It was special to see a bride and her bridal party.
The weather was bad but the tour was great
Ist was such a great Tour. The tourguide was very nice and gave us a lot of information, mixed with funny jokes and Storys about trolls and fayries. Every time again.
We had lovely experience with Piter,thank you for the interesting and informative tour!
We were incredibly fortunate to be booked for the Golden Circle tour with Simon as our most impressive guide and host. He is without a doubt the most professional, yet personal, guide we have had the pleasure of spending our day with during our many travels. He was not only well versed in the history of his country and the places we visited along the way, but went out of his way to get us both on a second tour that same day without reservations in advance (Blue Lagoon.) He has been doing this for quite some time and it really shows through in his professionalism and enthusiasm. We would wholeheartedly recommend him for any tour you desire, from basic to the most complex customized multi day. Just get in contact with him and he will take care of it all for you so you do not have to worry about the minutiae. Sincerely, Joel and Galina
Tour mit den besonderheiten Islands. In kleiner Gruppe und sehr unnteerhaalttsamme Tourguide.
Excellent service and Bill and Bob did their best (Magic and Howser). We learned a lot aside from the wonderful views. The stories behind the people and the places are wonderful. It is a must. I would rather booked this tour than driving myself around. The visit to the home made ice cream and dairy farm as well as the horse petting is a bonus.