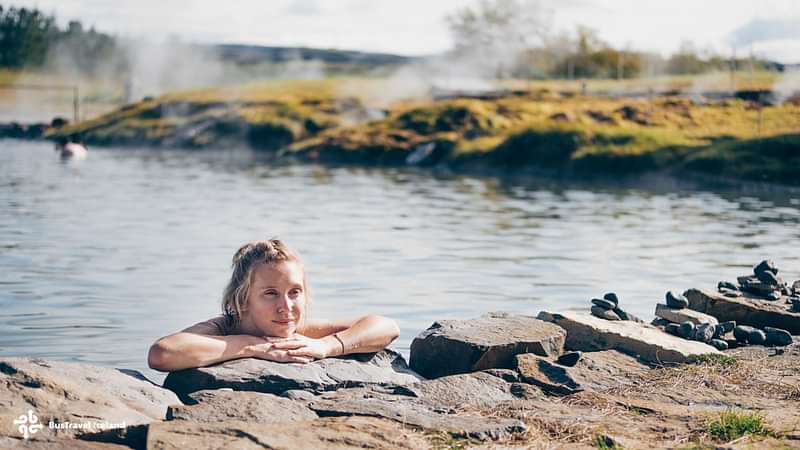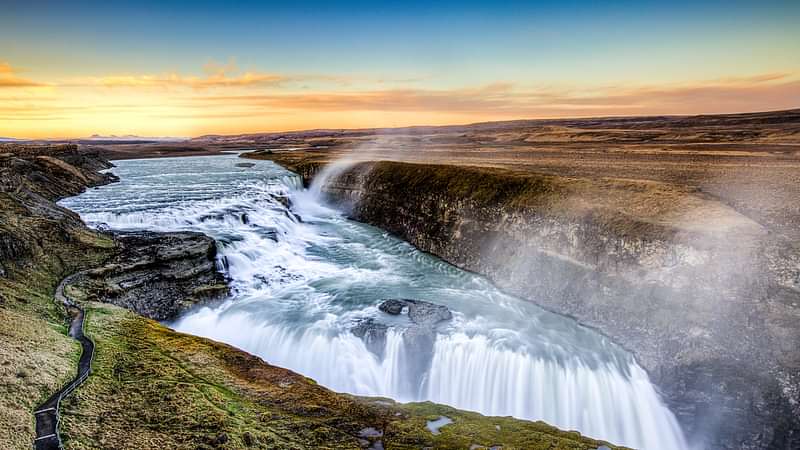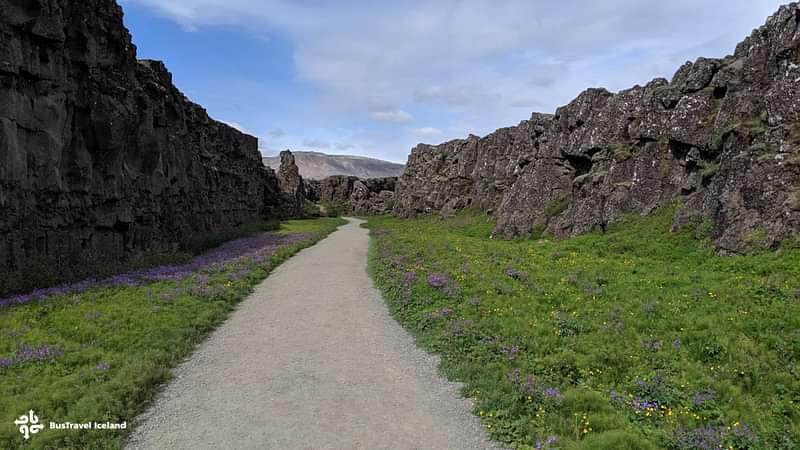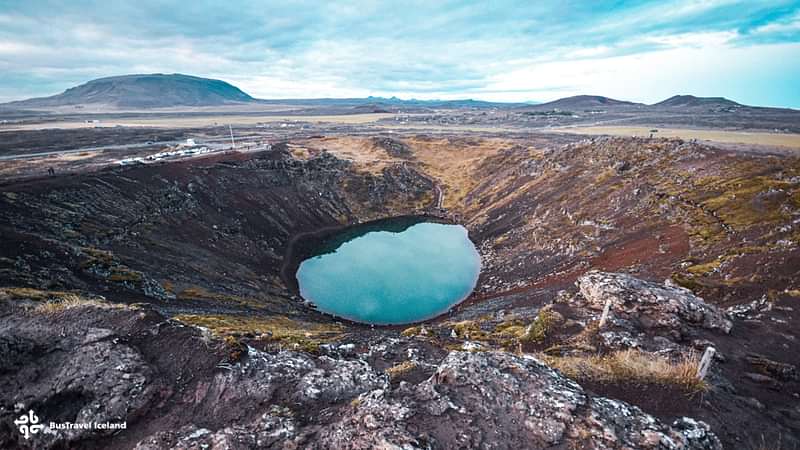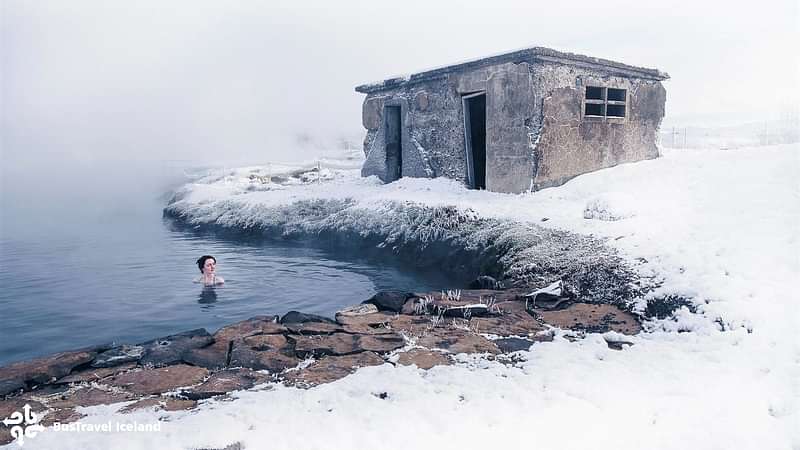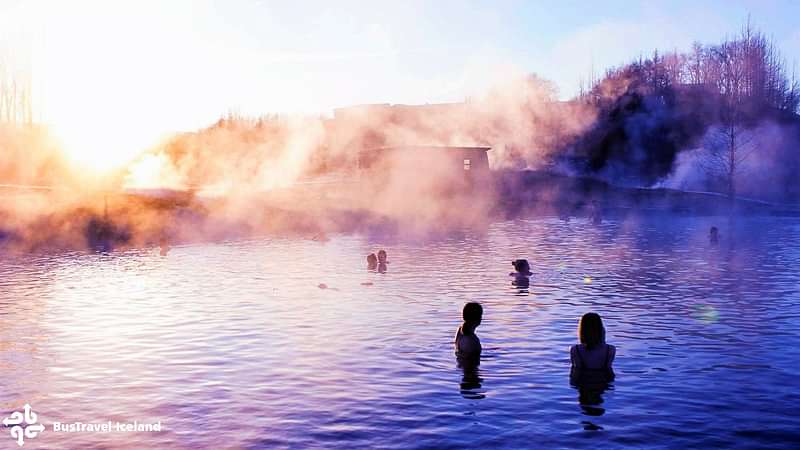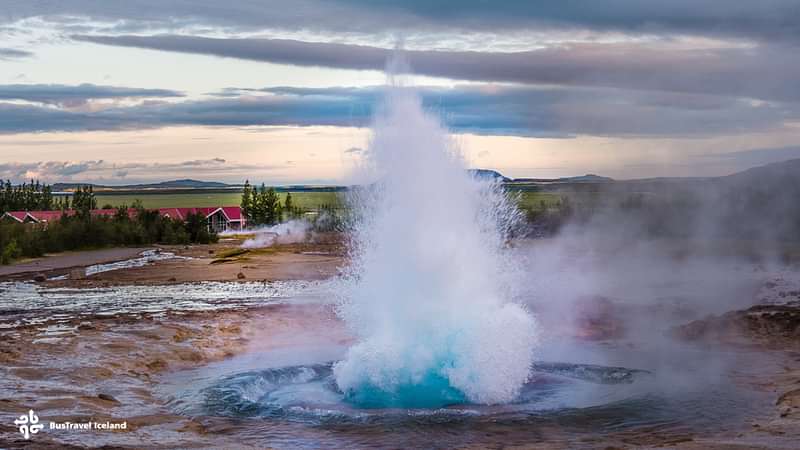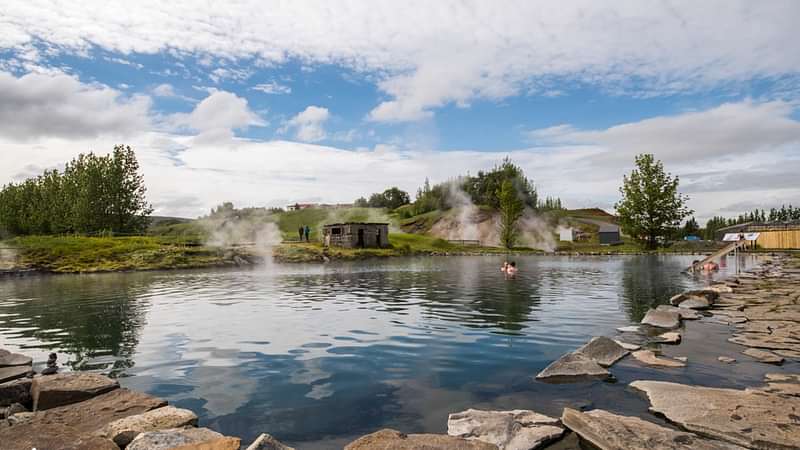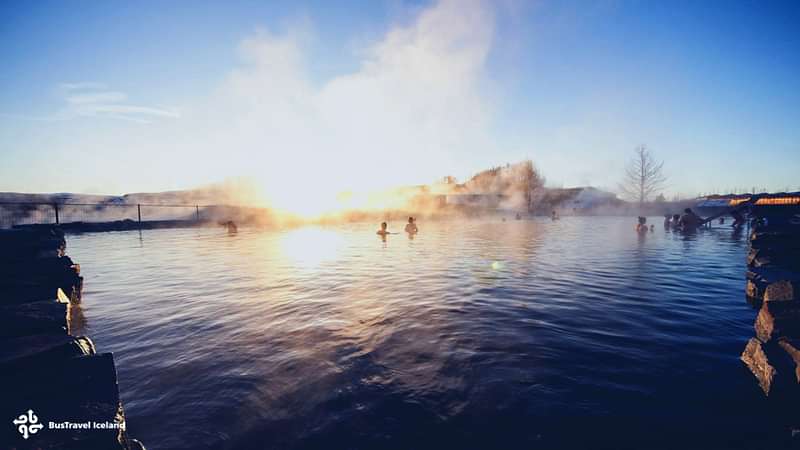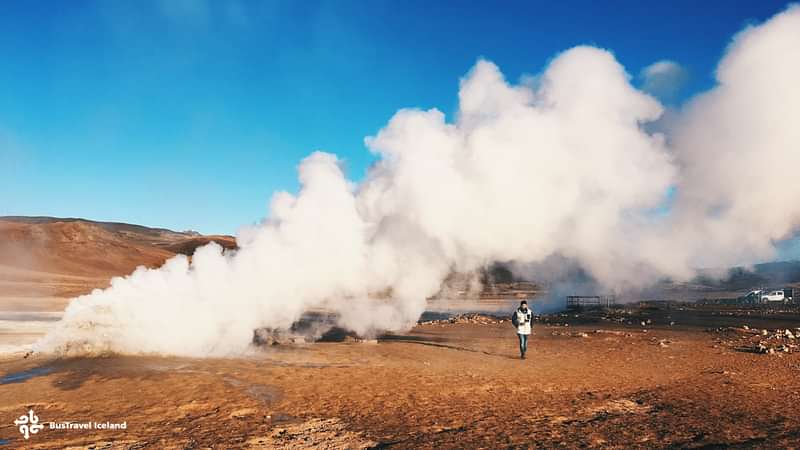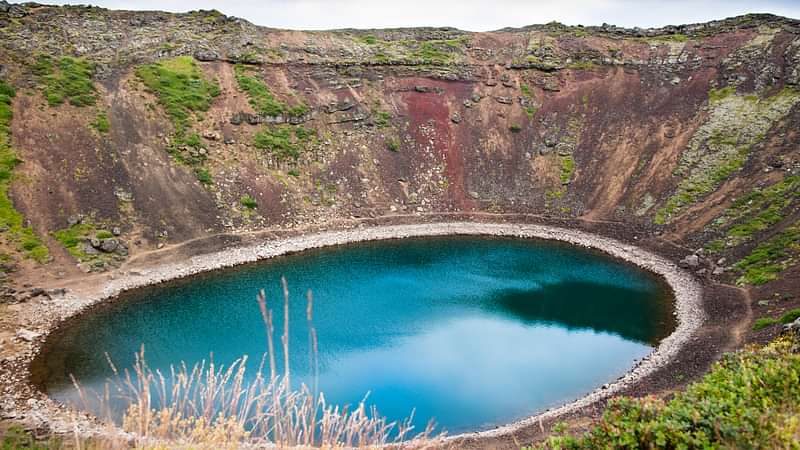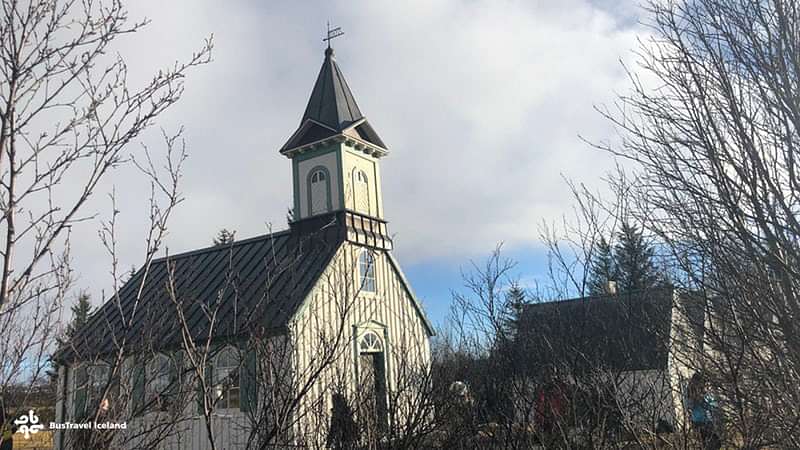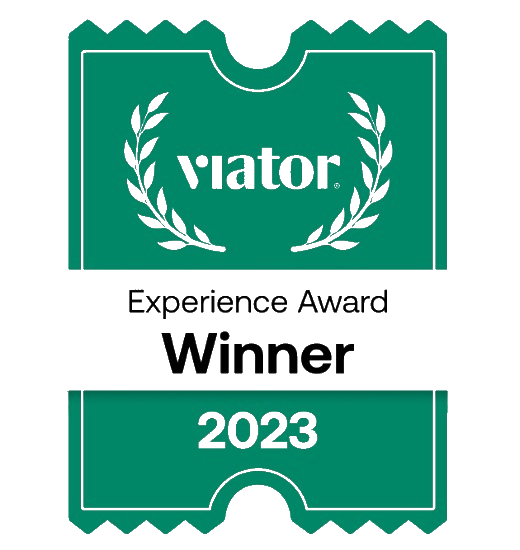 We are very proud to announce that this tour is a Viator Experience Award Winner 2023! BusTravel Iceland's Golden Circle & Secret Lagoon Tour has been chosen as one of Viator´s Top 20 tours in Northern Europe for 2023, reflecting its excellent reviews, popularity with travellers who have joined the tour over the past year, and the quality of the overall experience.
Description
A visit to the Golden Circle in Iceland is on the top of many travelers' bucket lists. The scenery is diverse and the activities that result from it are exciting. During our complete Golden Circle day tour, we will partake in an early admission to the Secret Lagoon, to enjoy the serenity and relaxation of the oldest geothermal pool in Iceland - without the crowds!
Our classic Golden Circle day tour with Secret Lagoon entrance covers all of the main stops on the Golden Circle Route, with our first sight of the day being the multicolored Kerið Volcanic Crater Lake, a fascinating landmark created 3000 years ago. Next up, we will stop at the Secret Lagoon, of which the geothermal hot spring remains between 38 - 40 degrees celsius. After some relaxing time, we will head to the Geysir Geothermal Area, the astonishing Gullfoss Waterfall, and the Thingvellir National Park.
This well-paced classic Golden Circle full-day tour combines the most popular attractions and activities in Iceland, allowing you to experience the best that Iceland has to offer.
Highlights
The Secret Lagoon (entry fee included)
Kerið Volcanic Crater Lake (entry fee included)
Geysir Geothermal Field
Gullfoss Waterfall
Þingvellir National Park
Itinerary
We start the Golden Circle day tour with our fast and efficient pick-up routine. Our driver-guide will come to collect you at either one of the designated stops in central Reykjavik or one of the pick-up stops scattered throughout the city. Once everyone is accounted for, we will hit the road to visit our first point of interest of the day.
Kerið Volcanic Crater Lake
Kerið is a 3000-years old, varicolored volcanic crater on the Golden Circle Route. Many visitors go there to admire its perfect conical shape with a beautiful appearance, decorated with maroon volcanic rock and black sediment stripes.The blue lake at the bottom of the crater is the center of attention.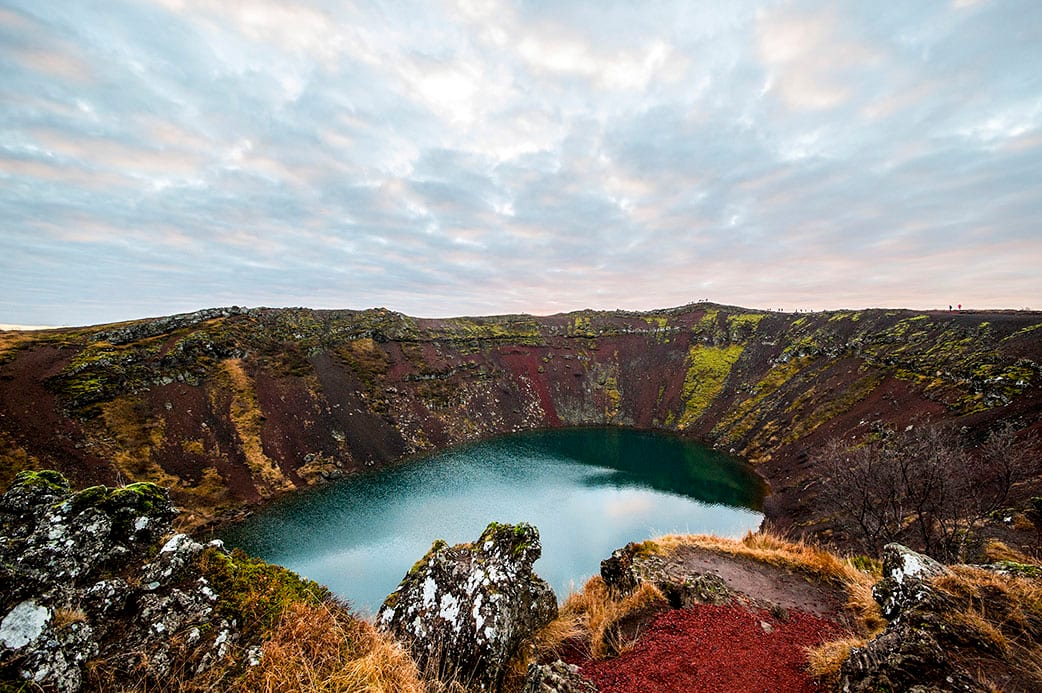 Paved walking paths are available for close exploration, as you can either walk around the rim of the crater for a panoramic view and its sense of vicinity, or you can follow the path to the bottom of the crater for a nice walk around the crater lake. Its perfect conical shape is due to a collapse of the magma chamber onto itself after the lava depleted during its eruption.
The Secret Lagoon of Iceland
As the oldest geothermal swimming pool in Iceland, the Secret Lagoon has been a local hotspot since its establishment in 1891. Located in the Golden Circle of Iceland, the Gamla Laugin, which translates into the 'old pool,' is a favorable place to enjoy some relaxing time.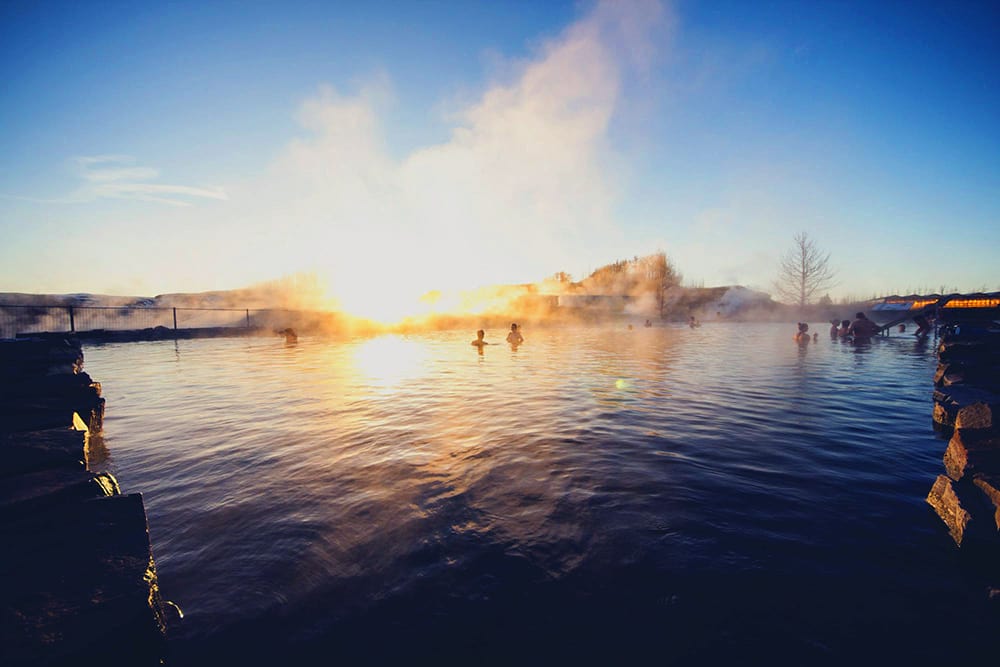 Now a popular tourist attraction, the pool has been renovated to welcome more visitors, with steam vents contrasting against the fascinating panoramic landscape views nearby. You can take your time relaxing in the warm water and serene ambiance before we hop on our bus, for our next destination.
Geysir Geothermal Area
It's safe to say that Iceland is powered by geothermal energy, and the Geysir Geothermal Field is the best example to demonstrate that! As you step on the walking path, your senses come alive as you are immediately greeted by the sulfuric smell, and bubbling mud pools in a land of mysterious steam vents, and dynamic, gushing hot springs.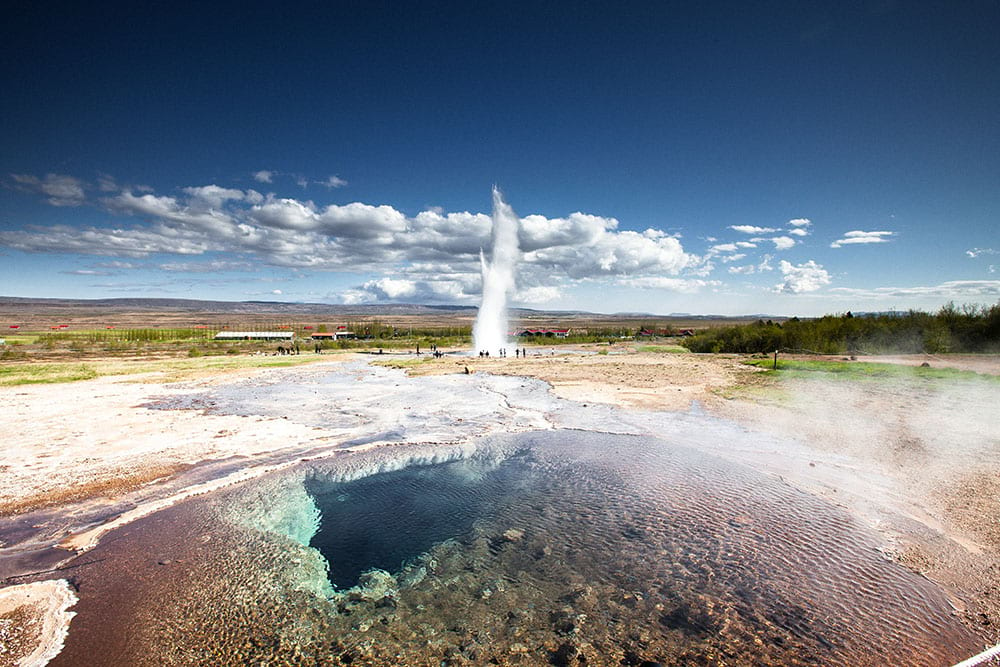 The star of the show is the Strokkur Geyser which erupts every 5 to 10 minutes, reaching up to 20 meters in the sky. The nearby Great Geysir used to be active, until its underground conduit was blocked. Now it is a peaceful depth of blue water, with a unique, serene beauty in contrast to the dynamic Strokkur. The English word, geyser, is coined because of the Great Geysir.
You can also find a visitor center close by with nice lunch options and a great selection of souvenirs.
Gullfoss Waterfall
After a 5-minute drive, we will reach Iceland's most famous waterfall, aka Gullfoss, the Golden Falls. The astonishing waterfall's wide cascade drops in two stages, the first 11 meters (36 ft) then 21 meters (69 ft), roaring and tumbling down to the canyon, splashing up a massive screen of mist. Power from the waterfall can be felt even from a distance.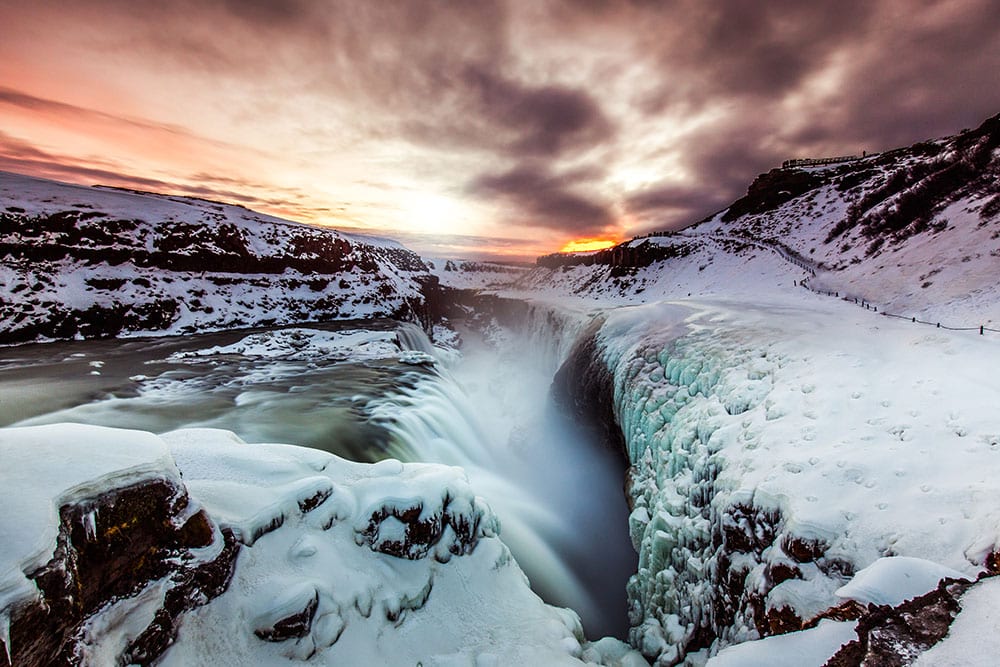 There are walking paths in the upper and lower level, allowing visitors to admire the waterfall from different levels and angles. Gollfoss's voluminous water is from Hvítá, the White River, which originates from Iceland's second-largest glacier, Langjökull.
Þingvellir National Park
Thingvellir is a unique location, home to multiple highlights of Iceland, significant in both Iceland's culture and geology. Alþing, Iceland's parliament, was established by the Vikings here in 930 AD, and is also the world's first parliament.
In 2004, Thingvellir was listed on the UNESCO World Heritage Site, as it holds the unique ability to allow people to walk through a rift valley that sits on the divergent edge between the Eurasian and North American tectonic plates. The splitting part is the Mid-Atlantic Ridge, and its only visible section is found in Iceland, with the rest submerged in the ocean. Öxaráfoss waterfall cuts through the walking path with its beautiful drop streaming down the deck.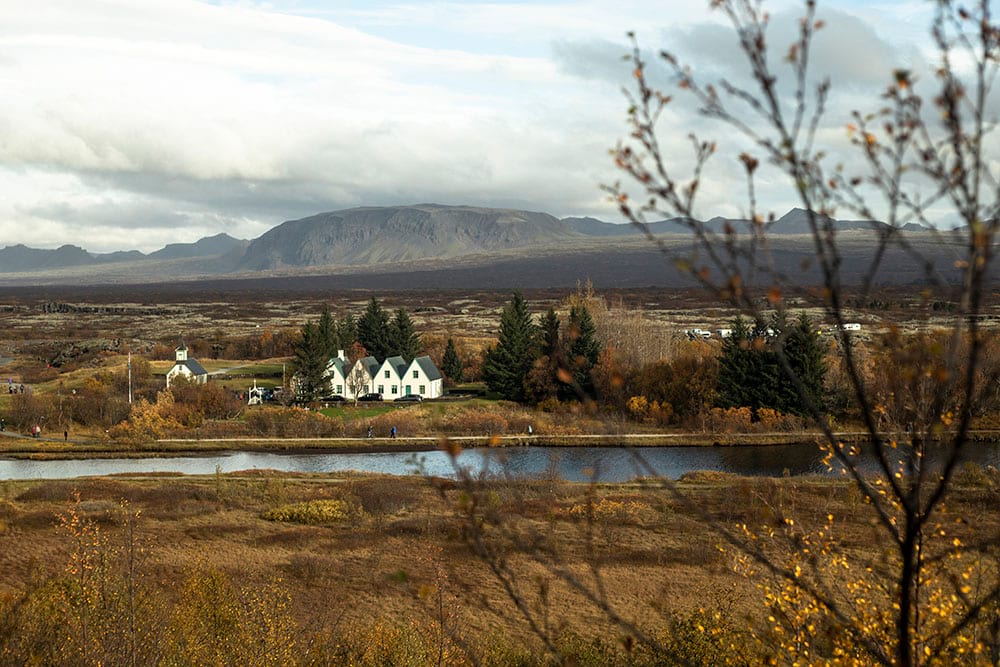 Almannagjá is the largest fissure in Thingvellir National Park, which will guide you through the path of the Vikings, to the parliament site, and then reach the panoramic viewpoint of Hakið. In winter after darkness drops, if you are lucky you can see the Northern Lights dancing over the national park, a unique natural live show!
During this exciting full-day tour, you not only get the chance to explore all major highlights of the Golden Circle but also to immerse yourself like a local in the healing hot springs of the Secret Lagoon of Iceland. A wonderful experience that can't be missed!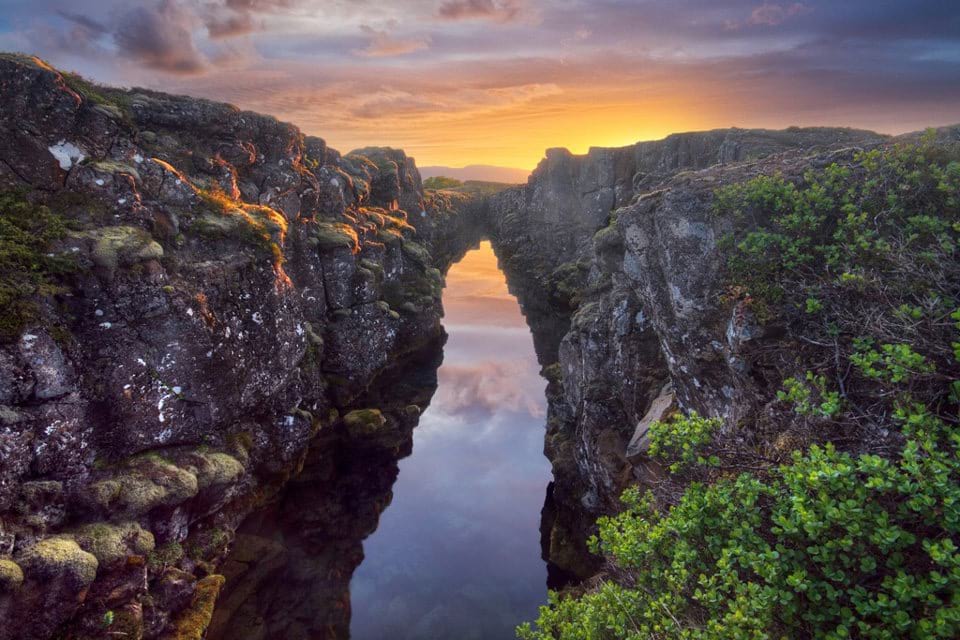 After learning about Icelandic culture, exploring nature, and experiencing the traditional geothermal bath, we will wrap up the day and drive back to Reykjavik.
*Kind reminder: We may adjust itinerary due to conditions/operations reasons.
What's included
Professional guide
Entrance fee to Secret Lagoon
Free WiFi
What's excluded
Pickup and dropoff
Food and drinks
What do I need to bring
Your swimsuit and towel
Warm, water- and windproof clothing are always useful in Iceland.
All tickets are e-tickets so there is no need to print them out.
Important information
The duration of the tour is 8 to 9 hours. Please be aware that the tour could run long if affected by bad weather or other delays.
There is no food included on this tour but there will be stops where you are able to purchase food
Cancellation policy
Cancellation fee of 100% if cancelled 1 day or less before departure
Guided Language
Reviews!
Thank you for submitting your review
Did this tour guided by Monika. It was fantastic! A great selection of sites, good pacing and timing at each stop to give you a chance to experience everything. Our guide was funny and friendly and included such interesting history and facts the whole way. I loved that she also played us Icelandic artists and shared the playlist with me! I learned a lot and saw incredible places. Definitely recommend!
What a fantastic way to spend a day in Iceland. So many great natural wonders. Perla , our guide, was amazing!! She was so entertaining, knowledgeable, and kind.. She sang for us, told stories and explained things so well. At one point one person was confused and went to the wrong meeting point. She professionals handled the situation, kept it light hearted and ensured her and all of us that everything was okay. There was a few people from a cruise ship with us, Due to the delay we were running a little late. To make sure they made it back on board, they were dropped at the ship port vs. the meeting point. Our driver let me use his phone to make a call home to deal with a family situation. All around a fantastic day and outstanding care and service.
One of best tours of my life thanks to the amazing guide Mia and the beautiful weather (I was super lucky)!
We were picked up at our chosen bus stop (4) and driven a short distance to be transferred over to our tour coach for the day. Gudrun was our guide for the day. She was just brilliant. Friendly, informative, very knowledgeable and rightly passionate about her Country. She gave us lots of interesting information & snippets about the areas which added to the enjoyment of the day. We especially enjoyed the secret lagoon and the gullfoss waterfalls. It was a shame the weather wasn't kind at times but we thoroughly enjoyed the day. Thank you Gudrun.
This bus tour for the Golden Circle and Secret Lagoon was an incredible experience. Pearla was very knowledgeable and passionate about her country which made it such an interesting and educational experience. We loved to hear about the history of the places we visited and also her knowledge of the Iceland geology. We especially enjoyed her singing, in particular the 'seatbelt' song, which we now can't get out of our head. The pickups and drop offs were very easy and convenient. Communication was excellent all round. Fantastic value for money and we couldn't recommend it enough. A massive thank you to both Pearla and Christophe for making the tour so awesome.
We had a very special day with Guðrún!! She is a so professional guide tour .Thank you so much :))
AMAZING tour and tour guide!! In this tour day we have seen so much Icelandic gems! Views are thrilling and something I definitely suggest going for. Our tour guide: Tomas -was absolutely brilliant! Told so many things about his country and all this places we visited. We also had a privilege to hear Tomas singing Icelandic lullaby and stories/ explanations about them. It was perfect context as we were traveling in buss and landscapes were passing buy. If you ask him nicely, maybe you will also manage hear his deep voice and feel Icelandic power. Also would like to mention traveling in buss all day could be a bit too much, but it was not as stops were broken up evenly and our driver Stanislav was professional, and I even had no moment to feel scared or nauseous. 100% I suggest going for this tour.
Amazing tour, landscapes and atypical tour guide :)
It was a great tour; I would absolutely recommend it as an introduction to Iceland. Needless to say, for a future trip, I would like to spend a whole day per site for each of the five main sites we visited — this is how wonderful they are — but with this day trip the whole idea is to get it all covered for beginners like me. Our guide Hjörtur Howser was very professional, no less charismatic, and a real pleasure to listen to (loads of intriguing facts about nature, culture, agriculture — the works; plus he speaks as though he is writing belles-lettres, seriously). There were about 25 of us in the bus, which I think is a good size, and the group developed a bit of a team spirit. Now, the special thing about this tour is that it includes the Secret Lagoon. Before I made my reservation, I researched the differences between the several pools offered in combination with the Golden Circle, and once we got to the Secret Lagoon, I felt that I had picked the right one for my taste: smaller, less commercial, more intimate (and it is the oldest public pool in Iceland, so it has something of a traditional air about it).
We bas a wonderful day trip. HBO out driver and guide was helpful and told us interesting facts ranging from geology of the island to how things are in Iceland today. We were a family of 6 from 12 to 81 and all really enjoyed it. Everything went very smoothly and we didn't feel rushed at any of the sites. Very highly recommended.
Highly recommended. Very nice and competent tour guide, good program, comfortable bus, perfect organization. Gladly again
What an amazing day! Perfect weather with the snow, but clear skies with sun. Absolutely magical to see the gilfoss waterfall in the winter and the secret lagoon was beautiful! Tour went so smoothly and our guide Atli and driver Tomek were great! 100% recommend such good value for money
The places are definitely a must do. The secret lagoon is amazing and could easily replace the blue lagoon (the experience of thermal waters is the same but without such costly tickets). Chiara, the tour guide, is a sweetheart and super knowledgeable! She brought an amazing vibe to the tour and made the difference. Maciej, the driver, was also super helpful and welcoming.
We had a lovely tour of the golden circle our guide was so knowledgeable and humorous, the day went so smoothly and the secret lagoon was such a gem. We had plenty of time to look and take in the scenery. I would highly recommend doing this tour, wrap up warm.
One of the most iconic tours of the most iconic places in Iceland. Our guide, 'Iceman' was fantastic and very responsive to our needs, full of stories and tales about the places, the people, history and legends. Thank you very much, Mister Iceman! :) The Secret Lagoon was a great experience, much different from Blue Lagoon but nevertheless precious in itself and purely authentic.
Experience was amazing which was mainly due to our tour guide Jona and our amazing driver Thomas. They took us to all the stops as per itinerary, but made a couple of detour stops which were breathtaking. LOVED IT!
A experiência foi incrível! O dia estava com o tempo fechado e nevando muito, mas conseguimos ir em todos os pontos do roteiro e a lagoa secreta foi a melhor parte, é uma delicia e não muito cheia, estava nevando e a experiência de estar em uma lagoa quente no meio da neve foi incrível. Dica: levem câmeras a prova d'água se quiserem boas fotos.
Great correspondence before the trip and good communication. David the tour guide and Jemik (?) the driver were great. We had a couple of extra stops on the way, including feeding the Icelandic ponies which was a great treat. Highly recommended.
I emailed with a question before booking and had a very quick reply from Chiara in Customer support. Pick up was on time and efficient. We had plenty of time at each of the attractions, including the Secret Lagoon which we loved. It worked well visiting the lagoon earlier in the day. Our guide (Sno?) was helpful and informative. Definitely recommend this trip as a great introduction to Iceland.
A great trip with a very informative interesting guide, Finn, who knew a lot of history and background to what we saw which really enhanced our enjoyment of the day.
Fabulous Guide and relaxing full of amazing nature experiance. Just go!!
Our guide Simon was great. Had good knowledge and good sense of humor. It was an amazing experience. Time at each attraction was sufficient to appreciate the scenery and explore the surroundings.