Use the Promo Code SUMMER10 at checkout to get 10% OFF as part of our Summer 2023 Sale.
Overview
Short on time and looking to make lasting memories in just one day. Our combo tour featuring whale watching and the Golden Circle might just be perfect for you.
Join the best whale watching tour Reykjavik has to offer and cruise the waves in search of a variety of creatures including minke whale, dolphins and seabirds. Humpback and orca sightings are somewhat rarer but can´t be ruled out.
After your time spent on the open seas, join your bus tour of the Golden Circle, featuring some of Iceland´s most popular natural wonders. Travel in a landscape shaped and influenced by the forces of glacier ice and volcanic fire. Enjoy the eruptions of steam and boiling water at Geysir; the mind-blowing power of Gullfoss waterfall; The volcanic crater at Kerið; and the impressive geology at Thingvellir National Park.
Highlights
Whale watching tour from Reykjavík Old harbour
Thingvellir National Park
Geysir
Gullfoss waterfall
Kerið volcanic crater
Itinerary
You can opt to make your own way to Reykjavík´s Old Harbour for your 09.00 Whale Watching Boat tour. Pickup service is available for an additional fee, from various locations throughout the city. Pickup starts at 08.15.
After your whale watching tour, make your way to the nearby Tour Bus Stop # 4 (Miðbakki) and meet your Golden Circle bus. Once everyone is on board, we make our way east out of the city towards our first Golden Circle stop.
Whale Watching Boat Tour
Your day begins with our Reykjavik whale watching tour. Reykjavík´s sits on Faxaflói bay, which is known for its abundance of plankton and krill, perfect fodder for a variety of whales and other sea life. Join Elding´s modified whale watching vessel which has an indoor seating area as well as various viewing decks. The north Atlantic can be cold and windy so we provide overalls and blankets for all passengers.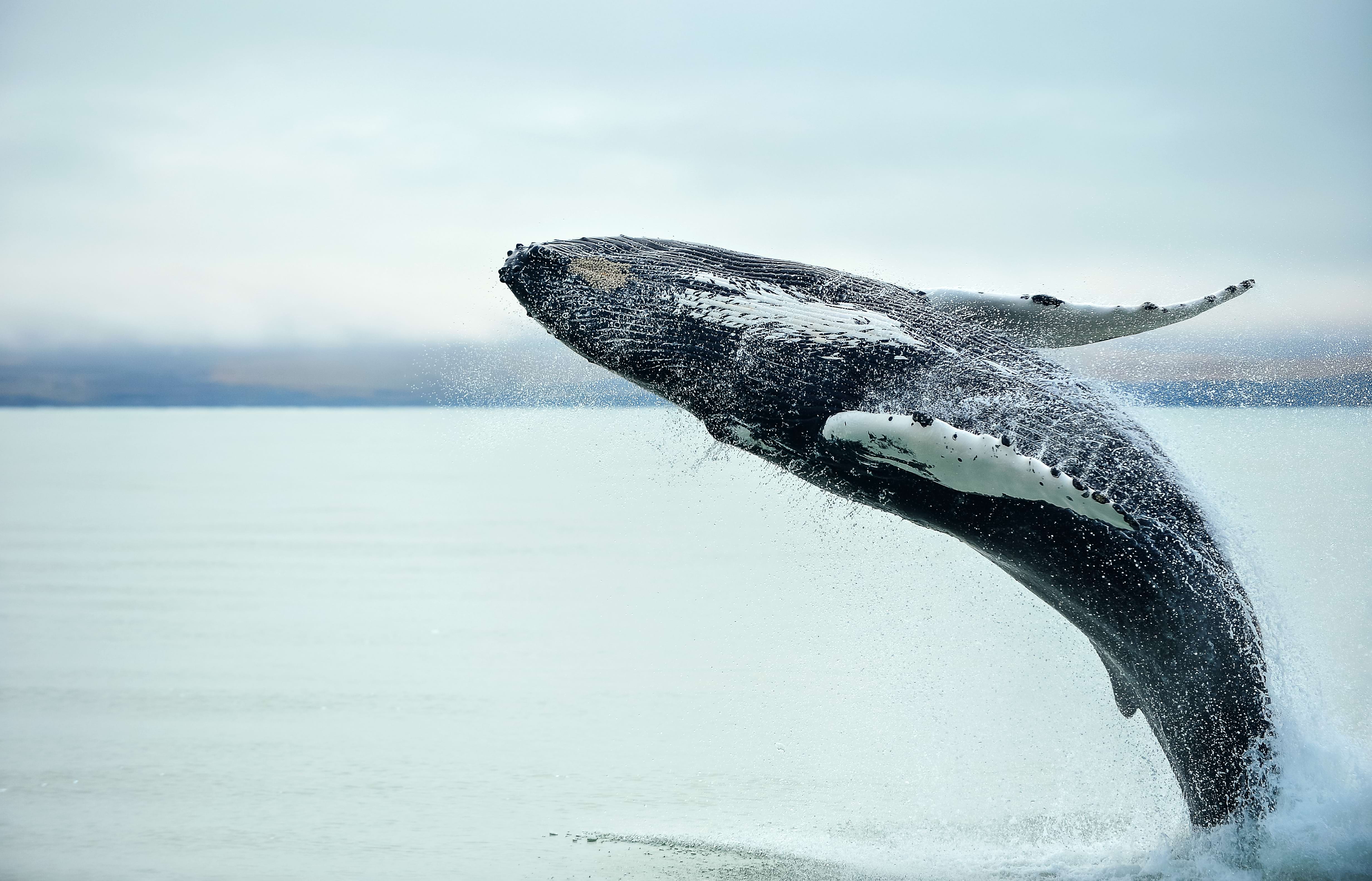 Admire the Reykjavík coastline as well as Mt Ésja to the north, as we cruise out to sea in search of these sometimes shy inhabitants of the waters here. The most commonly seen whales are minke, but sightings of humpbacks and orcas are not unusual. We also often see dolphins, seals and sea birds.
Our passionate guides are experts on the sea life here and will educate and entertain you between sightings.
After your return to port, make the short walk from the boat to Tour Bus Stop # 4 for your Grand Golden Circle tour pickup.
Grand Golden Circle Tour
Your whale watching tour ends in time for you to join our most popular tour. The Golden Circle.
The Golden Circle, Iceland´s most popular sightseeing region serves as the perfect introduction to the very diverse and captivating landscape of this lonely volcanic island.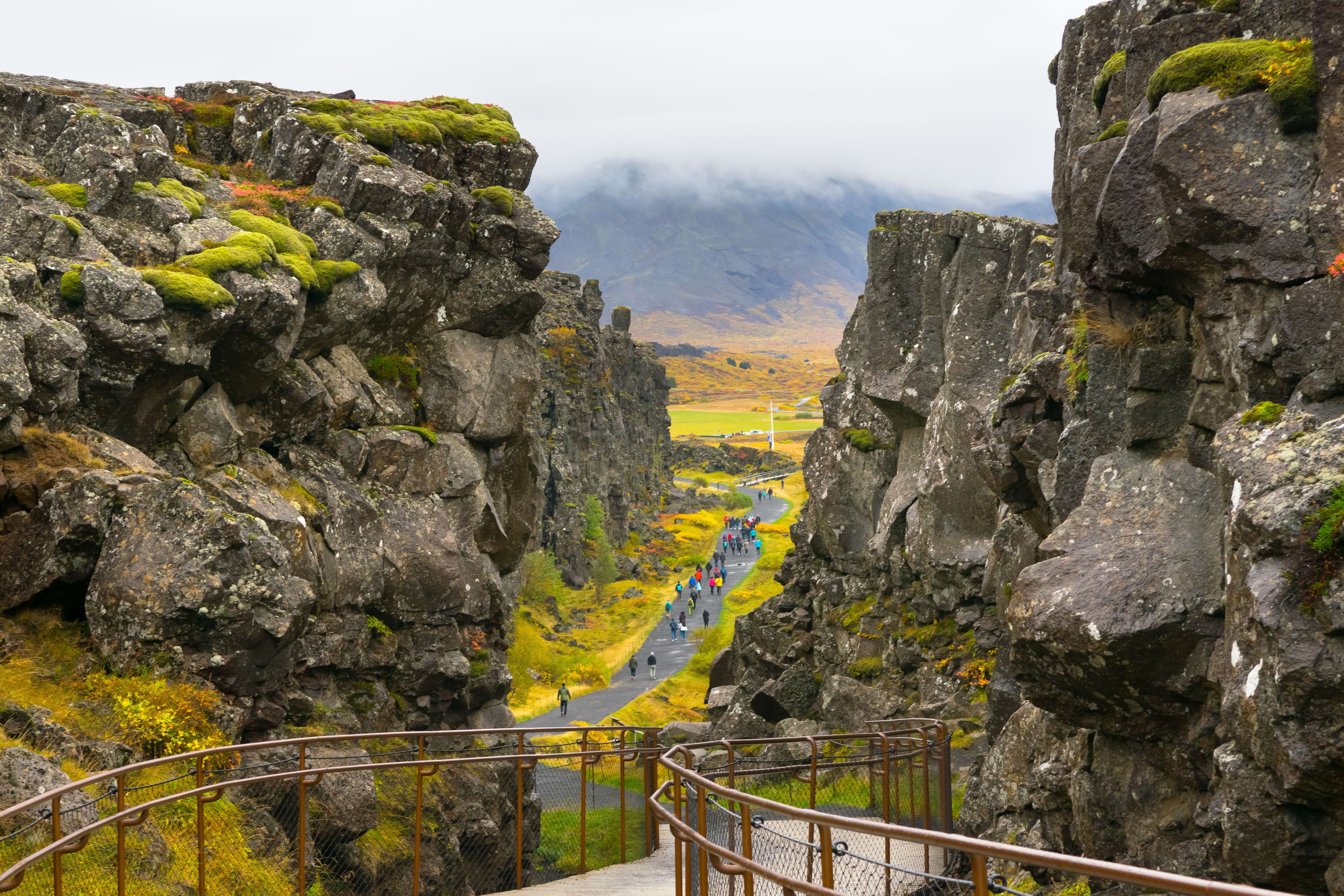 We head east from Reykjavík towards our first stop of the day at Thingvellir National Park. This UNESCO world heritage site is renowned both for its geological features as well as its important role in Icelandic history and culture. The most impressive area of the park is no doubt Álmannagjá gorge which marks the mid-atlantic rift, where the eurasian and north-american tectonic plates meet.
Thingvellir is also the former site of the first Althing, the world´s oldest continuous parliament having first met here in 930ad.
Next up is Geysir in Haukadal valley. All geysers in the world are named after the eponymous example here. Geysir itself no longer erupts but its little sister Strokkur can be relied upon to erupt every 7 minutes or so. It´s a wonderful sight to behold as a burst of boiling and steaming water erupts up to 30 metres into the air. You will have time to enjoy several eruptions as well as a stroll around other hot-springs and mud-pool.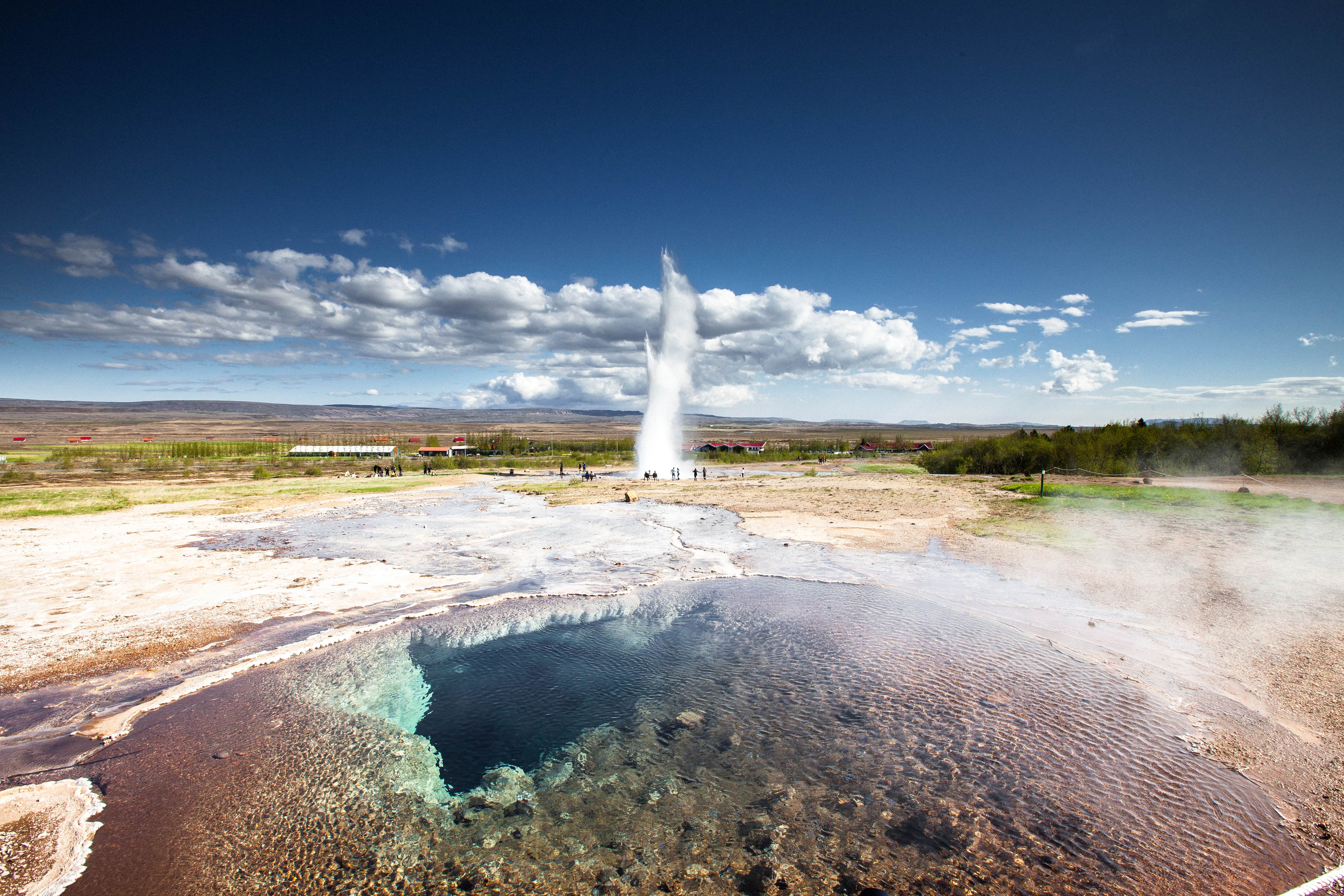 We continue on to Gullfoss Waterfall. The raging waters of the Ólfusá river crashes down several levels here before continuing its long journey towards the sea far to the south. View these magnificent falls from one of several viewing points.
We have time for one final stop before our tour ends. Kerið Volcanic Crater is the remnant of a massive eruption approximately 6500 years ago. Today a small lake fills the center of the crater and you can take the winding path down towards the water. Kerið is yet another example on today´s tour that demonstrates the creative and destructive effects of the natural forces at work in Iceland. Geothermal water, tectonic plates, raging waters and volcanoes have carved the Iceland we see today.
What´s included
Professional guides
Pickup and drop off from various locations in central Reykjavík
Ticket for Elding Whale watching tour
Free WiFi
Entrance fee for Kerið Volcanic Crater
What´s excluded
What do I need to bring
Warm, water- and windproof clothing are always useful in Iceland. Warm overalls are available for the whale watching tour.
All tickets are e-tickets so there is no need to print them out.
Important information
The full duration of this combo experience is around 12 hours in total. Please be aware that the tour could run longer if affected by bad weather or other delays.
The Whale Watching Boat tour is operated by our trusted partner, Elding. If you are making your own way to the Old Harbour, please arrive to Elding´s ticket office by 08.45. The address is Ægisgarður 5c (Old Harbour), 101 Reykjavík, Iceland.
The tour allows for lunch time at the Geysir area
Guided language
Cancellation policy
Full refund if canceled more than 24 hours before departure. No refund if canceled with less than 24 hours notice.
Reviews!
Thank you for submitting your review