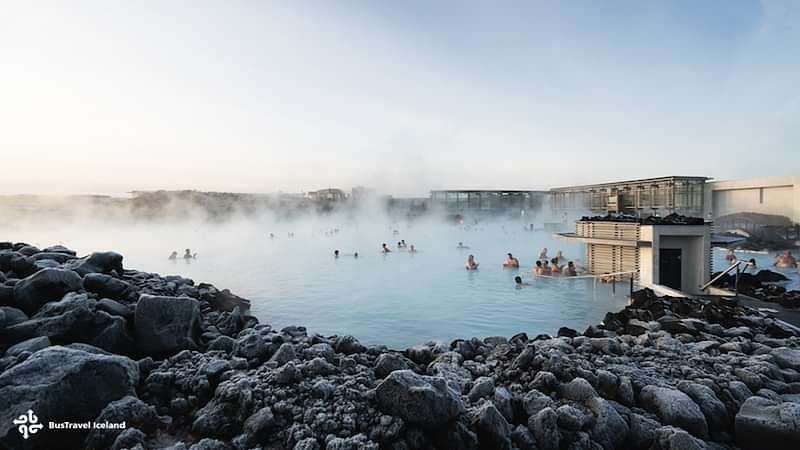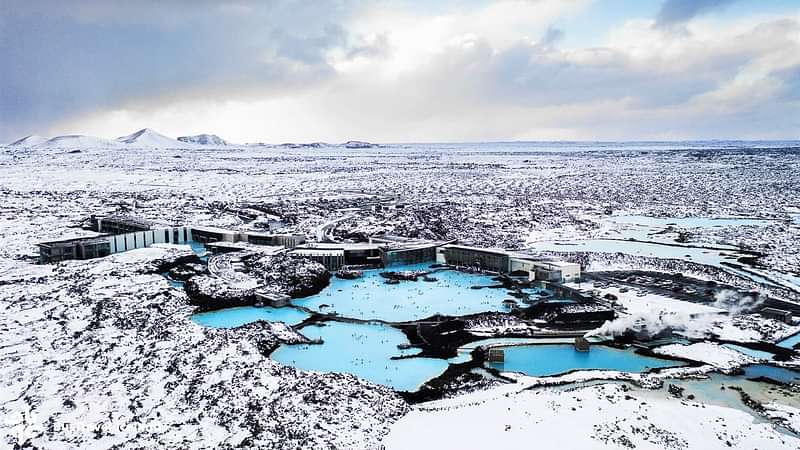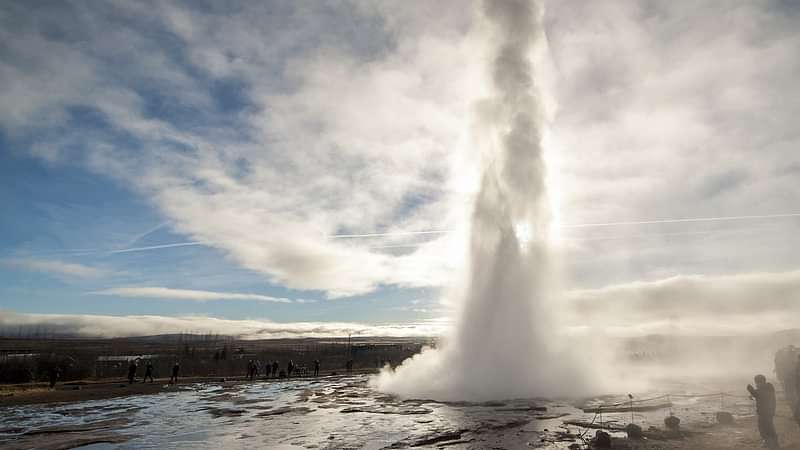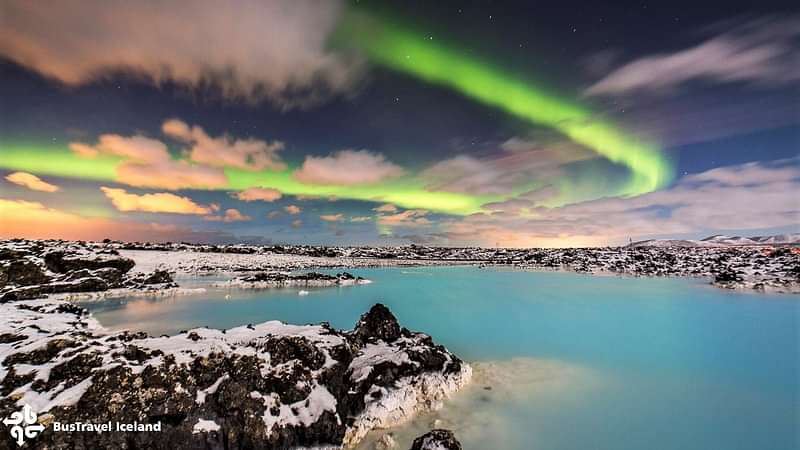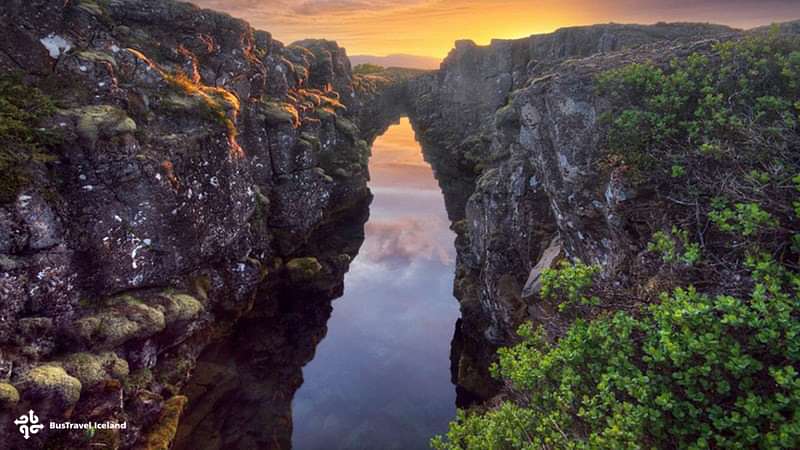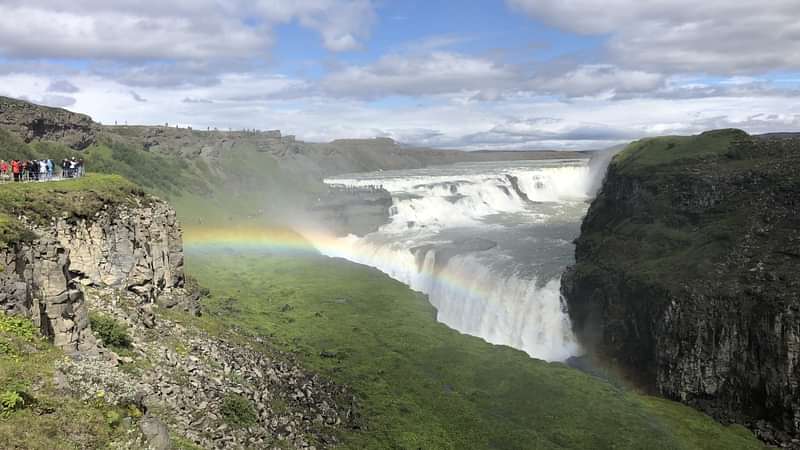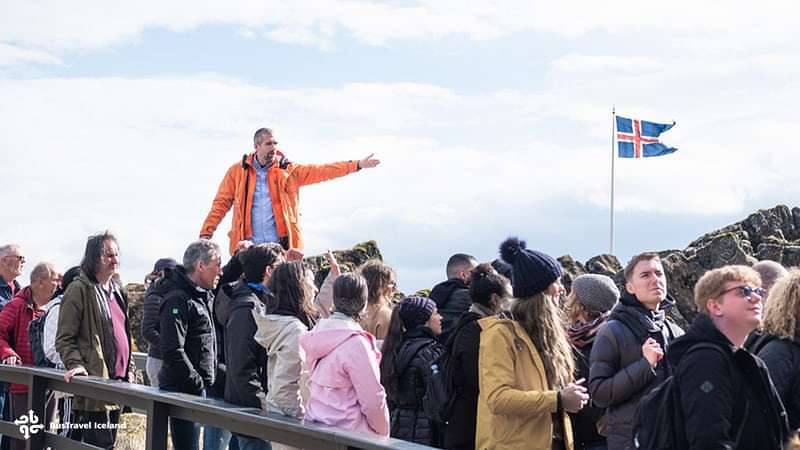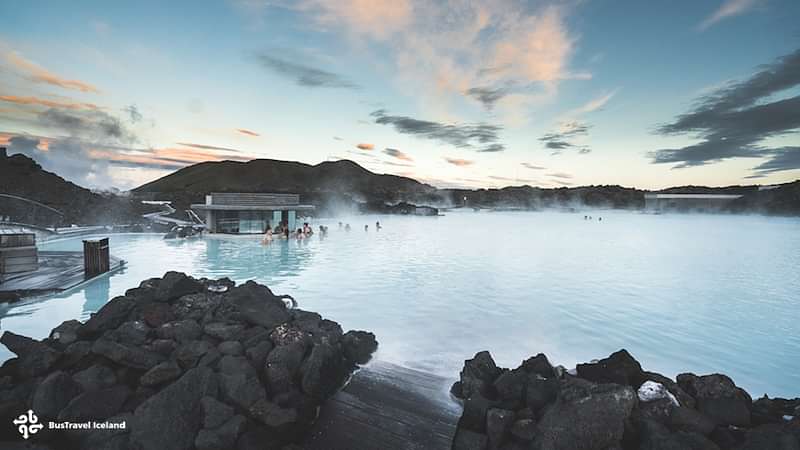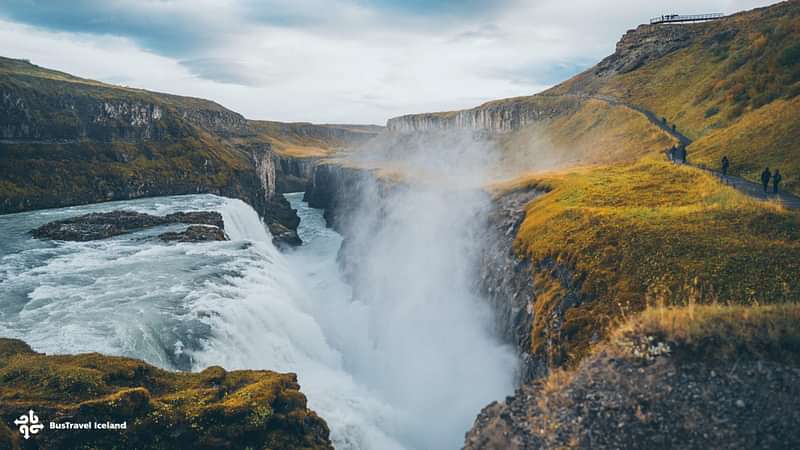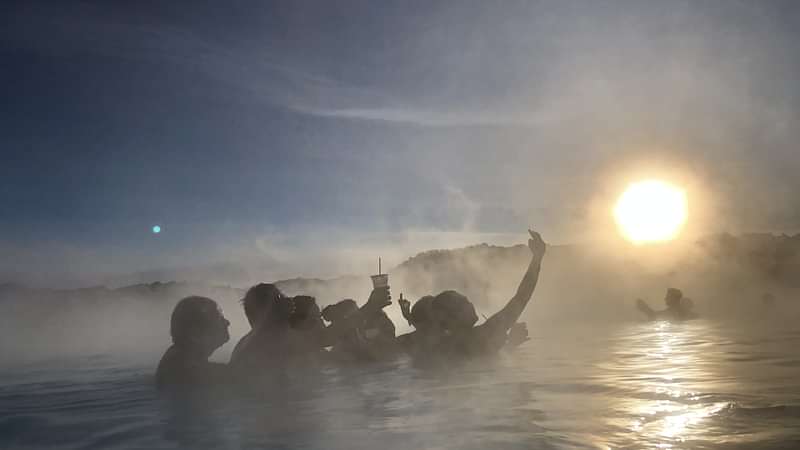 Duration: 11 hours

Very easy

Electronic Voucher

Pick up available
Got Questions? Contact our agents
Description
The small group Golden Circle and Blue Lagoon day tour is the ultimate treat, as it covers the most iconic attractions in Iceland, with an admission ticket to the world-famous geothermal spa, the Blue Lagoon. Hop on our fully-equipped, premium minibus, led by one of our experienced driver guides, we are going on an exciting day trip to see the most beautiful scenery Iceland has to offer, starting with the major highlights on the Golden Circle Route.
Iceland is special because of places like Thingvellir National Park, a historic and geological location that is also a UNESCO world heritage site. Alþingi, the first parliament in the world was established here in 930 AD. One of the most unique experiences Thingvellir has to offer is the opportunity to see and walk between two continents.
Another highlight is the Geysir Geothermal Area, as geothermal powers are especially active in this region propelling steamy hot springs up to the sky.
We will also stop by the mighty Gullfoss waterfall, a unique, beautiful fall that attracts admirers from all over the world.
Unlike many other Golden Circle tours, we also include a stop at Kerið volcanic crater lake, created by where we can see the striking contrasts between maroon, black, and mossy green colors down the slope, and turquoise water filled the crater.
Perhaps the highlight of the day is getting to enjoy the therapeutic geothermal water at the Blue Lagoon, the world renowned hot-spring spa.
Highlights:
Þingvellir National Park
Geysir geothermal area
Gullfoss waterfall
Kerið volcanic crater (entrance fee included)
Blue Lagoon (Comfort Admission Ticket included)
Small group experience
Itinerary
The guided tour starts with our fast and efficient pick-up service, where we will come to pick you up from either one of the hotels in the center of Reykjavik or one of the designated pick-up stops across the city. With everyone on board our comfortable minibus we will then depart from the capital, and begin our exciting road trip with an experienced, knowledgeable driver tour guide.
Thingvellir National Park
Thingvellir National Park is a location that holds both geological and cultural significance, which became a UNESCO heritage site in 2004.
Thingvellir is home to the exposed section of the Mid-Atlantic Ridge, the divergent rift between the North American and Eurasian tectonic plates, which means you will be standing in between two continents, right here, in Iceland. The Öxarárfoss waterfall cuts through the ridge with a beautiful drop from 13 meters (42.65 ft) high up, which you will visit as you walk down the path.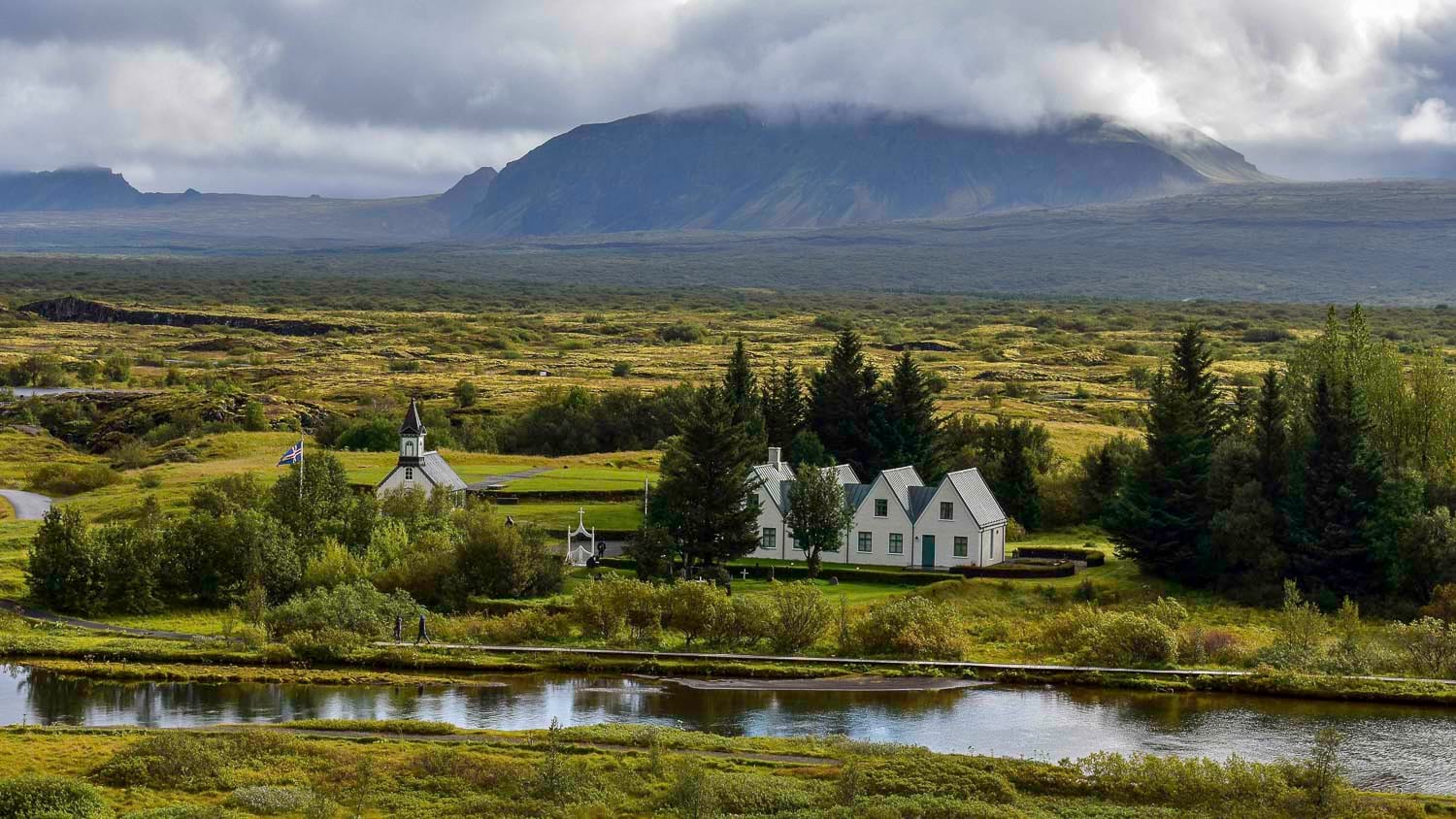 The world's first parliament was established in Iceland, right here in Thingvellir, in 930 A.D. While you are at the viewpoint of Hakið, enjoy the breathtaking, panoramic view of the entire area. The Þingvellir Church was consecrated in 1859, with a simple, elegant appearance, which adds a historic, cultural atmosphere to the natural landscapes. The Almannagjá fissure is close by, with clear glacial water running down deep of the lava walls. The water originated from Iceland's second-largest glacier, Langjökull, which has passed through the porous lava fields beneath.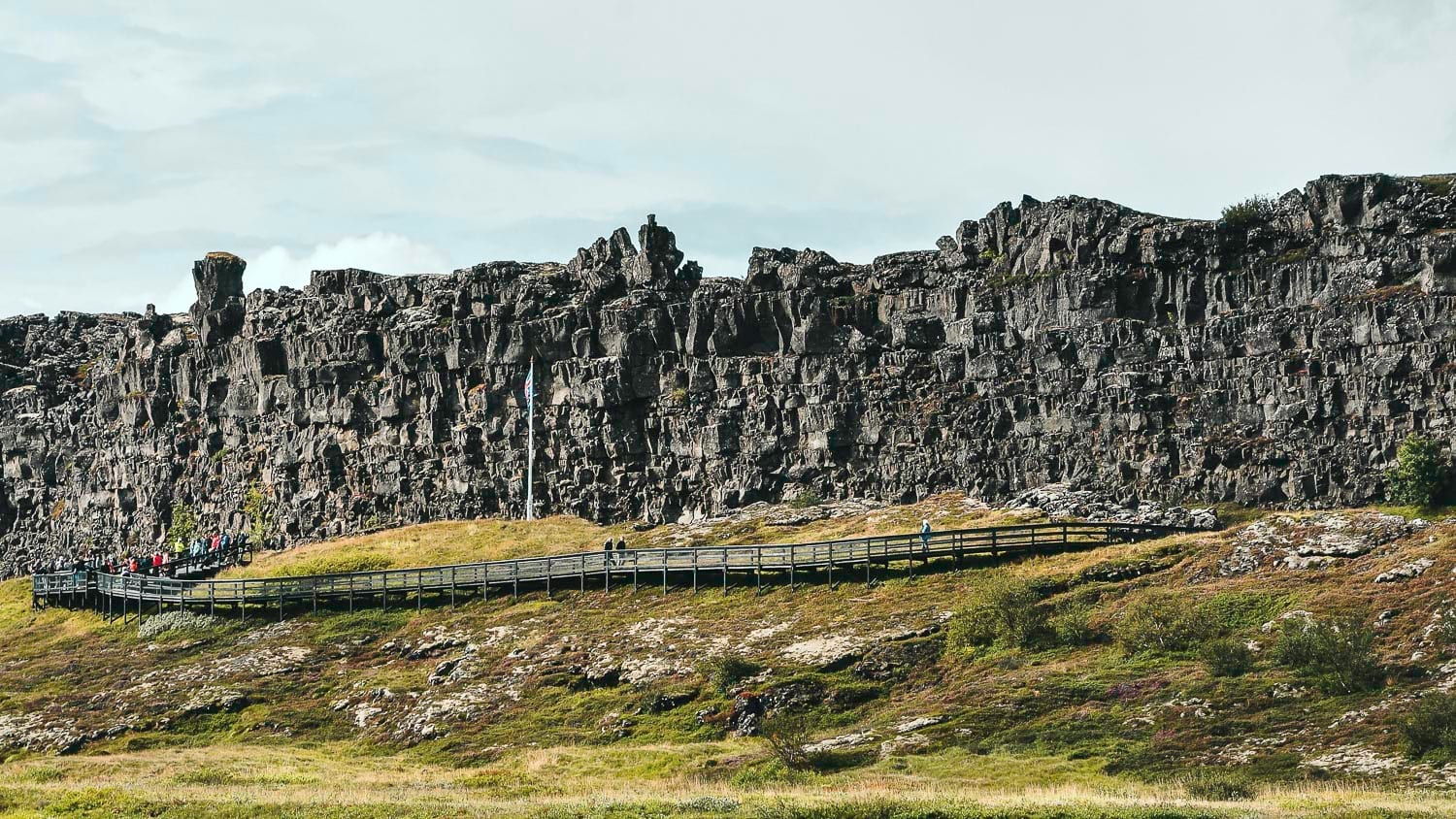 Your driver guide will pick you up further along the Rift Valley.
Geysir Geothermal Area
An active geothermal region, the Geysir area has many fascinating features to see. Steam vents, bubbling pits, warm ponds, with varied colors, and the greatest highlight of the area, the Strokkur geyser erupting every 5-10 minutes up to 20 meters (65.62 ft) high in the sky, a natural spectacle indeed. And the Great Geysir is a quiet, blue depth of water nearby. A visitor center is right next to the area with shops and several lunch options.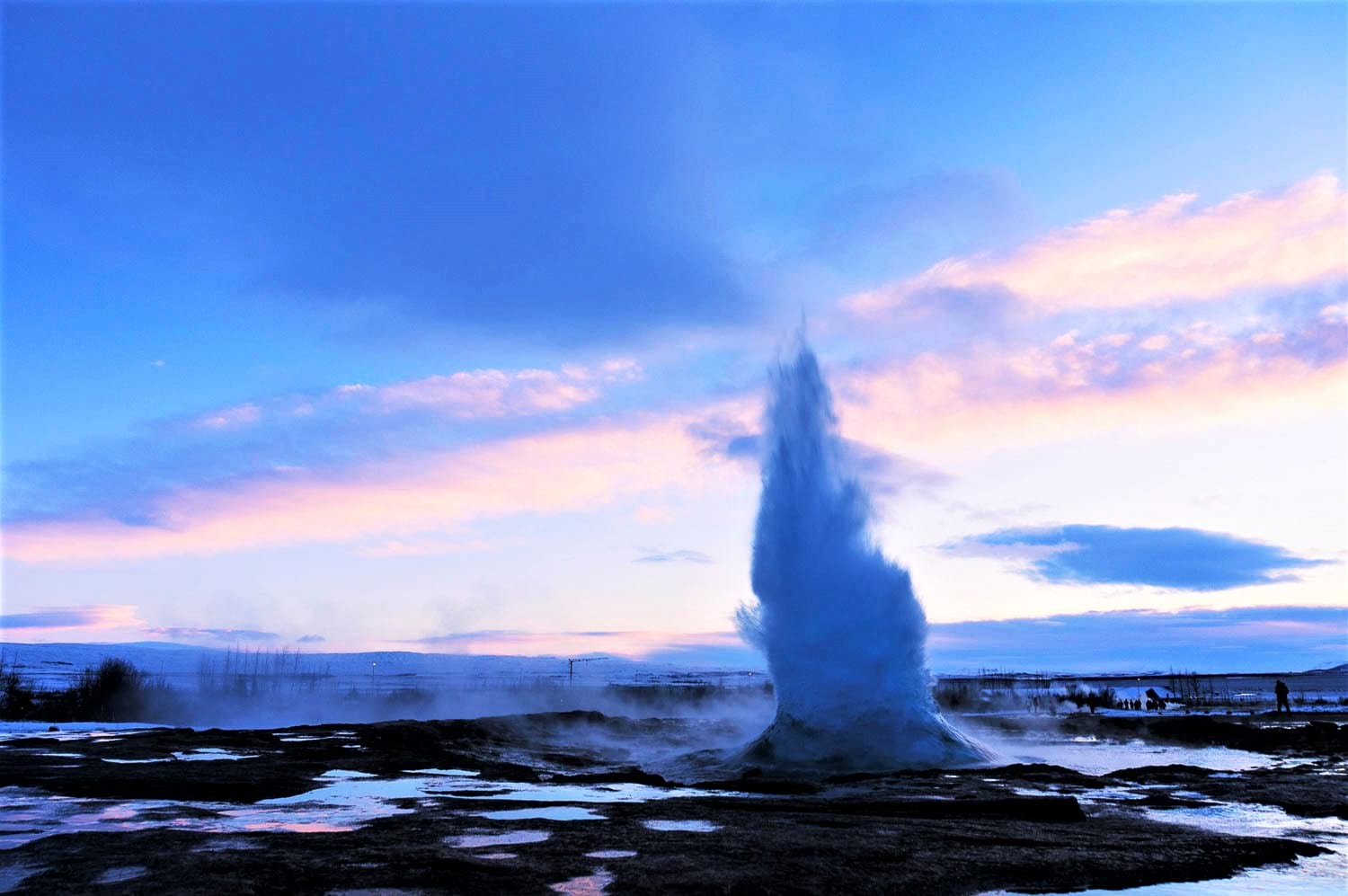 Safety is important, so a reminder to visitors to only walk along the path, as the steamy pits and sizzling water is boiling at extremely high temperatures underneath your feet.
Gullfoss Waterfall
Gullfoss Waterfall, also known as the "Golden Waterfalls," a magnificent, wide drop that first runs down 11 meters (36 ft), then 21 meters (68 ft), roaring to the depth of the canyon, with cliffs rising to 70 meters (230 ft). You will feel its forceful presence when you approach the waterfall and admire the stunning visuals and intriguing history. Gullfoss's river is fed by the Hvítá river, or white river, originating from the Langjökull glacier.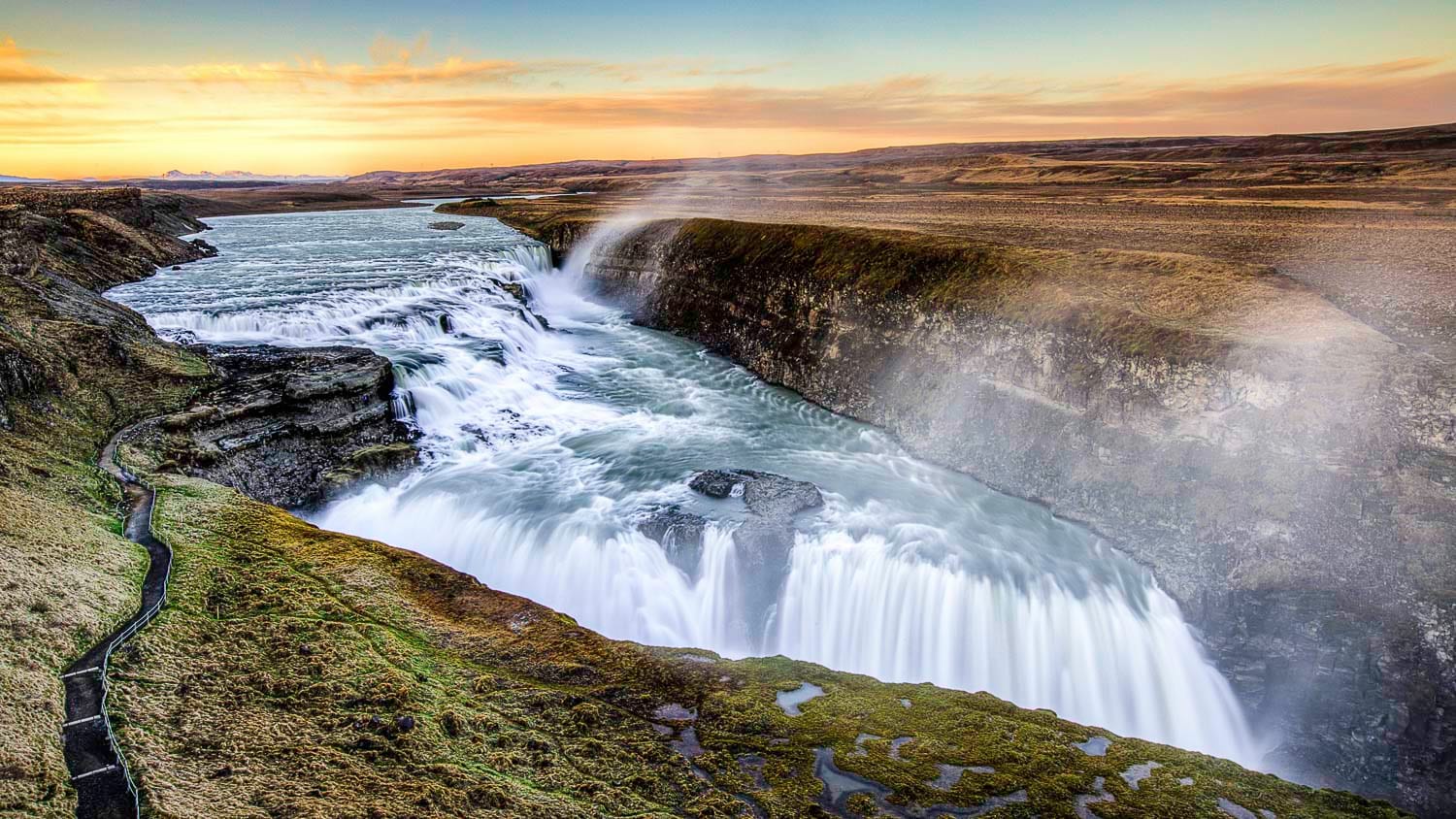 Kerið Volcanic Crater Lake
The remarkable crater lake, Kerið, is yet another popular attraction on Iceland's Golden Circle Route, famous for its greenish lake water and colorful crater appearances on the slopes. Kerid crater was formed around 3000 years ago during a volcanic eruption during which the volcanic chamber collapsed onto itself, after the burning magma depleted. Its shape is a perfect inverted cone, and a pathway was built for visitors to see the site. A bonus fun fact is that the Kerid crater has been a popular concert venue for many years!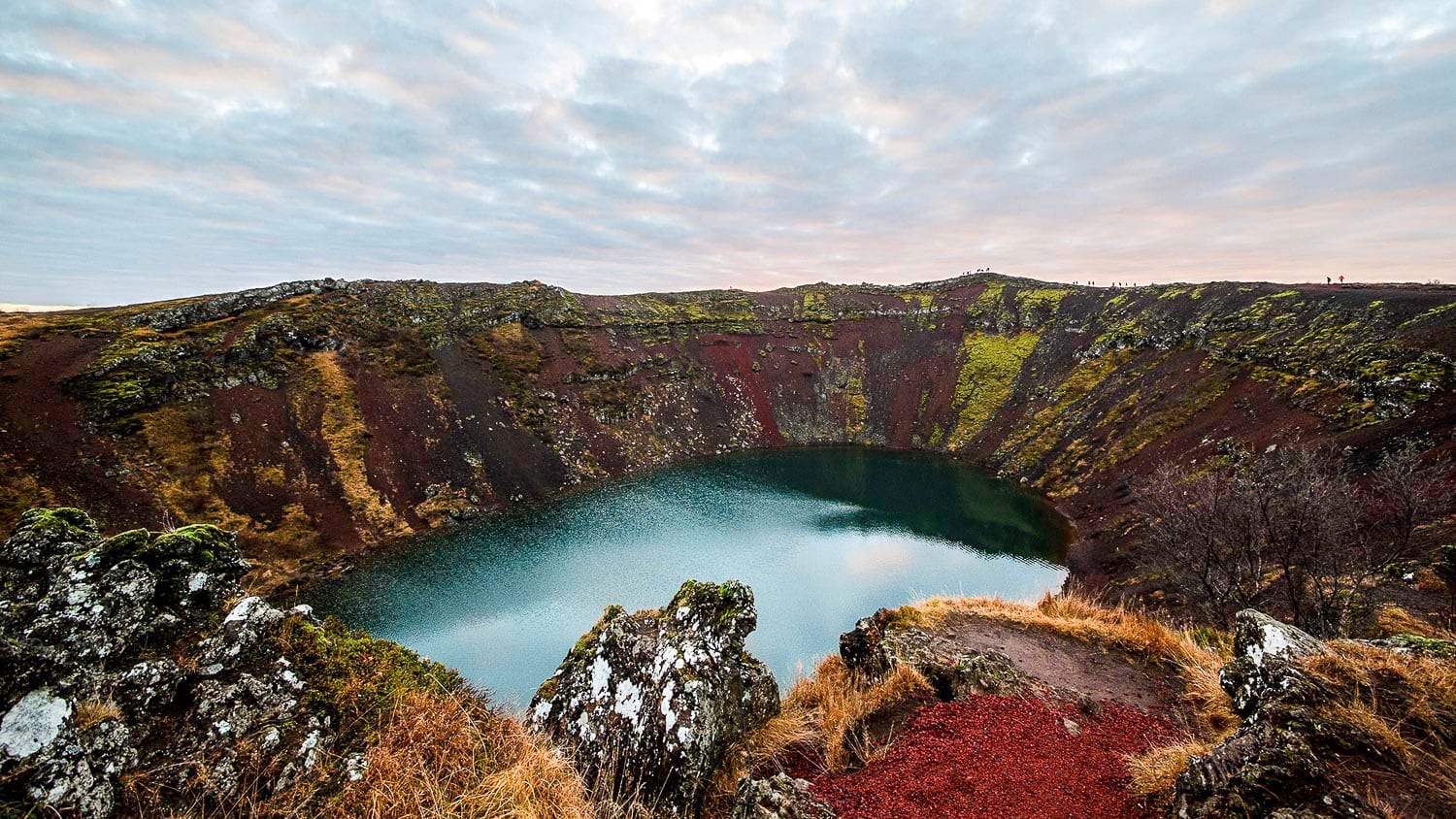 Blue Lagoon
The highlight of the dayy is your time at the Blue Lagoon, or 'Bláa Lónið' in Icelandic. This wonder is famous for it's milky blue water that's rich in silica, algae, salt, and other minerals with great healing benefits to the skin such as preventing premature aging.
A fulfilling adventure to explore the beautifully designed surroundings, sometimes you can even see the Northern Lights in winter's sky at the Blue Lagoon. Since the opening of the lagoon area in 1987, the Blue Lagoon's therapeutic reputation has traveled the globe, attracting millions of visitors.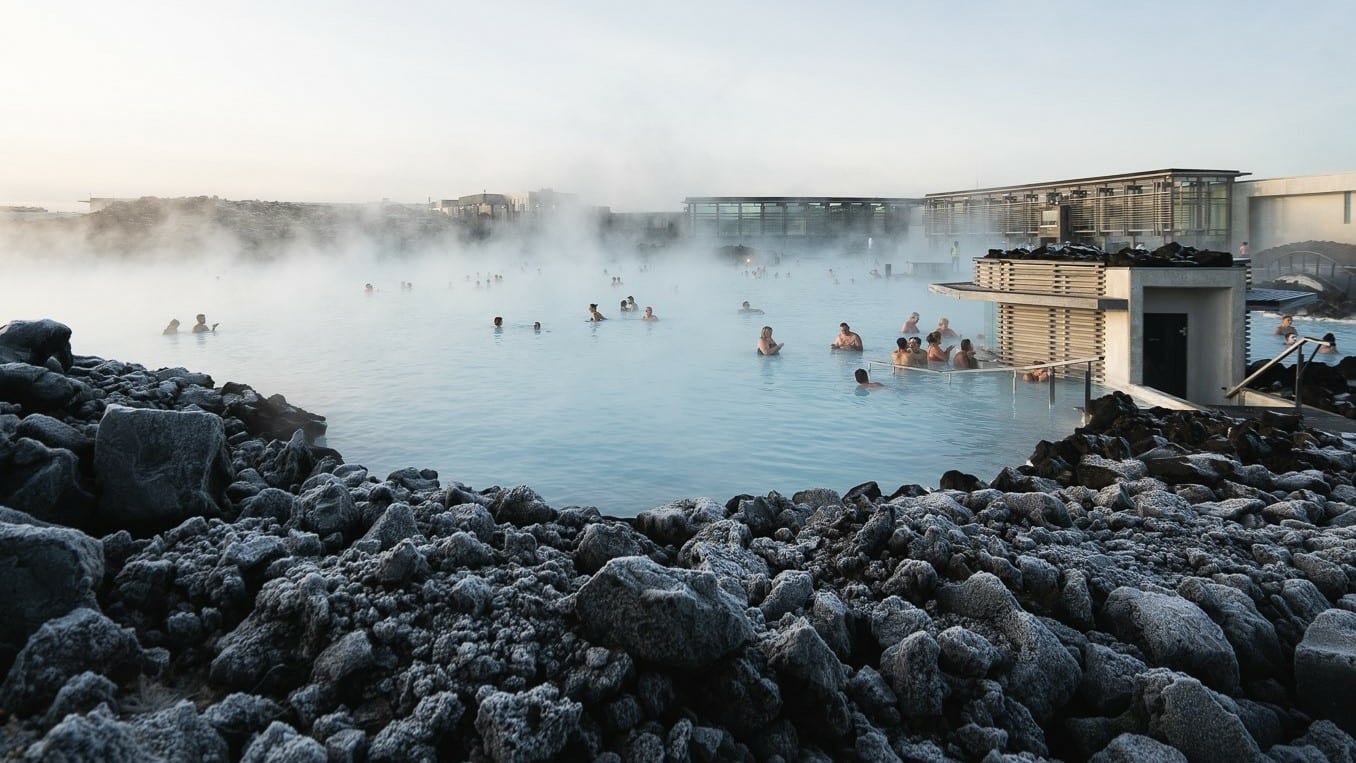 Your admission ticket is included in this full-day tour to Golden Circle and Blue Lagoon, all you need to do is to pack your swimsuit for the relaxing soak.
What's included
Small-group tour
Admission to the Kerid Volcanic Crater
Professional guide
Wi-Fi on the bus
Comfort Admission ticket to Blue Lagoon, including:
- use of towel
- silica mud mask
- 1st drink of your choice
What's excluded
What do I need to bring
Warm clothing and good shoes
Bring a swimsuit. These can also be rented at the Blue Lagoon at your own expense
Important information
There is no food included on this tour but there will be stops where you are able to purchase food
Children must be accompanied by an adult
The duration of the tour is 11 hour. Please be aware that the tour could run long if affected by bad weather or other delays.
Cancellation policy
Cancellation fee of 100% if cancelled 48 hours or less before departure
Guided Language
Reviews!
Thank you for submitting your review
The tour filled all our expectations. Beautiful views and great food. We ended with the blue lagoon which is a very relaxing experience. Our guide Tony provided good background information and context about Iceland.
Really nice tour that met all the expectations.Our guide/driver Siggí was really great. Very friendly and professional and he also made additional stops but we still had sufficient time on the scheduled stops. Small bus(20pax) that made the stops very efficient.Weather was sometimes really bad during bus rides but we were lucky during the stops. Highly recommended, big thumbs up for Siggí
Our Tour was fabulous, the weather fantastic and the places we visited were beyond human's imagination !! Our guide H.B.O. was amazing !! He made an unforgettable atmosphere throughout all the journey, combining wonderful Icelandic music of different popular artists + interesting nature and historical facts and explanations! At all places he made the best possible pictures of our group of 7 and his sense of humor gave an incompatible touch of superb mood all the way to the sites and back to Rejkyavik !! We will never forget this Fairy-tale Journey !!
Toni is a fabulous tour guide.. Since our group was always on time, we're rewarded with extra stops. He is knowledgeable, helpful and friendly. Unfortunately one group of (6?) customers are very rude. They were loud all the way, and when others told them to quiet down when Toni is speaking, they further raised their voice. When we're leaving from Blue Lagoon, one of them dropped his beer on the hallway but he refused to even pick up the can. Toni is so patient and polite, he carefully cleaned up the spot so it wouldn't bother others in the car. Really nice guide!!
For first, Karol was an amazing guide and driver, he explained a lot of things about Iceland and the golden circle. I think that he is one of the best guides for makes this kind of tours because he is so funny and friendly. Thank you for all Karol, I wish the best for you.
Fantastic day, me and my wife did this trip and wasn't disappointed by anything. Would definitely recommend this trip but try and get on the bus with a driver called Howser. The man is brilliant and makes your trip interesting and fun. All round 5 stars for the trip and driver. (Hope the company tell Howser he's a gooden)
It was the only tour still running in very challenging weather conditions in other words a 'regular day in Iceland' (strong wind, rain, snow all together)! our guide Tom was brilliant , made us feel safe and gave us loads of insight on Icelandic life. We loved the tectonic plates, the geysers, the waterfall, the crate, the farm and the blue lagoon, we had a truly amazing experience. Highly recommend!
Weather was terrible but our guide Tom kept us safe...wind and snow was bad and visibility wasn't great but hats off to Tom for his amazing driving...we also thought it was great that he walked with us and told us facts in thingellvir (however u spell it) lol...all in all a very knowledgeable and funny guy...Thank u Tom n enjoy the beers
Such a brilliant must have experience! Our guide Howser a was briiliant who made the day so interesting with facts we wouldn't have learnt anywhere else during our time in Reykjavik :) He was so helpful in preparing us for every part of the tour including good photo opportunities along the route and information about our destinations. Thank you so much Howser!
I just finished this trip today and had an outstanding time. I've done many guided tours, and Dennis was one of the best. He was ON the entire 12 hour day - we started happy and ended even happier.! This was a great way to start a trip in Iceland and I highly recommend it.
We did this tour and felt that we had really seen and experienced the best of Iceland. Everything was perfectly timed to experience every stop without feeling rushed, yet you never felt like you were sitting around waiting, either. All the stops were unique and stunning--truly once in a lifetime sights. And to top it off, our guide, who went by HBO (because he said his real name was too long...lol) was amazing! He was so personable and knowledgeable, along with having a great sense of humor. He gave us insights into Iceland's history, culture, day-to-day life, and even introduced us to some great music. Not only do we highly recommend this tour, but you should ask for HBO as your guide!
This was the best full day excursion to see some of the most iconic parts of Iceland. Everything was timed perfectly so there was no rushing but also no idle waiting around. And we can't say enough wonderful things about our guide, HBO (he said his full name one time and then smiled and said to call him HBO...Lol). He was just so personable and knowledgeable! We enjoyed all the 8nfirmation he shared with us, not just about the sights but about Iceland as a while and what life is like in this beautiful country. We HIGHLY recommend this tour and that you try to get HBO as your guide!
If I could, I would have gave this tour 6 stars because of how good our guide (Hjortur) was ! It was an incredible experience, and the blue lagoon was a wonderful ending ! Thanks again !
Tom was great, funny informative and entertaining, We didn't have the best weather but it was still beautiful and ending with the relaxing blue lagoon was a good way to finish a full day.
The 11 hours during tour was flown before we knew it thanks to our guide TOM, a real "Icelander" . He told us stories and information in such a funny and playful way that nobody lost any attention.. Tom was also very helpful and concerned. This tour wouldn't be the same without Tom and thanks to This we fell in love with Iceland. Liese and Els from Belgium
Tom was an excellent guide who showed us through the interesting spots and entertained us with insightful background information during the bus rides. Well organized with a relaxing end at blue lagoon. Highly recommended.
The best of Iceland in one day! Special thanks to our wonderful tour guide Tom. He is very knowledgable and funny. We´ll come back.
Our Tour on 4 December 2021 was great. Special thanks to mister Hausser, our driver / guide! Great day, Super Whether. The tours gives you a nice small overview of al te best of Iceland. The visit to the blue lagoon is very nice but should take longer ;-)
The Golden Circle tour was excellent, our driver/guide Sigi-Anton was brilliant and it was so nice to see some of this beautiful country in a small group. It was just such a lovely day and the sights we visited were magnificent.
The bus trip was great. The driver Tom was very entertaining, insightful and helpful.
The trip was amazing houser (sorry spelt wrong) was amazing! Really detail trip very helpful and friendly guy!
The golden circle tour with blue lagoon was amazing. Of course the sights were fantastic but Tommy our guide was really excellent. Very welcoming and accommodating and he really went the extra mile to make this day special. He was also considerate of my elderly mother who was a bit slow. Would highly recommend the small group tour for that extra personal service.
A long day out on a coach , seeing the best sights Iceland has to offer, very interesting , a good helpful obliging driver , well worth a full day out.
Start was a bit chaotic and we had to wait for quite a while. Our guide however was very friendly, flexible and good. Looking at the whole picture the tour was a very good experience. Big thumb up for the guide.
Would highly recommend the tour. Our guide Howser was amazing. He was really passionate about Icelandic history and made the trip very interesting. As the group was smaller than usual he took us to more historic places along the way. He really made the trip 100% more interesting. I would definitely book again. The blue lagoon was a great end to the day. Howser gave us great tips on what to expect once we were in there. 5 stars plus one