Description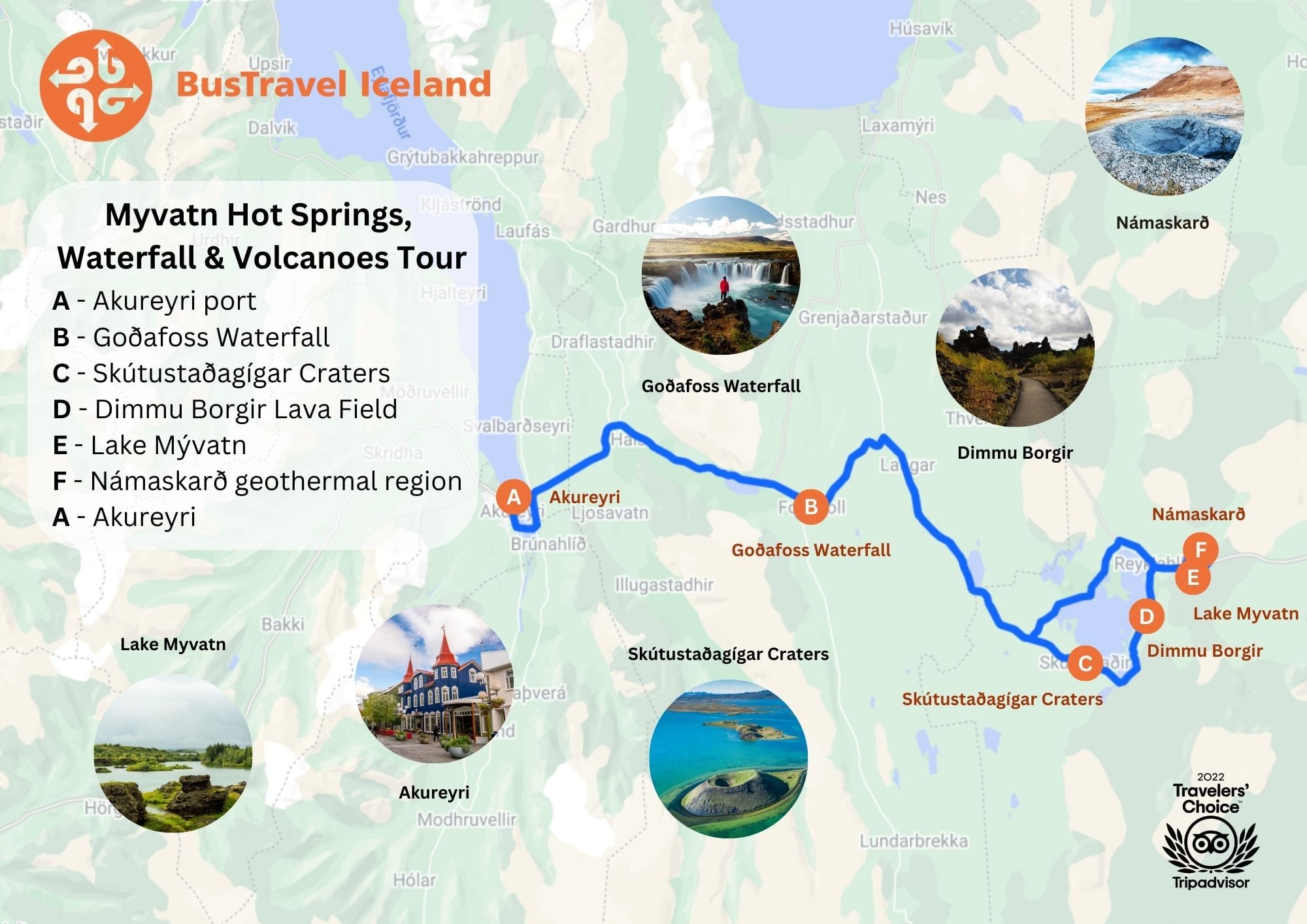 Journey through North Iceland´s unique Mývatn region, renowned for its fascinating geological formations, volcanic lava fields, and hot-springs. Mývatn lake teams with birdlife attracted to the abundant fish who call the nutrient-rich waters their home. The lake is surrounded by countless other stunning attractions including Dimmuborgir´s stunning lava formations, Skutustadir craters and much more. We will also make a stop at the waterfall of the gods at Goðafoss. This tour includes a delicious packed lunch. Join us for this fascinating 6 hour tour sightseeing tour from Akureyri, and if you wish you add on a visit to the Forest Lagoon, the perfect way to end the day.
Highlights
Goðafoss waterfall
Lake Mývatn landscapes
Skútustaðir peusdo-craters
Dimmuborgir lava formations
Námaskarð geothermal region
Mud-pools and hot-springs
Packed lunch with sandwiches, chocolate and juice
Itinerary
The meeting point for our tour is at the cruise terminal in Akureyri. Once everyone is on board, we head east along Eyjafjörður towards our first stop. Our expert local guides will explain, entertain and educate along the way.
Godafoss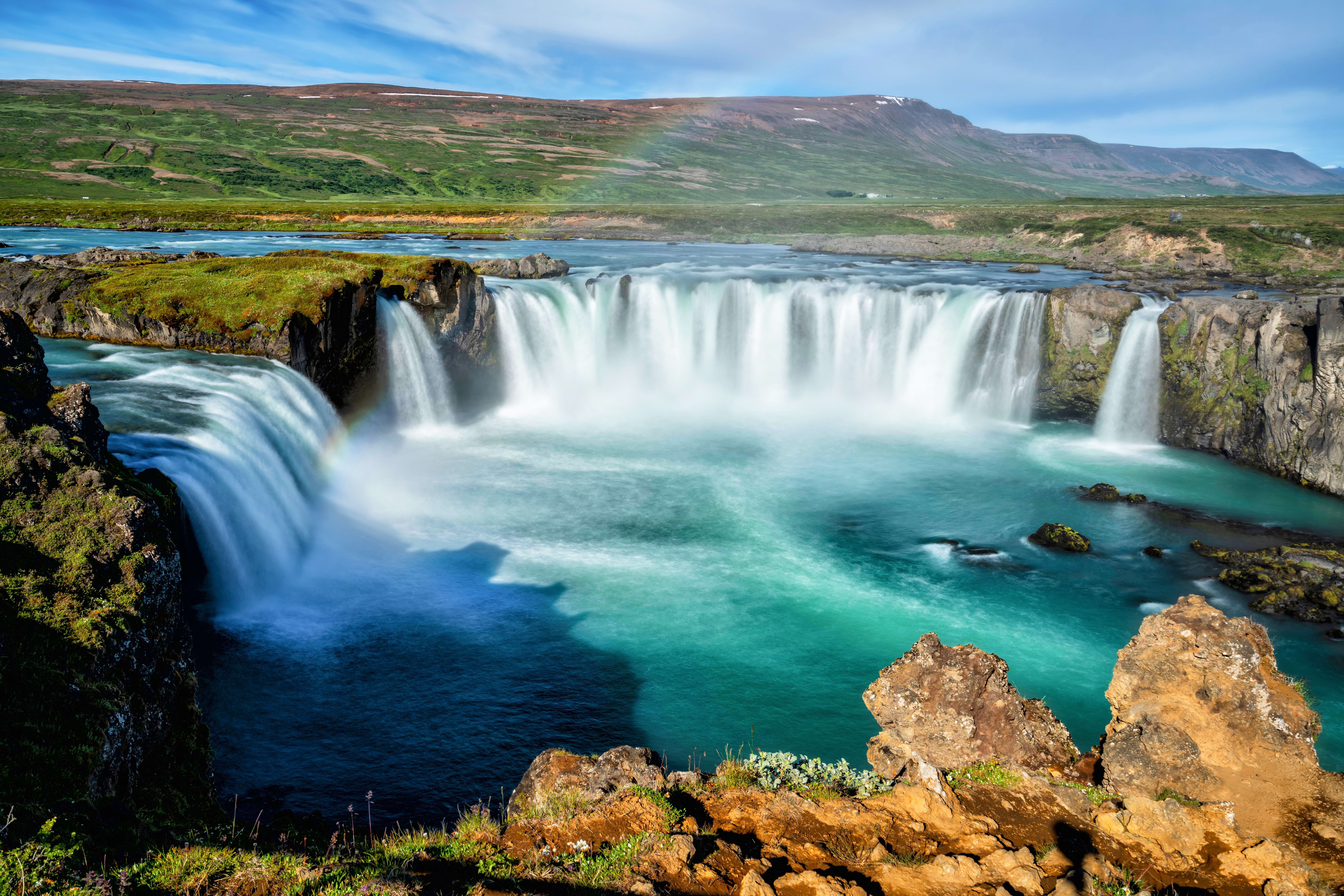 Goðafoss, literally ´Waterfall of the Gods´in Icelandic, is one of the north´s most popular waterfalls. It draws its name from an influential 10th century chieftain, who upon converting to Christianity cast idols of the old norse gods in the waters here. So the falls are a symbol of Icelandic Christianisation.
The falls here are 12 meters high and 30 meters wide, and while there are many taller and broader falls in Iceland, few match its beauty of these crescent-shaped falls. The juxtaposition of the white foamy water against the stark black volcanic rock face makes for a great photo opportunity.
Lake Mývatn Craters
Lake Mývatn is a large shallow lake, the fourth largest in Iceland. Dotted with countless islands, the lake is most noteworthy as the location of unique geological features, the Skutustadirgigur pseudocraters.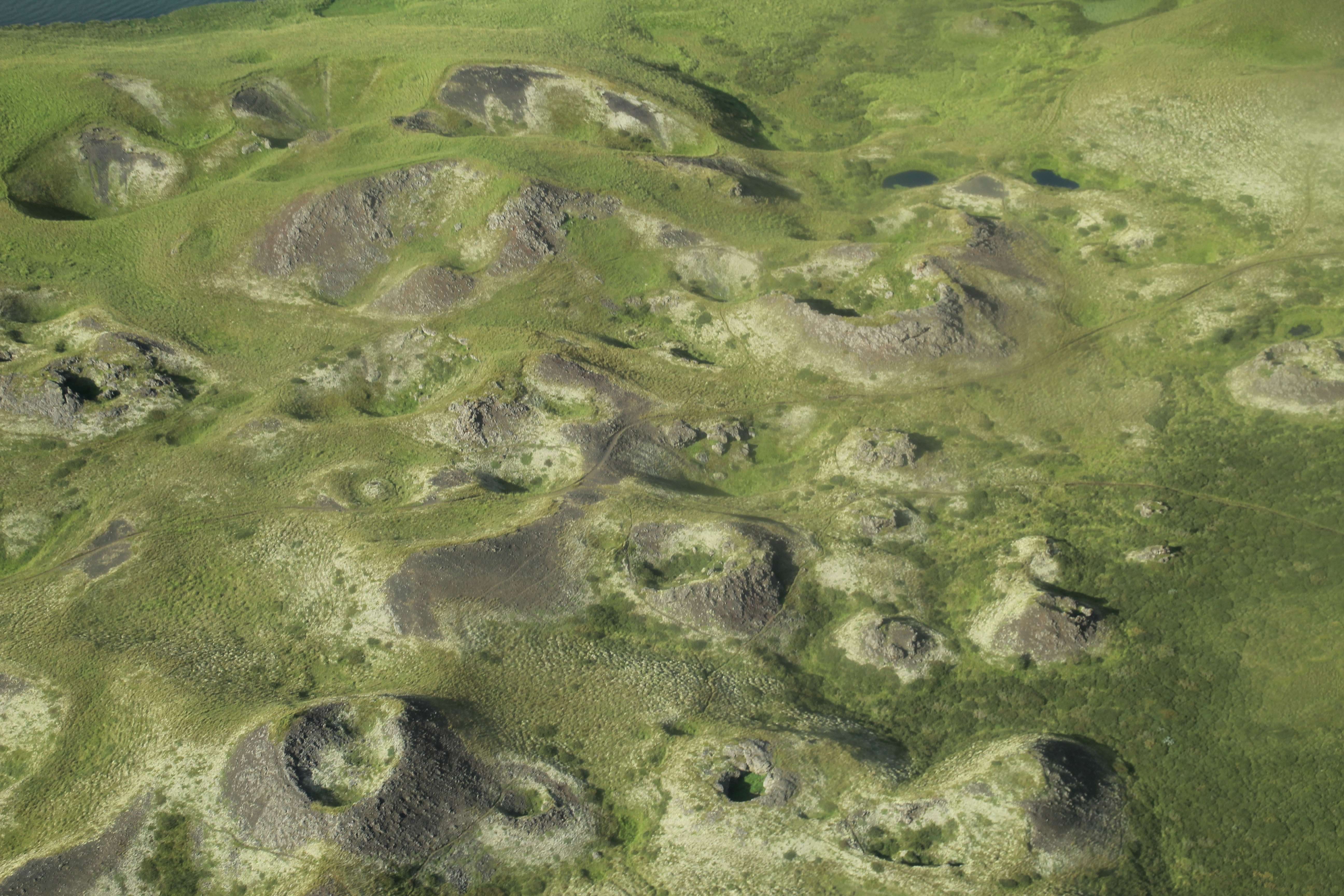 Also known as rootless craters, lava did not erupt from these craters, though they do resemble true volcano craters. Rather these strange formations emerged during an ancient volcanic eruption, when lava flowed in wetlands surrounding the lake leading to steam explosions giving them their crater-like appearance. One can walk along the crater tops which are covered in grass and often serve as grazing land for sheep.
Dimmuborgir lava sculptures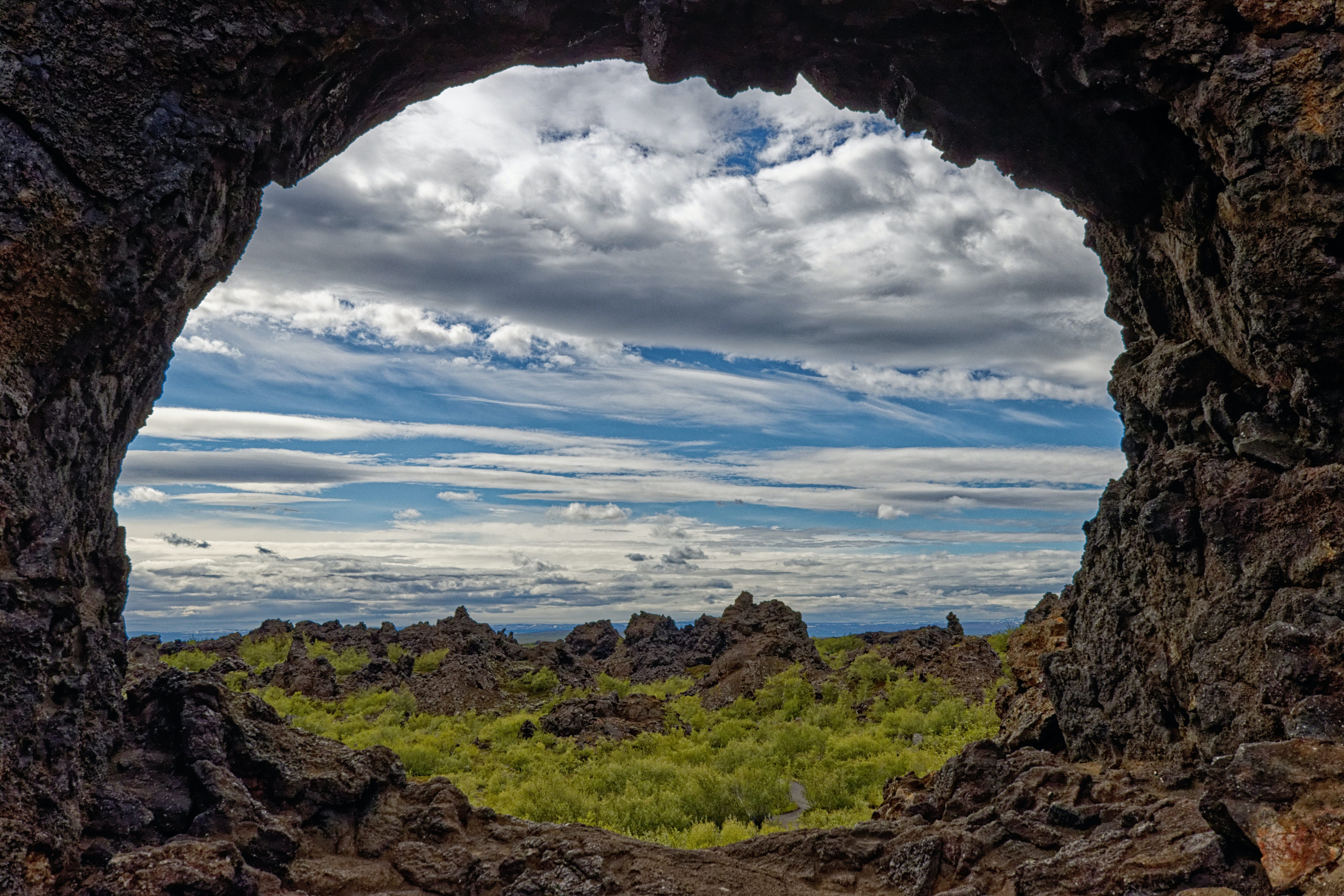 Our next stop is the gothic lava formations at Dimmuborgir. Most lava fields in Iceland are relatively flat and covered in moss. But here, the lava formed into dramatic shapes and alluring structures which make this one of the most well-known natural attractions in north Iceland. Formed during the same eruption as the Skutustaðirgigur craters, follow the walking trails to explore this remarkable and captivating landscape.
Námaskarð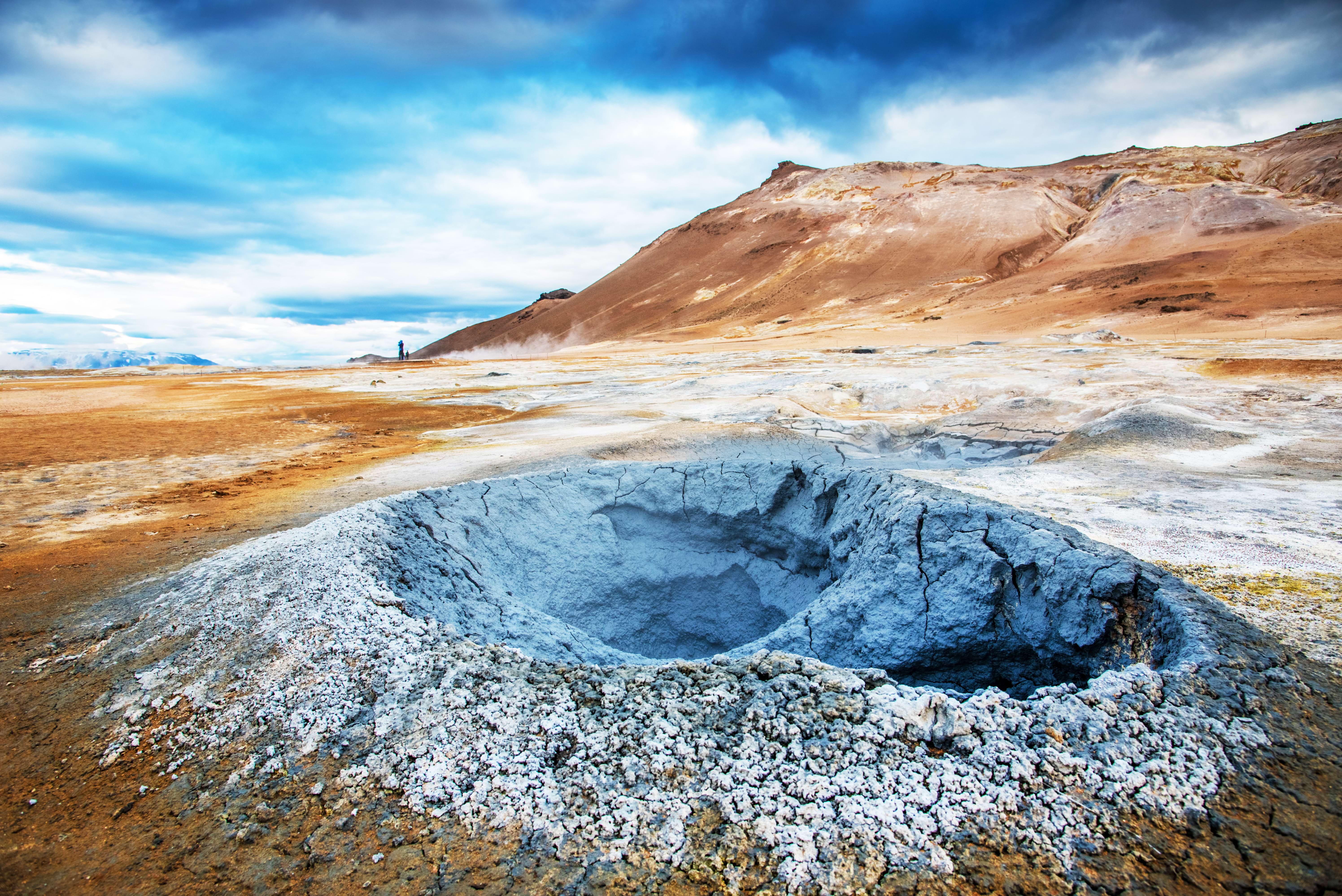 As you will have realised by now, the landscape at Mývatn was largely formed through vast ancient eruptions of lava. But at Namaskard, also known as Hverir, one can see evidence of ongoing geothermal activity. Namaskard is renowned for the eye-catching color of the rocks and ground, which can be attributed to the minerals in the ground. The area brims with boiling mud pots and the odour of sulphuric steam emanates from the earth.
What´s included
Pickup and drop off at your cruise ship
Free Wifi
Expert local guidance
Packed lunch
Important information
The tour start time and duration has been tailored to your cruise ship times
What should I bring
We advise you to wear gloves, hat, waterproof coat and comfortable walking shoes.
Snacks and water
Guided language
Cancellation policy
The tour can be cancelled for a full refund upto 24 hours in advance. No refunds are available after that.
Reviews!
Thank you for submitting your review
We had Omar and the red haired lady who were fantastic. I feel like we got a lot more information about northern Iceland than we expected. They were both so friendly and knowledgeable We highly recommend this tour and these 2 people. All i can say is it was a great experience for my wife and iI.
A amazing day trip at the lake and Waterfall of the Gods with Vic - fantastic singer btw - and Chris. The view was amazing. The timetable was amazing as well as we didn't have any trouble with our cruise departure. Everything ran perfectly smooth. We had a lot of fun. We Really hope to travel with you again guys .
Due to many late cancellations, we were only 3 of us on this tour. Many thanks to BusTravel Iceland for having maintained this excursion and to Runar and Gisli who properly made our day. The spots are absolutely stunning and we learned a lot about Icelandic history and way of life. Unforgettable !!!