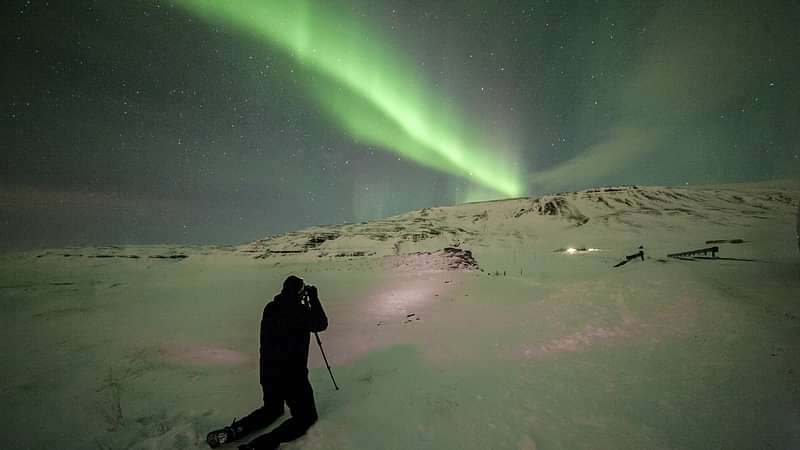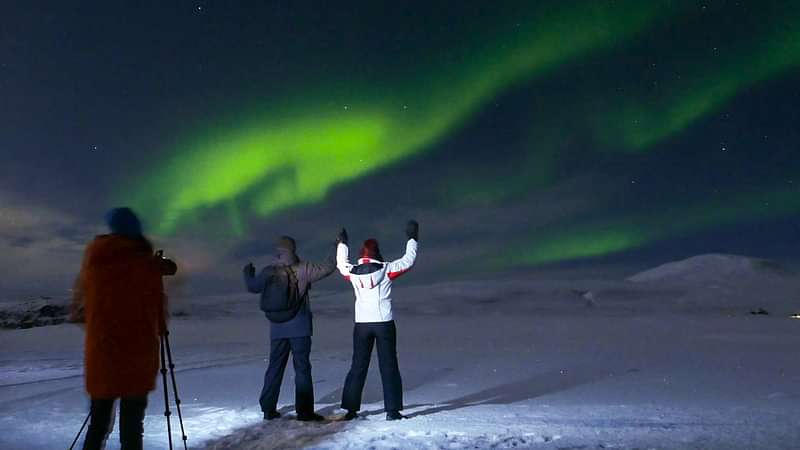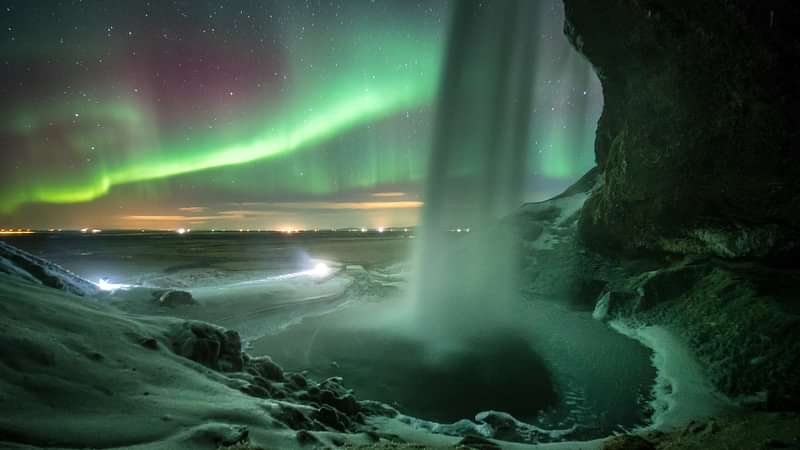 Description
Experience a beautiful evening at the most exclusive locations for your perfect Northern Lights photograph. One of our specialist northern lights guides and professional photographers will guide the tour. You will receive professional help and guidance when photographing the Northern Lights, in addition to the photographs your guide will take of you during the tour.
This small group option will offer you an intimate experience ensuring our guide will have enough time for everyone. Capturing the northern lights on camera can be difficult for those without experience. On this tour we will bring you to remarkable places, providing a stunning backdrop, for your once in a lifetime photography experience. The location will always depend on weather conditions, and our professional team will work hard during the day to find the perfect site according to the weather data for that evening.
In addition to this adventure, this tour option includes a complimentary ticket to the Aurora Centre Reykjavik as well as tasty Icelandic snacks and hot chocolate to warm you up during the excursion. For those nights where mother nature is not on our side, you will still be treated to a night sky full of stars, and offered a complimentary rebooking.
For more information check out our Complete Guide to the Northern Lights
Highlights
Northern Lights hunting experience
Professional Photography guide
Entrance ticket to Aurora Museum Reykjavík
Hot Chocolate
Free WIFI
Itinerary
Your evening will start with a smooth and efficient pick up service, included in the price. Once everyone is on board we will take you to the Aurora Museum to start the tour. After getting an introduction into the science and stories behind the Northern Lights and photography tips you will be taken outside of the city to hunt for the lights. After the tour you will be brought back to Reykjavik and dropped off at your designated location.
Aurora Reykjavik
Aurora Reykjavík is a Northern Lights Centre and museum curated by highly educated northern lights enthusiasts and photographers. It will provide you with a great preview of what to expect on your Northern Lights hunt. The museum includes an interactive display of the aurora, and an education centre focused on the science, mythology and history of the aurora borealis. A magnificent film about the Northern Lights dancing over Iceland is one of the many highlights in the museum.
Northern Lights Hunting
After the visit to the museum the tour will depart Reykjavik in the direction of the most promising weather and aurora forecast. Unlike our day tours the Northern Lights tours do not have a specific number of stops or a specified amount of time spent at each location. Adaptability is key to ensuring a good sighting of the northern lights, so the tour will be focussed on finding the best viewing location. This decision is based on various weather data and knowledge about how certain mountains and micro climates affect the weather in particular areas.
During the drive our enthusiastic northern lights guides will share their knowledge about this spectacular phenomenon with you, prepare you for the night and give you camera tips. We recommend that you bring your tripod along on this tour. Many modern smartphones allow you to take phenomenal photos of the Northern Lights, but with a DSLR camera you will get the best results. You are also able to rent a camera from the Aurora Centre.
With a small group size, you can be assured of a more focused experience that is flexible and personalised. It will be guaranteed that your guide will have the time to help you achieve your photography ambitions.
The aurora is a natural phenomenon and unpredictable which means that patience is key. To make the wait more comfortable, and to warm you up, you will be offered some homemade hot chocolate and some traditional Icelandic snacks. Nevertheless please make sure to wear warm and windproof clothing, a good hat and gloves, and warm shoes.
In case there are no lights
Viewing the Northern Lights is a unique experience and a must do when in Iceland. Although a sighting is not guaranteed, and the lights are notoriously hard to predict with various factors impacting on their appearance. Our in-house specialists work hard to ensure that tours only departure if there is a good possibility of seeing the lights. However, if you are unfortunate not to glimpse the aurora then we offer a complimentary reschedule valid for three years from the date of your first departure.
Please note that the duration of the tour is normally 3-4 hours but can vary in length depending on weather conditions on the evening.
What's included
Northern Lights hunting experience
Professional Northern Lights Guide
Professional photographer
Free photos from your northern lights tour
Professional guidance when taking northern lights photos
Guaranteed picturesque location
Aurora Centre Reykjavik
Icelandic hot chocolate and snacks
What's excluded
Food and drinks other than refreshments
What do I need to bring
Warm clothing and good sturdy shoes
Your own tripod
Important information
Please note, children under the age of 8 years old are not permitted on this tour. For further information on travelling with young children
Cancellation policy
Cancellation fee of 100% if cancelled 1 day or less before departure
Guided Language
Reviews!
Reviews!
Thank you for submitting your review
Fantastic . Can't thank our guide enough for a truly wonderful experience seeing the Northern Lights. The best trip we have ever been on. Would 200% recommend.