Duration: 3 hours

Moderate

Electronic Voucher

Meet on location
Got Questions? Contact our agents
Description
For many who come to Iceland, snorkeling is not the first thing that comes to mind. Our Silfra Snorkeling tour is not just for experienced snorkelers though.
Silfra, situated in Thingvellir National Park, is an underwater fissure considered to be one of the world´s foremost snorkeling and diving destinations. The purity of the crystal clear waters ensures total visibility here, attracting enthusiasts from all over the world. Silfra fissure or rift is located on the mid-atlantic ridge, the boundary between the North American and Eurasion tectonic plates and has formed as these plates diverged. The plates diverge an estimated 2cm per year so in effect silfra grows larger every year.
On this silfra drysuit snorkeling tour, suitable for beginners, our passionate, expert instructors introduce you to this underwater dreamworld. Silfra snorkeling in Thingvellir National park can also serve as a wonderful addon to your Golden Circle exploration.
Highlights
Thingvellir National park
Silfra fissure exploration
Dry suit experience gained
Optional photo add-on
Hot chocolate and cookies
Itinerary
Our Silfra Snorkeling day tour is a meet on location experience. The meeting point is our Silfra base camp and we ask you to arrive 15 minutes in advance of your tour time.
We also offer this tour with transfers from Reykjavík to Silfra. This is available for a fee and offers pickup from various approved locations throughout the capital area. You can book that tour here - Silfra Snorkleing with pickup.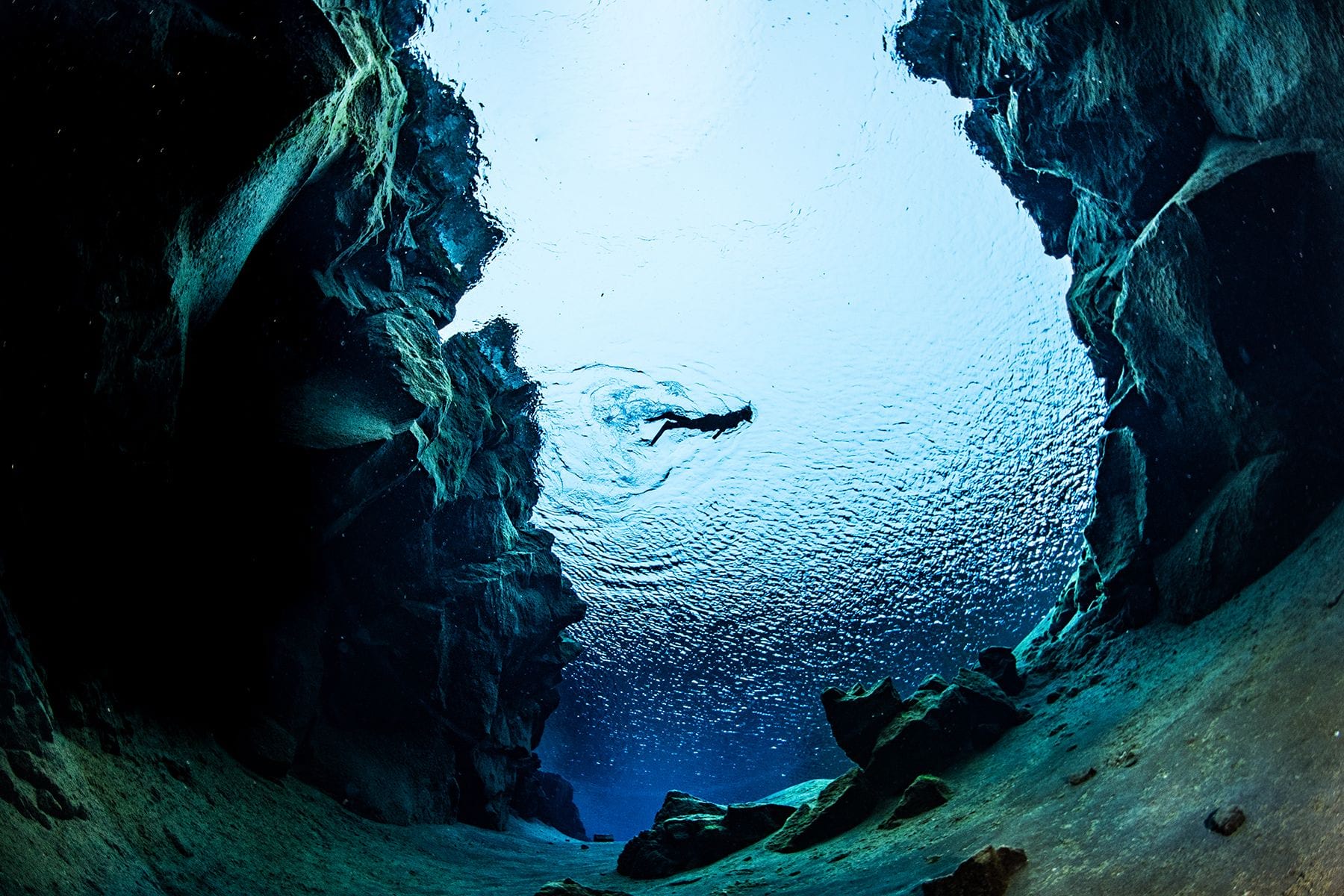 On arrival, you change into our top of the line dry suits and other gear in our private changing room bus. Before entering the water, you will receive guidance from your snorkeling instructor who will give you tips on the unique challenges of swimming in dry suits. It is necessary to wear such suits as the water year is just 2 or 3 degrees celsius year round. The cold water comes here underground all the way from Langjökull glacier to the north. It travels through porous lava rocks which filter this glacial meltwater enroute leading to its spectacular clarity, with underwater visibility up to 120m in places. It can take many years for the water to circulate here.
During your snorkel, you will swim by Silfra Cathedral, Silfra Hall and Silfra Lagoon. Silfra crack is the narrowest portion and you can almost touch both sides of the rift here. You will be in a small group with one guide for every six participants to ensure maximum safety as well as an intimate experience.
After this special time under the water, we will warm you up on dry land with our special hot chocolate blend and cookies. Your time at Silfra Iceland will linger long in your memory.
What´s included?
Guided snorkeling experience
All gear and equipment
Hot chocolate and cookies. Vegan goodies available
Silfra entrance fee
What´s excluded
Base layer to be worn under the dry suit. We recommend long thermal underwear and thick socks.
Important information
Participants must have read, signed, and followed directions on the Snorkeling Silfra Medical Statement, as well as sign our liability release at the start of the tour
Physical Attributes: Because of available dry suits, we have height and weight restrictions for this tour. Please consult our Size Chart
Weight: Min 45kg (99lbs) & Max 120kg (265lbs)
Height: Min:150cm (4ft11in) & Max 200cm(6ft2in)
Minimum age on the tour is 12 years
You must be comfortable in the water, be able to swim and be generally physically fit
Pregnant woman can unfortunately not join the tour
Cancellation policy
10% of the cost is non-refundable regardless of cancellation time
90% of the cost is refundable upto 48 hour before your tour
Guided language
Reviews!
Thank you for submitting your review