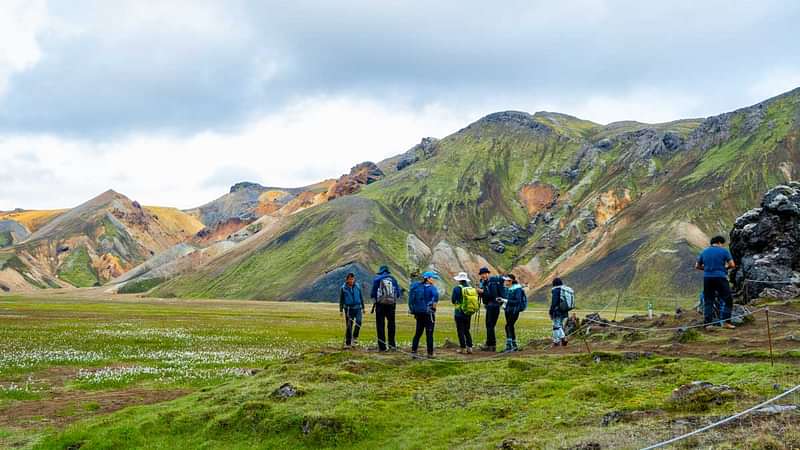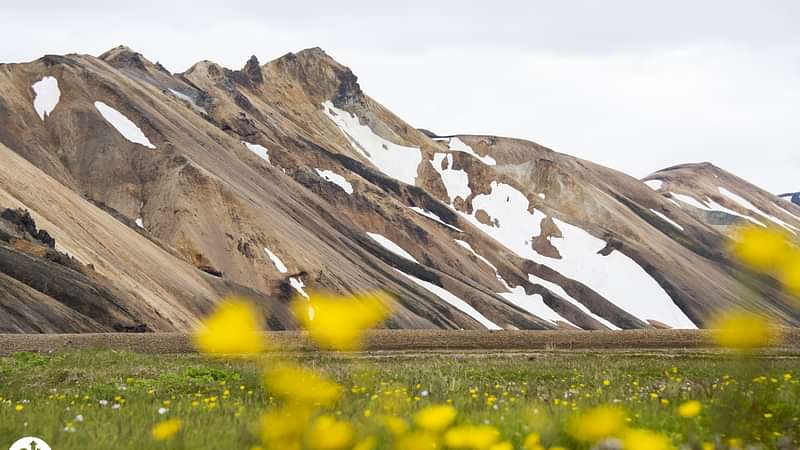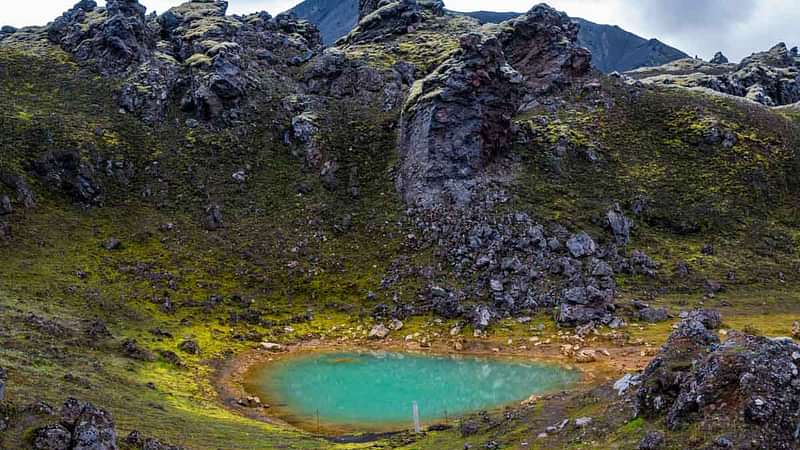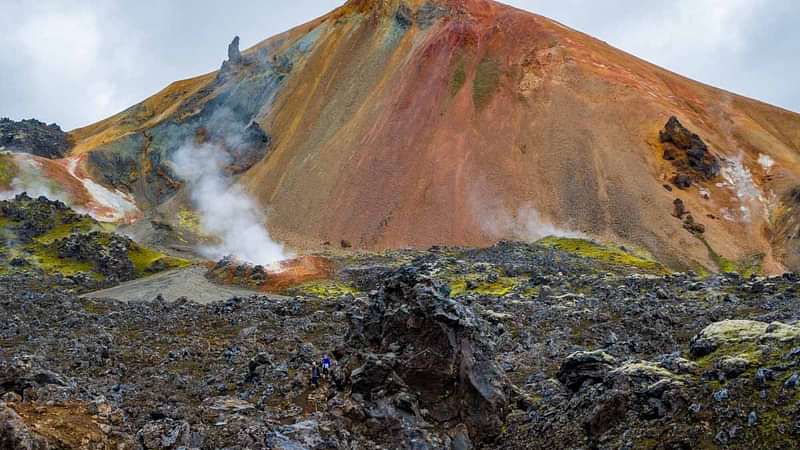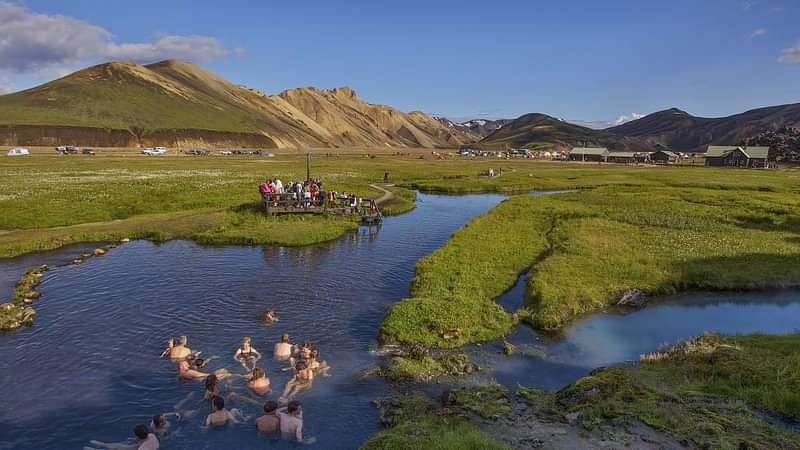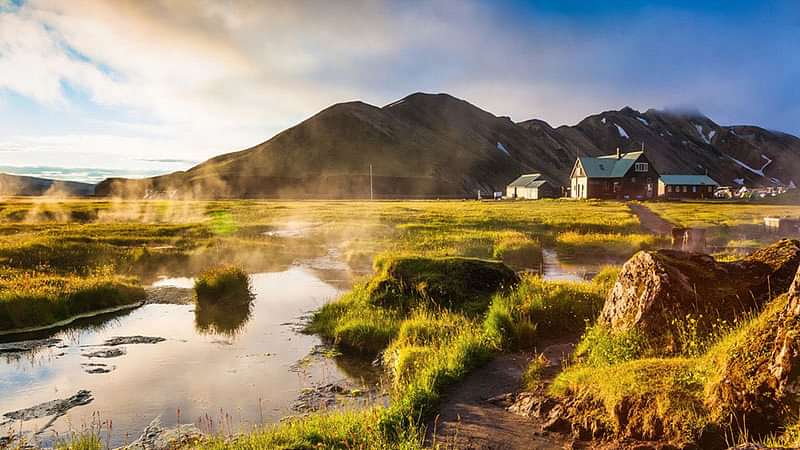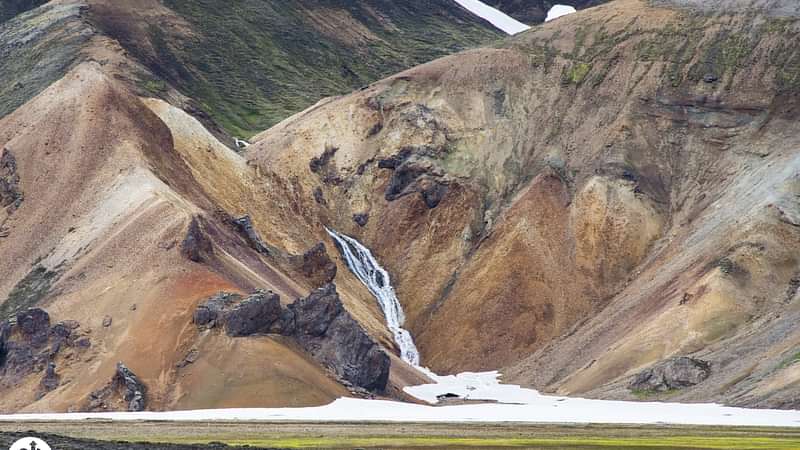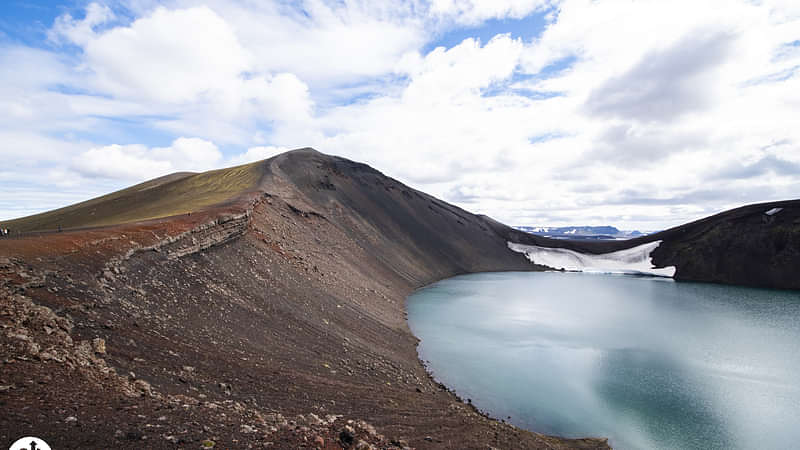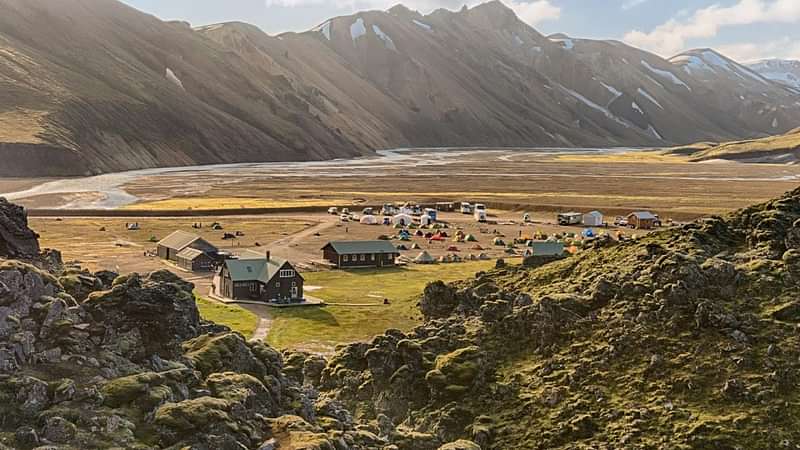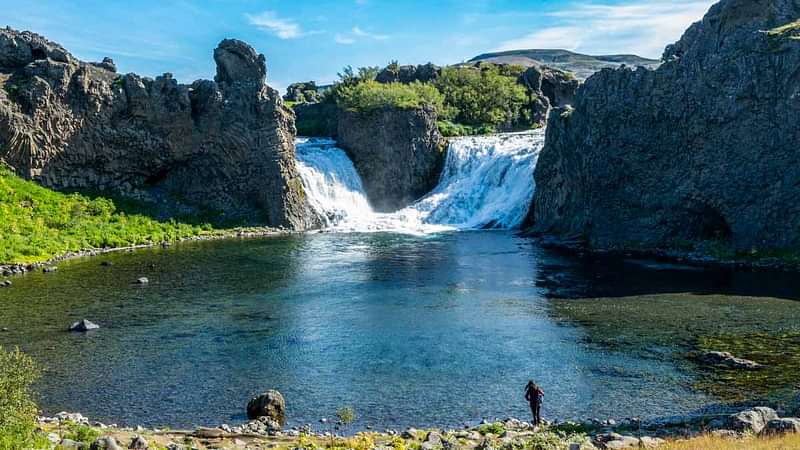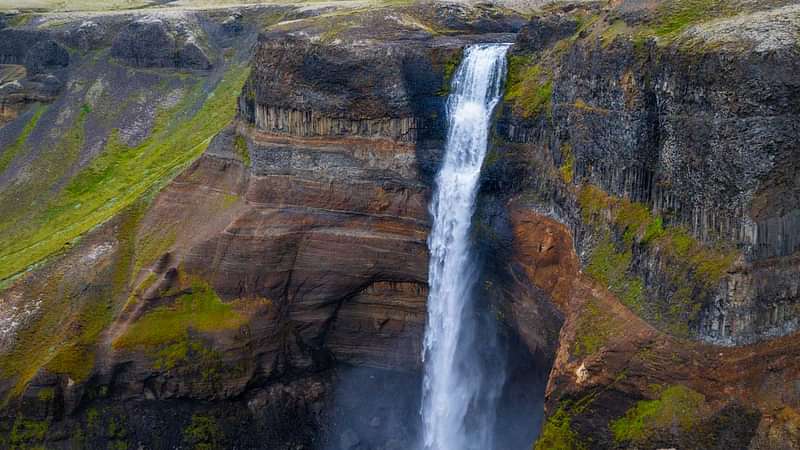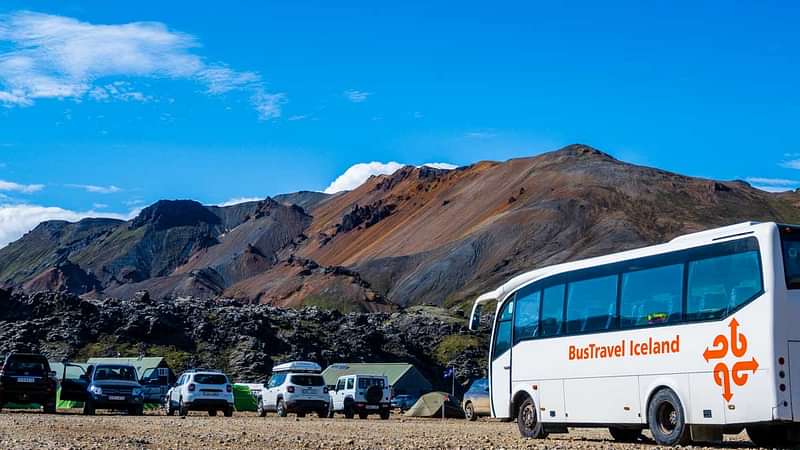 Description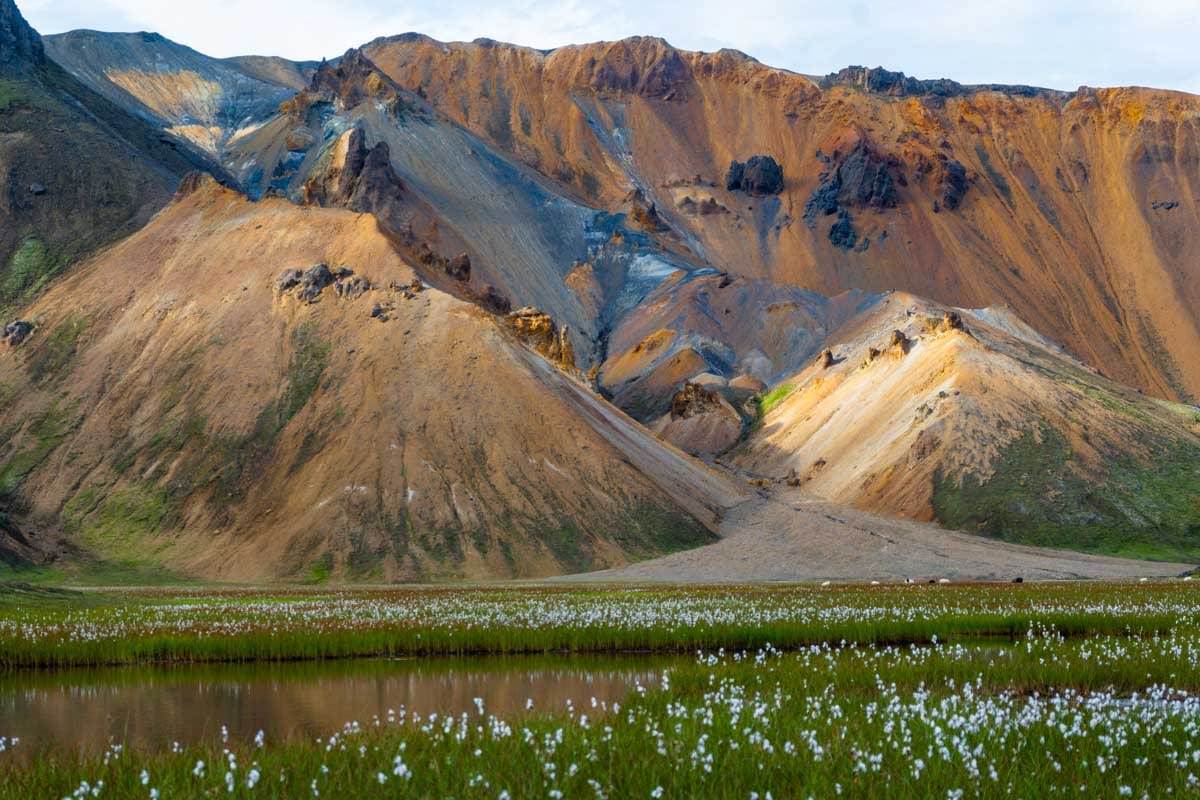 Landmannalaugar is one of the hidden gems of Iceland. Most visitors to our shores stick to more easily accessible regions such as the Golden Circle or the southern coastline. Landmannalaugar on the other hand involves a drive over bumpy gravel roads to access. This extra effort is well worth it for the astounding and unique landscapes that await you.
From hiking trails through ancient lava fields and rolling rhyolite hills, bathing in hot-springs to beautiful sites such as Hjálparfoss, Granni and Háifoss waterfall and Hnausapollur volcanic crater lake, there is something for everyone on our Landmannalaugar tour. Join us then on our highland bus and visit the beautiful Landmannalaugar.
Highlights
Háifoss and Granni waterfalls
Hjálparfoss waterfall
Hnausapollur/Bláhylur crater lake
Landmannalaugar
1.5-2 hour guided hike in Landmannalaugar (Optional)
Lava fields
Geothermal hot-spring bathing
Itinerary
The day begins with our smooth and efficient pickup service in central Reykjavík. Our departure point is from Bus Stop # 12 but we offer pickup from various hotels and pickup points throughout the city for an additional fee. These may be more convenient in relation to your accommodation.
After everyone is on board, we head east out of the city. We can also offer pickup along our route to Landmannalaugar from Selfoss. Simply park your car and we will collect you from there.
Hjálparfoss waterfall
Our first stop is on the way to Landmannalaugar is Hjálparfoss. Located in Þjórsárdalur valley, Hjálparfoss is a double pronged waterfall framed by stunning basalt formations, remnants of an eruption at the nearby Hekla volcano. The falls are actually the culmination and meeting point of two rivers, the Þjórsá (Iceland´s longest river) and the Fossá.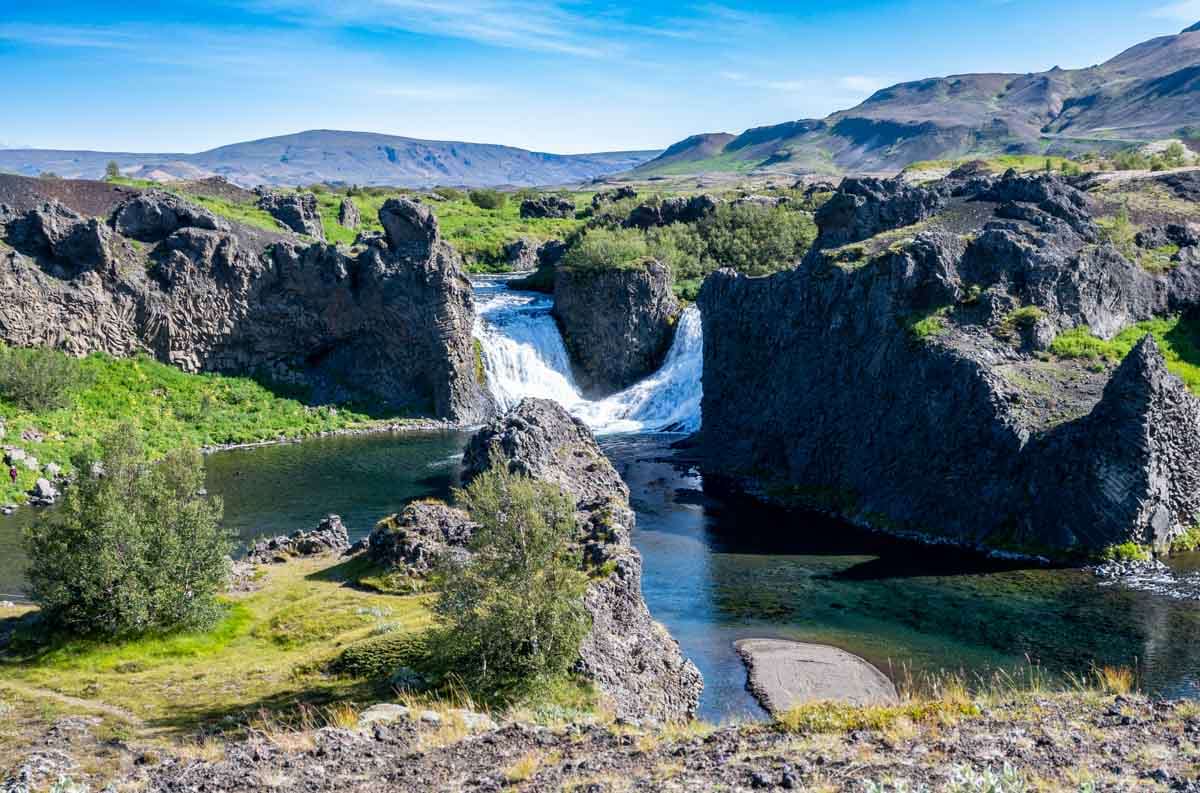 The pool which forms at the base of the falls in olden times offered relief and water to weary travelers from the north, which led to its name, which translates to Help Falls in English.
Hnausapollur Volcanic Crater Lake
This crater lake is an underappreciated gem. Naturally places that are easy to reach attract more eyes and hype but Iceland is dotted with many hidden gems like this crater. Though less famous than the similar Kerið, Hnausapollur is well worth a visit. This crater was formed during the massive simultaneous eruption of Barðabunga and Torfajökull volcanoes, over 1200 years ago.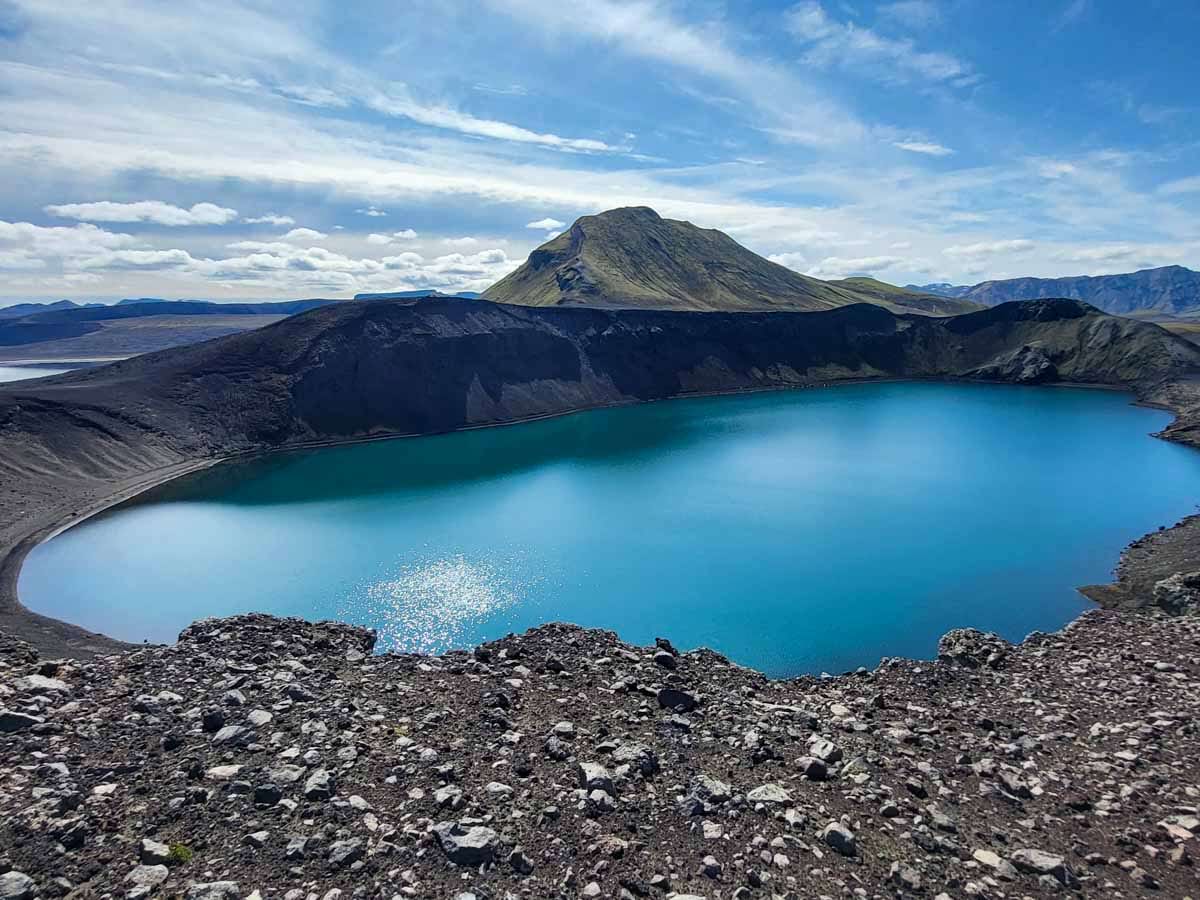 Also known as Bláhlynur, a reference to the turquoise blue hue of the water.
Landmannalaugar
Landmannalaugar is a highland region which forms part of the 470m2 Fjallabak nature reserve. Famously, Landmannalaugar serves as the start and end point for Iceland´s most popular trek, the 55km Laugarvegur trail to Thorsmörk.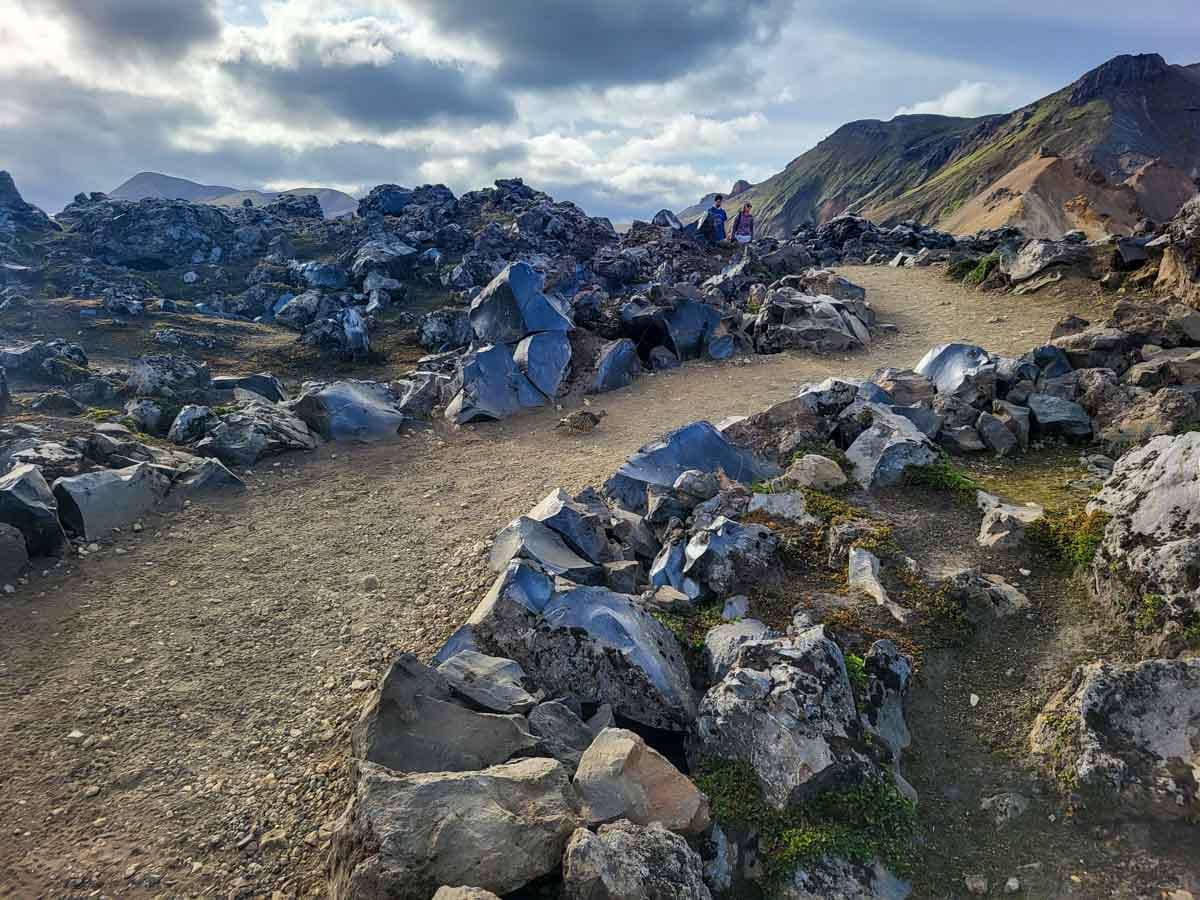 The area usually becomes accessible for day tours in June, depending on the degree of havoc caused to the roads by the spring meltwaters. This rough F-road is one to avoid in anything but 4x4 vehicles. Luckily for you, our sturdy highland bus is up to the challenge.
We spend about 4 hours in Landmannalaugar, divided between hiking and hot-sping bathing.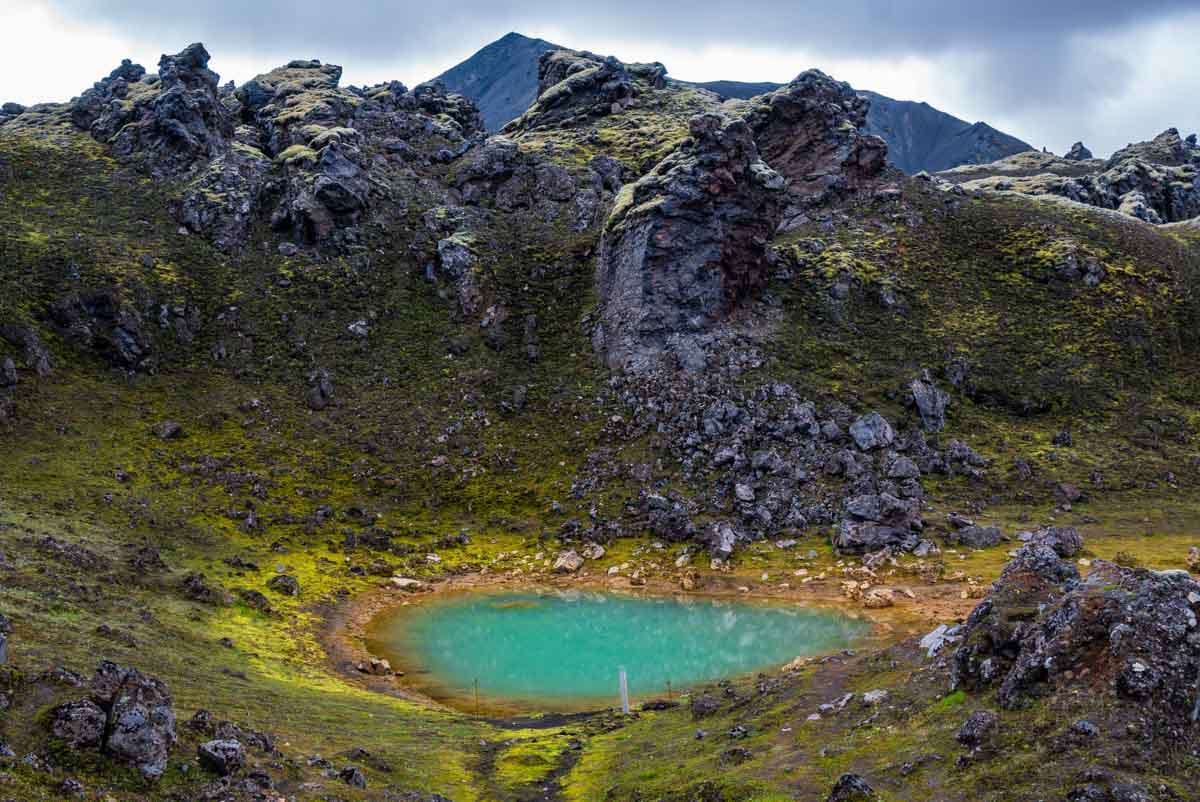 Famous for its colorful unique terrain with rhyolite hills and lava fields, this is a hiker´s paradise. Your guide will take you on the Lauga-loop trail, a route through Laugahraun and Græagil. The trail winds through old lava fields, ryholite hills, steaming hot-springs and more over just 4.5 km. The walk becomes a little more technical as you journey through thefoothills of Bláknukur mountain. The rewarding hike offers so much variety in just 1.5-2 hours, with new perspectives emerging with every meter.
If you prefer you can tackle one of the more difficult hikes by yourself, such as the steeper 2.5-3 hour Bláknúkur ascent, which offers breathtaking views. Just make sure to rendezvous with your guide at the appointed time.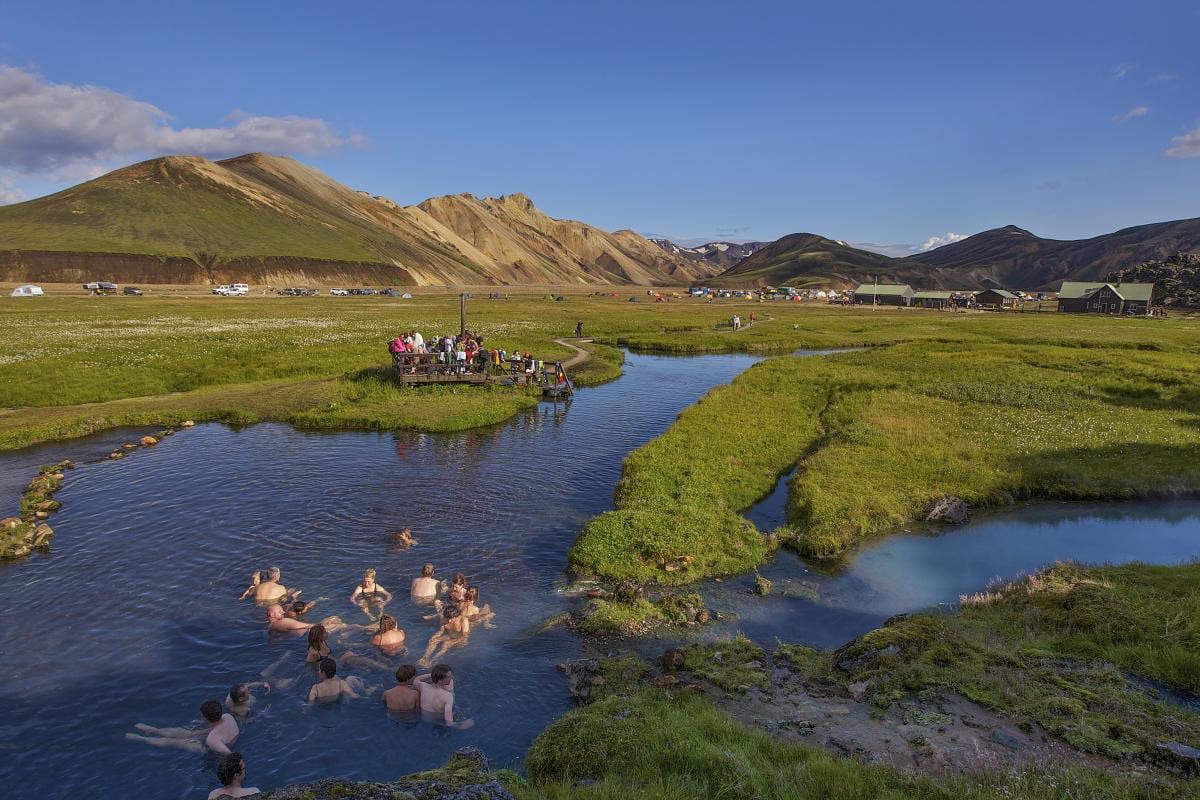 And what better way to follow up the hike than to soak your weary feet in the on-site natural hot-spring. Just remember to bring your swimsuit! The temperature of the water varies and is warmer where the stream enters the pool. While you bathe, you can enjoy the stunning panoramic mountain views.
Háifoss waterfall
Having left Landmannalaugar behind, we have one more special treat in store for you on the long road back to the city. The powerful river Fossá splits in two about 800m upstream of the waterfalls, Háifoss and Granni. Where the river meets these falls, the water spills over 100m to the canyon bottom.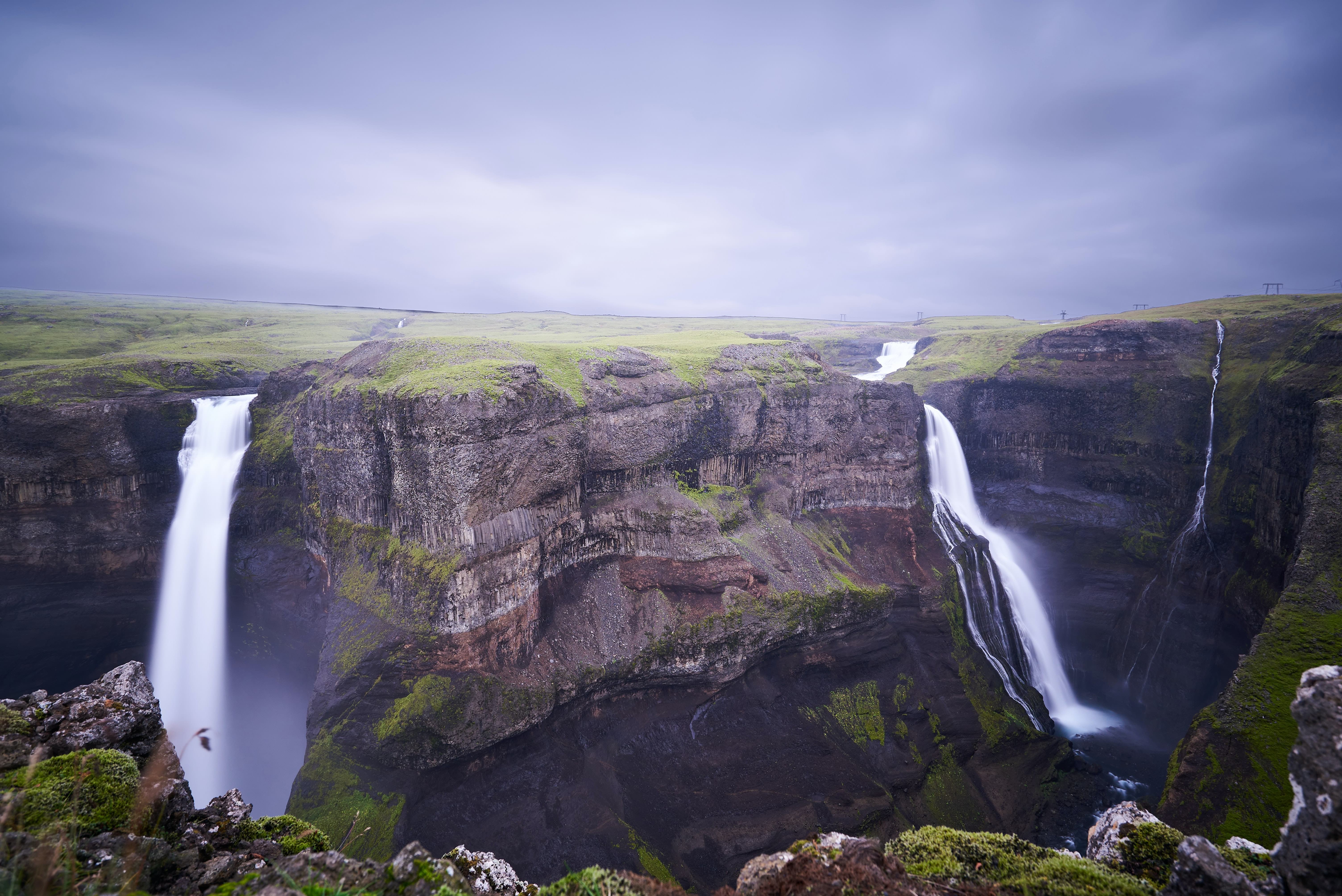 Háifoss, literally high falls, stands tall at 122 meters, the higher and more powerful of the pair. The river cascades down in one sheer drop. Interestingly, Haifoss was once officially the third highest waterfall in the country until the discovery of Mórsárfoss, just 6 years ago. Now, this stunning waterfall has to settle for fourth place.
Granni, meaning neighbor, is a little smaller and the water falls over two ledges before reaching the bottom. During spring and early summer, these falls are at their most voluminous due to the melting snow upstream. These falls are very remote and off the beaten track so you won´t need to frame your photos in order to avoid crowds.
What´s included
Transportion and Professional Guide
Guided hiking tour
Facilties fee at Landmannalaugar
Free WiFi
What´s excluded
Food and drinks
Shower charge
What do I need to bring?
Packed lunch. There is no restaurant in Landmannalaugar though there is a small shop for snacks
Water bottle
Bathing suit and towel
Good walking shoes
Suitable hiking clothes with rain jacket. Jeans are not recommended
Important Information
The tour takes around 13 hours in total
All tickets are e-tickets so no need to print off your ticket
Cancellation Policy
Cancellation fee of 100% if cancelled 1 day or less before departure
Guided language
Reviews!
Thank you for submitting your review
I do the tour yesterday, it s impressive, a lot of things to watch, feel a lot of emotions. But the best thing in the day is the super Guide Tòmas.. I think the best in all Iceland.. Thank Tom for the experience i take with me 4ever...
Fantastic experience to feel as on another planet ( Moon, Mars ). We have to admit we were really lucky: a bright sun. But we also had an excellent rock solid driver on a rather desert style road: Tom. Tom was a perfect guide: great explanations about the formation of this science-fiction landscape. Tom: thank you :).
Tom ist ein toller, witziger Guide, wir mussten sehr viel lachen! Wir haben viele wunderschöne Spots gesehen und Tom hat uns viel über Island erzählt. Definitiv zu empfehlen, danke für dieses unvergessliche Erlebnis :)
Our tour to Landmannalaugar with Tommy was great! His adventurous attitude and fun music combined with the wild bumpy ride created the best ambiance for our activities. He gave us plenty of time at each location not just to take pictures, but also to just sit and reflect and enjoy our experience. Despite taking our time, we were still able to fit in some extra stops. And he provided interesting info along the road. All in all was a great day
Great tour, great guide! We can absolutely recommend this tour! We had Tom as our guide and it was awesome!
I had a great time on this tour. Funny Tourguide, nice hike and beautiful landskape.
I did two tours with them and with both had a great experience! The people are super friendly, helpful and informative! Got so much information regarding the history and culture of Iceland! They have always a nice surprise for you, and you can see something extra if the weather allows and if the group is on time. Also very safe drivers!!! Definitely would recommend using them!!