Duration: 1 hour

Moderate

Electronic Voucher

Meet on location
Got Questions? Contact our agents
Description
When our lovely clients ask us where the best place to horseback ride in Iceland is, we always recommend this Vik horseback riding tour. The black sands on the beach are truly stunning. This meet on location tour is a perfect opportunity to leave your car behind and see Iceland´s scenery in a new way, spending quality time with the diminutive Icelandic Horse along the way.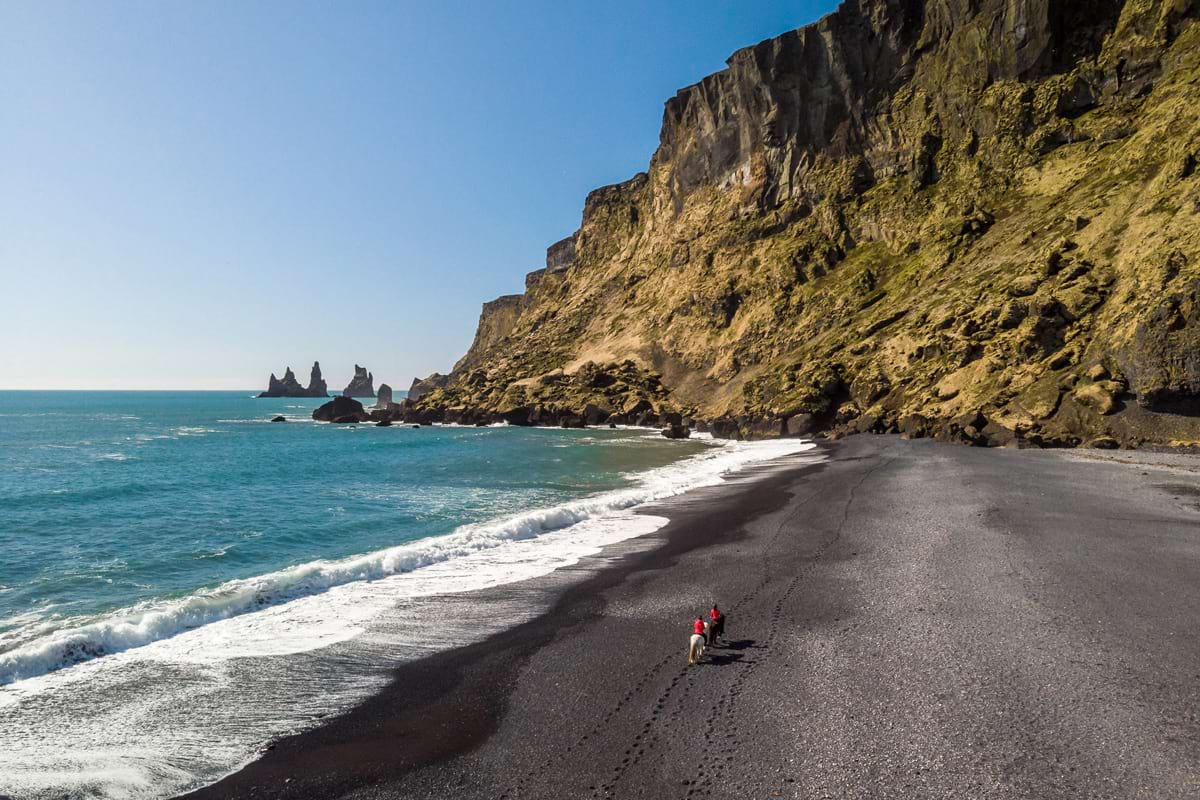 This short 1 hour Vik horse tour does not require horse riding experience and is suitable for beginners. We take you from the small village of Vík to the neighboring black sand beach at Vikurfjara. Riding along the jet black volcanic sand with the crashing spray of the North-Atlantic waves by your side is an unforgettable experience and you will even spot Reynisdrangar sea stacks and cliffs in the distance. It really does appear quite fantastical.
Highlights
Small group experience
Meet the Icelandic horses
Riding on black sands with spectacular views
Vikurfjara black sand beach with Reynisdrangar view
Itinerary
This is a meet on location riding experience and serves as a perfect refresher for those exploring Iceland´s south coast on self-drive tours. Why not stretch your legs, get some wind in your hair and try something new along the way, all while traveling through spectacular scenery on these majestic creatures.
Your passionate horse loving guides will kit you out with all the necessary safety gear. You will learn about this unique horse-breed with its famous extra gait, the tolt. Renowned for their smooth rides, icelandic horses are unchanged since ancient times and their purity and health carefully protected. No other horse-breeds are permitted in Iceland and any Icelandic horse that is exported may never return.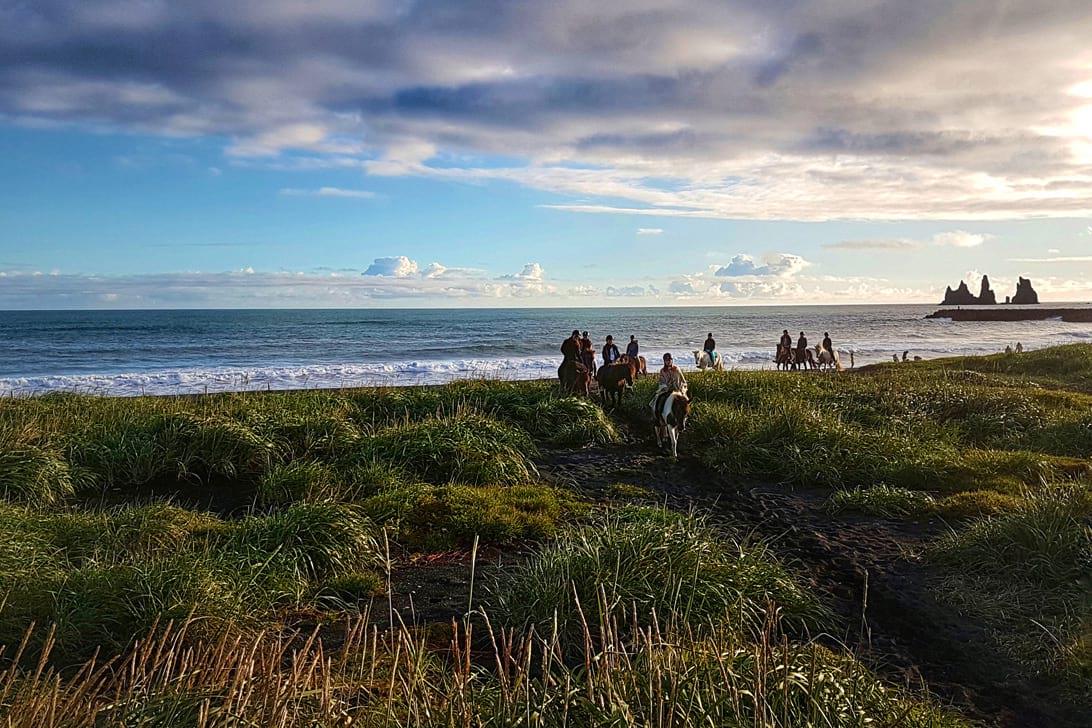 Once the small group is ready, we set off from the stables. The stables are located on the ocean side of Vík so we can safely access the black sand beach. Iceland is famous for its beautiful black sand beaches and Víkurfjara is up there with the best. The ride is very scenic and we cross a small stream before reaching the beach itself. We ride along the black beach towards the cliffs facing Reynisdrangar sea stacks. The world famous Reynisfjara beach lays beyond the cliffs.
What´s Included
Expert guidance
Horse ride experience
Helmet

What´s excluded
Food or drink
Riding boots. Good sneakers or hiking boots recommended
Coveralls
Gloves, hat and scarf

Important Information

This is a meet on location tour. Reykjavík transfers are not available
The minimum age to join this tour is 10 years
We have weight restrictions for the welfare of our horses. The limit is 110kg (220Ibs)
Riders should be in decent physical condition. Pregnant woman and those with heart conditions are not permitted to join.

Meeting Point

The meeting point for this tour is our stables at Smídjuvegur 6 in Vík.
GPS coordinates for our base: 63.416699, -18.996465. Access through the Orkan gas station, opposite Hotel Kría.
Where is Vík Located? Vík is situated about 2.5 hours east of Reykjavík along the Route 1 Highway, also known as the Ring Road. Jökulsárlón Glacier Lagoon is a further 2.5 hours to the east. Please arrive 15 minutes prior to your tour start time.

Guided Language

English
Reviews!
Thank you for submitting your review